Looking for the right e-MTB? Whether it's a good value MTB or a high performance MTB, find the answer you're looking for in our guide!
If you are looking for the best electric mountain bike of the moment, you have 2 options. Either you have €5000 (around $5500) and can buy the best of the best. Or you have less money and you rely on the Internet to find the rare gem. If you are looking for an electric mountain bike with a good battery and a powerful motor. A MTB that is solid, durable and has a warranty and a good after-sales department, you are in the right place. You will find electric mountain e-bike that meet your criterias.
The best electric mountain bikes
Since 2018, I advise thousands of readers (of this website) on how to buy their electric mountain bikes. Thanks to my experience, I can help you avoid some pitfalls. In any case, here are the best electric mountain bikes of the moment under €2000 (less than $2200).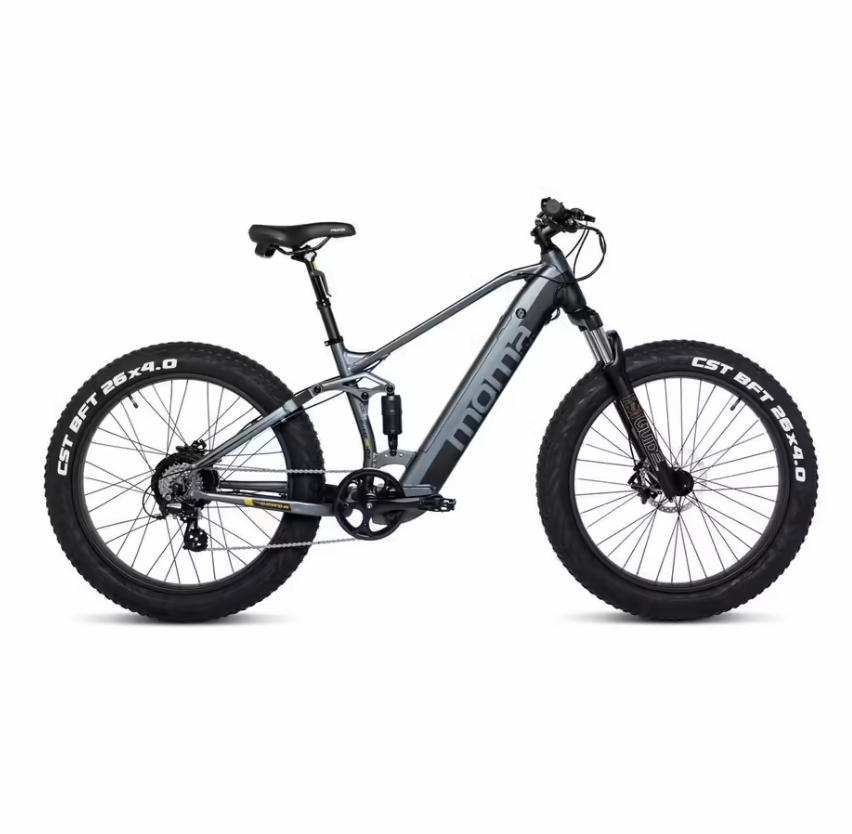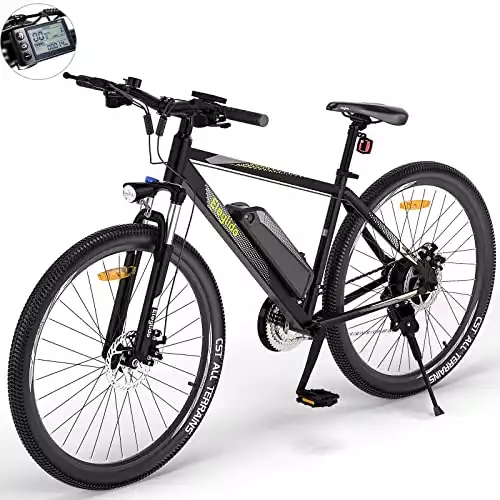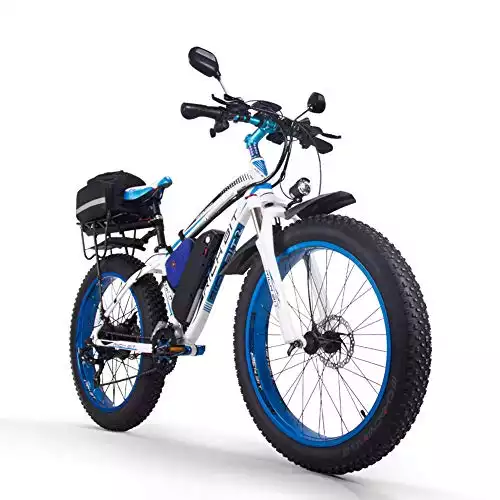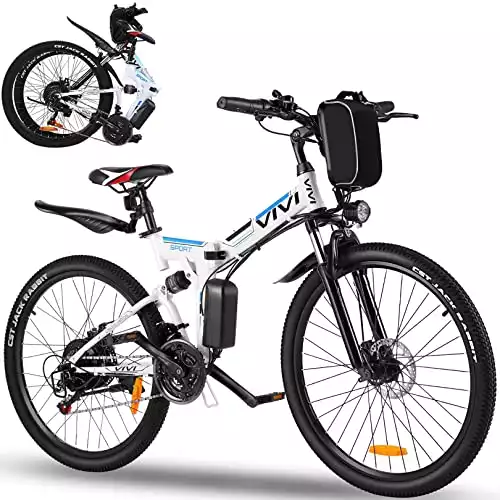 Everything you need to know before choosing your electric assist mountain bike
Urbanbiker Dakota (250W)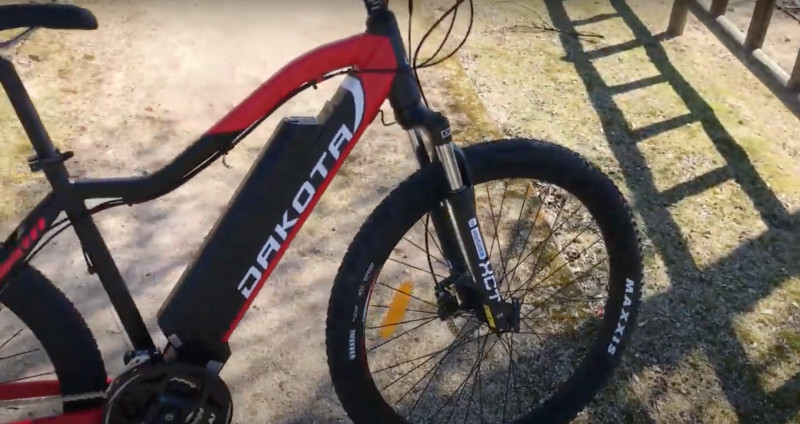 This is the mountain bike I use the most. During the weekn for some trips in townn and every weekend for rides in the woods (with elevation changes) and a bit on dirt roads. I tested about ten electrically assisted mountain bikes before choosing the Dakota from UrbanBiker. With equal performances with other bikes, it was the less expensive electric mountain bike! I am not disappointed.
The quality is really good: the equipment is very solid and resistant to shocks. I use it 3 or 4 times a week in different conditions (roads, land, forest) and I haven't had to do any maintenance for the moment, except to put oil on the chain. I am very satisfied with the torque offered by the motor: 250W 50Nm is not bad, especially since there are 5 levels of assistance.
I must say that the motor is very quiet (which was not the case with the other MTB I tested.) For me, it is a big plus point because I like to ride in the middle of nature.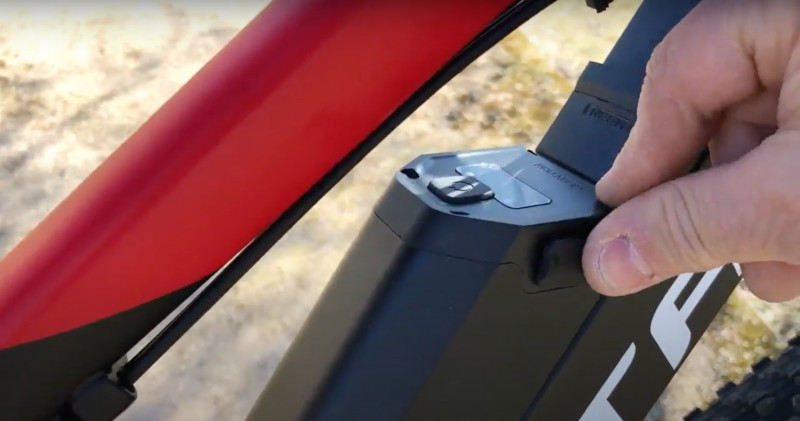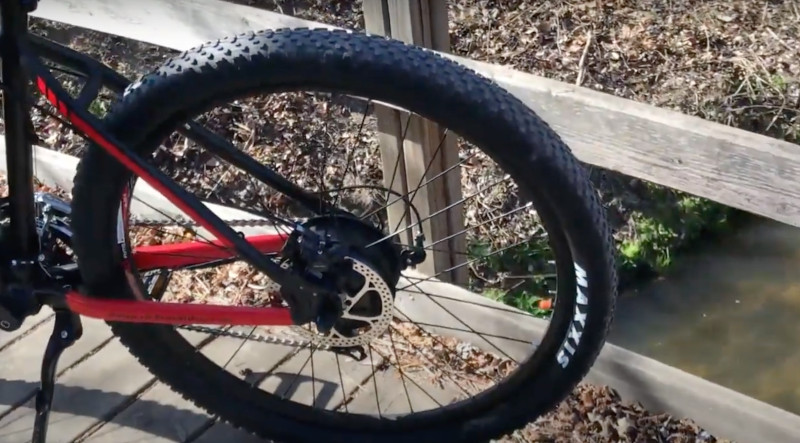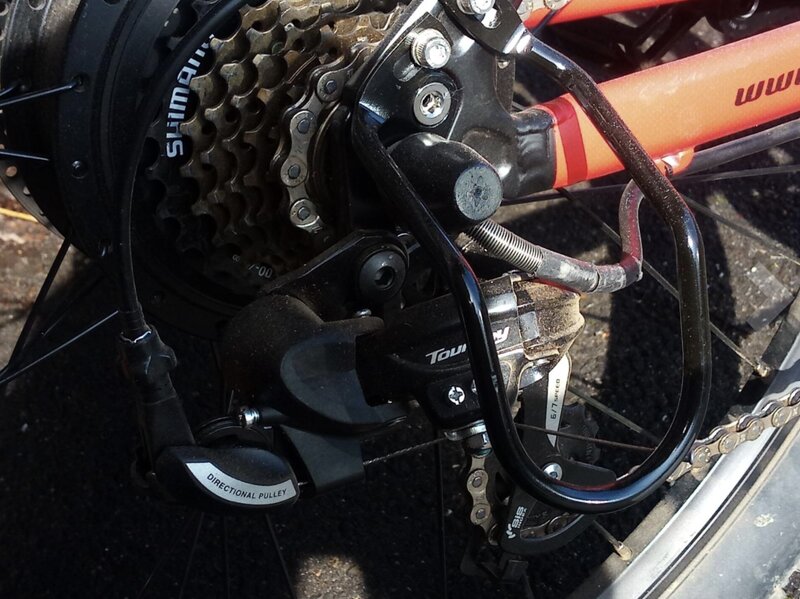 There are several assistance levels, I personally use levels 4 and 5 most of the time because they are the most reactive : one pedal stroke and you are quickly at 18 mph. If you plan to use this electric bike mainly for city riding, don't hesitate to change the tires because the original ones are made for off-road.
The advantages of the Urbanbiker Dakota (250W)
The electric mountain bike Dakota is the bike with the greatest autonomy of its category. About 100 miles autonomy, when the others are rather with 31 miles!
The finish is high end and the components are of very high quality.
The battery is perfectly integrated into the frame for a sleek design and ideal weight distribution.
Delivery is free and the bike is usually delivered in 3 days in a big box with protection
Hydraulic disc brakes for added safety.
Super light (51 lbs) and handy. It is ideal for walks in nature (I use it mostly in the forest) ans is also very suitable for the city.
Delivery and assembly
The bike is delivered in 3 days and partly disassembled. You'll have to reinstall the pedals and the handlebars. The assembly of the Dakota is really simplified and should not take you more than a few minutes.
Rich Bit Top 022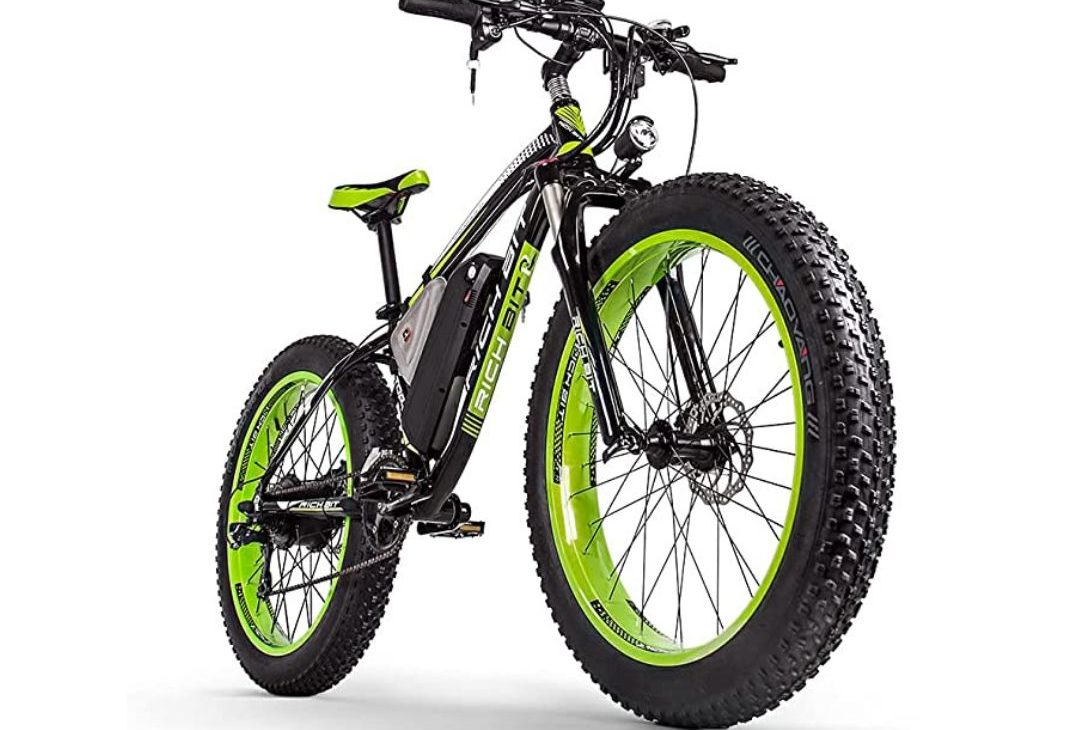 The Rich Bit Top 022 is a powerful electric mountain bike that will please thrill seekers. It has a 1000W motor and an impressive torque that allows it to take off at 26 mph in 10 seconds. That gives you an idea of the beast! It competes directly with €5000 (around $5500) models, except that it costs half as much.
After a lot of research and testing of electric mountain bikes, I can say that the Rich Bit Top 022 can be compared to KTM or Moustache mountain bikes (which are worth twice the price) in terms of performance and behavior on road and terrain.
I had the opportunity to test this mountain bike for 3 hours during a ride in Brittany with my wife. A company was offering it for rent and I was really attracted by the sporty look of the machine. We both rented this bike.
This all-suspension electric mountain bike (front and rear) weighs about 30 kg (66 lbs) which reinforces its robust side. Add to that the "fat bike" tires and the disc brakes and you really feel like you are on an electric cross bike. I rode it on the road and on beaches: in both cases, I was impressed by its performance.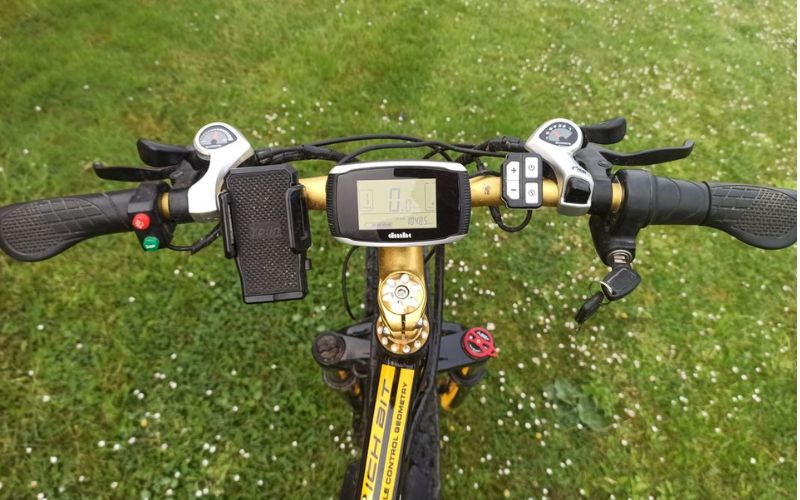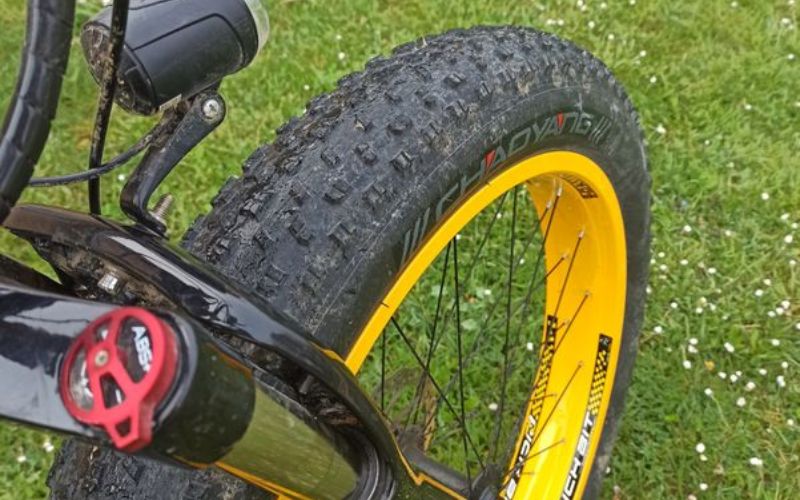 A little geeky detail that I really liked: the battery has a USB output. So you can recharge your smartphone for example.
Ancheer Power Plus (250W)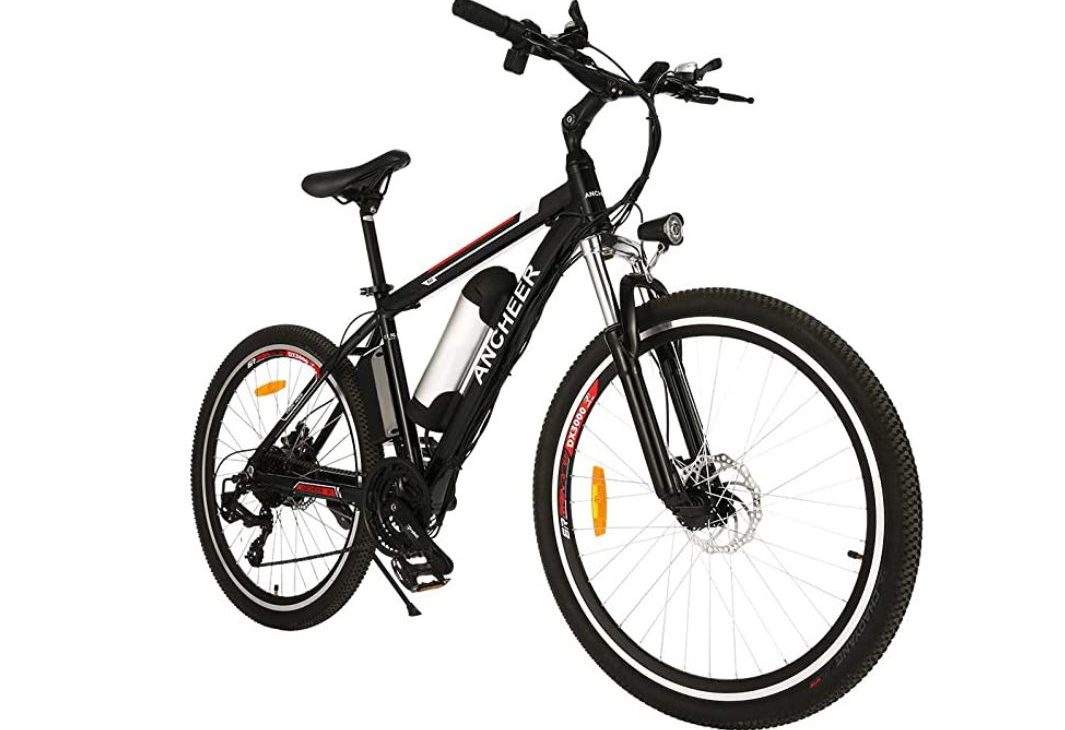 If you're looking for a cheap but not "cheap" electric mountain bike, the Ancheer Power Plus 250W front suspension is a great choice. It may be cheap, but it is packed with features that will make it comparable to the most expensive options on the market.
One thing you'll love is its dual ride mode, which makes the Ancheer a versatile electric-assist mountain bike. You can use the bike in pure electric mode or in pedal assist mode. It's also notable for its 36V 8Ah lithium battery that can provide up to 31 miles of riding when full. Once the battery is empty, it takes about 4 to 6 hours to fully charge it.
The aluminum alloy frame is also very well made, very light and coated with a rustproof paint to resist wear and tear well. The folding design of the frame is also excellent, making this mountain bike portable and easy to store in a car trunk for example. Note that, although the bike is very light, it can support a rider weighing up to 140 kg (309 lbs.) It is then a perfect bike for heavy riders. 😉
Eleglide M1 Plus
At 21.7 kg (46 lbs) the Eleglide M1 Plus is one of the lightest electric mountain bikes on the market. It has a 100% aluminum alloy frame and rims (double walls.) The fork is equipped with a hydraulic suspension. It is equipped with front and rear disc brakes and a 21-speed Shimano derailleur.
On the electrical side, there is an LED headlamp and a bell that are ideal for night excursions. The lithium battery (the best type of battery today) of 36V and 7.5 Ah is removable. It provides a range of up to 40 miles, which is suitable for most Sunday rides and daily commutes.
To sum up, the electrically assisted mountain bike Eleglide M1 Plus has very good features and careful ergonomics: ergonomic handlebars, adjustable seat, shock absorption technology, extra sturdy wheels, light weight and efficient design. All that make it an ideal everyday mountain bike that, by the way, is one of the cheapest of the moment.
Why ride an electric mountain bike?
First of all, an electrically assisted mountain bike is a bike with the qualities that go with it. As a clean alternative mode of transportation, it allows you to leave the car in the garage. And, above all, it allows you to keep your freedom without spending fuel and thus to make rhyme ecology and savings.
Moreover, cycling remains a sporting activity: with or without assistance: it is necessary to pedal and make a physical effort. Who says expenditure of energy says benefits on the physical level as on the mental level. In other words, riding an electric mountain bike is first and foremost a way to feel good!
By its very nature, a e-MTB is a versatile machine. This is the essence of the electrically-assisted mountain bike: it can be used for daily commuting, but it also offers the possibility of going on an adventure with a battery as a safety net.
Discovering unknown trails off the beaten track, tackling difficult paths, maintaining grip and efficiency whatever the weather conditions. Sackling demanding vertical drops, that's the MTB spirit!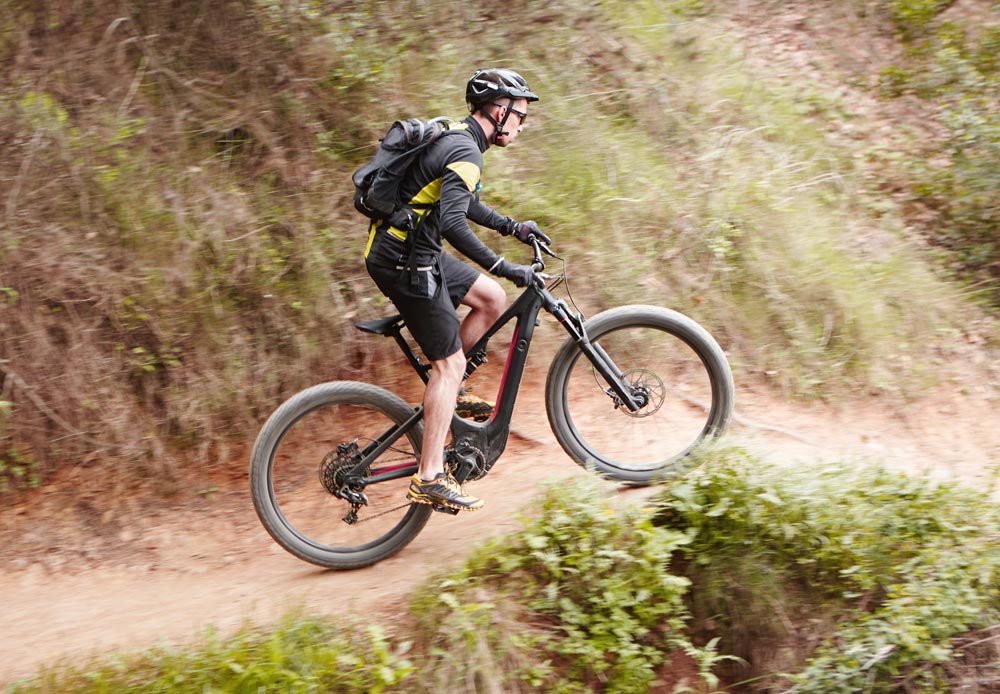 Mountain bike lifespan
As for the lifespan of a mountain bike, it is generally excellent! The buying guides will help you find the models that best meet the criteria of sturdiness, battery protection and motor reliability. So you can take the plunge with peace of mind. Enthusiast communities are flourishing and the after-sales service provided by manufacturers and retailers is now generally excellent.
How much cost a MTB?
With an entry price that is becoming more and more accessible, the e-MTB is definitely not reserved for an elite.
How to choose your electric mountain bike?
If you're here, you're probably wondering which electric mountain bike to choose. Here are the different elements to study before making your choice.
All-suspension VS front suspension
Aluminum frame VS carbon
Wheel size and tires
Brakes
Engine
Battery
The electrically-assisted mountain bike (often referred to as ane-MTB) is gaining a solid foothold in the electric bike landscape, for leisurely rides as well as for intensive sports use off the beaten track. Handy and very sturdy, despite the surprising lightness of the new models, the electric mountain bike could be, as it was for me, the ideal compromise in your choice of "all-purpose electric bike."
All-suspension vs front suspension
Full suspension e-bikes are equipped with a front suspension and a rear shock absorber. The dual suspension provides both a riding advantage and a comfort advantage. They are ideal for difficult or technical terrain where they will provide more performance than a front suspension bike. In most cases, they use an air spring and a shock, although some entry-level models are sometimes equipped with a "spring" type suspension which I strongly advise against.
Count on 120 to 140 mm of travel if you are a beginner or if you want to do some country rides. Count on 140 to 160 mm if you want to get a better gravity. For downhill or rough trail enthusiasts, who are looking for a softer feel, we recommend 200 mm of travel.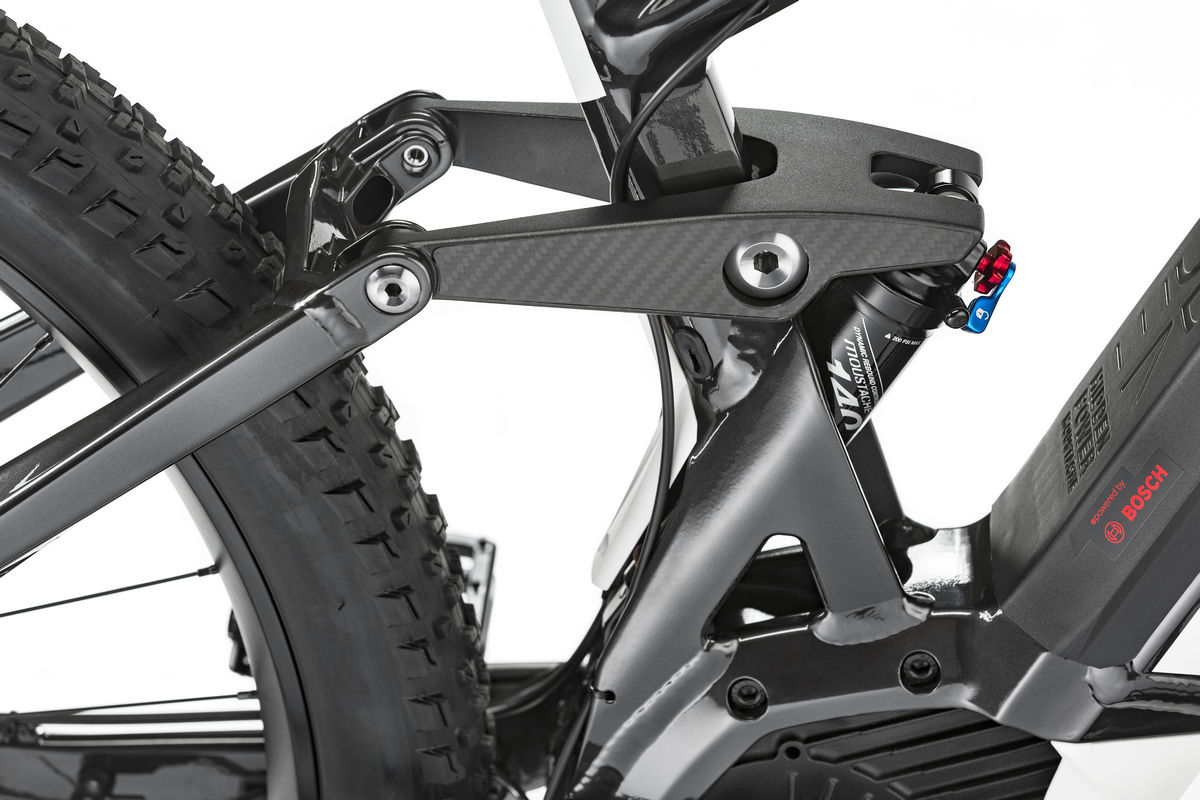 Front suspension bikes (semi-rigid mountain bikes) have a front suspension fork and a rigid frame. They are often more versatile than full-suspension bikes and can be used on any type of terrain. They are also generally easy to ride: lighter and less expensive than full-suspension models. It is mainly for these reasons that I invested in the Urbanbiker Dakota.
The suspension can be adjusted according to your riding style to be more or less soft. Where you are going to use your electric mountain bike can help you decide chich type of suspension you need. Riding on rough or mountainous terrain is not the same as riding quietly on flat rocky roads.
If you like to ride off-road, cross-country and practice on unlikely terrain, the MTB-all-suspended is definitely what you need. If you plan to use your e-bike to ride in parks or on well-maintained trails, the front suspension is a very good choice. It will give you the feel of a traditional mountain bike boosted by electric power.
Aluminum vs carbon frame
Carbon, aluminum, titanium and steel are the main materials you will find on the electric mountain bike market, with carbon and aluminum being the most commonly used. The choice of materials should not be made lightly. Indeed, the material will have an influence on the weight of the bike but also its capacity to resist to shocks.
Aluminum is the most common material because it is light, shock resistant and moisture resistant. Aluminum-framed mountain bikes also have the advantage to be more attractively priced than those made of other materials.
Carbon is an assembly of several components. If you've ever tried a carbon mountain e-bike, you can't miss its main advantage: its lightness. It offers a better pedaling efficiency thanks to its stiffness which makes it a perfect material if you are looking for speed. There are 2 things to keep in mind: carbon is more expensive than aluminum and can break in case of a strong impact.
Wheel size and tires
Most electric mountain bikes are equipped with 27.5″ or 29″ diameter wheels. Beyond the diameter, the width of the wheel is also very important. If on traditional mountain bikes, the tire is about 2.5 inches wide, it can sometimes be considerably larger.
On fatbikes, the wheels can be up to 3.8 inches wide (10 cm) which is ideal for riding in snowy areas or sand dunes. Bigger tires make the bike a little heavier but provide better grip in turns and more speed: on a descent you will go faster. Be aware that on wide wheels, the rim remains the same. Only the tire is bigger.
For a few years now, there have also been tubeless bike tires, without tubes, which have the enormous advantage of reducing the risk of punctures. If you're not sure which way to go, we recommend a 27.5 rim and a 3-inch wide tire. This configuration will be the most versatile and should be suitable for most uses.
The brakes
The best electric mountain bikes come with disc brakes (Shimano, Magura, SRAM or Tektro.) Because of the higher average speed than on a traditional mechanical mountain bike, large discs (160 mm – 200 mm) are preferred. The larger the discs, the more stopping power you will have.
Which motor should I choose for my electric MTB?
Most of the time, electrically assisted mountain bikes are equipped with motors in the rear wheel or pedal motors. These are the most efficient for off-road riding. You won't find a decent electric-assist mountain bike with a motor in the front wheel. This type of motor usually compromises handling or performance on steep hills.
The pedal motors we recommend in this guide are designed by Panasonic, Yamahan Bosch, Brose or Impulse. The ones you'll find most often on high-end e-MTB are the Bosch ones, which currently dominate the market.
Regarding torque, you should know that with Brose and Yamaha motors, you don't need to pedal like crazy to reach full motor power. Again, the choice will depend on your average use of your electric MTB. The level of electric assistance offered by the motor can be adjusted via a button of the handlebars or on a central screen. The higher the level of assistance required, the less you will have to work your legs and vice versa.
The battery
On an electric mountain bike, the battery should be as low and as centered as possible in order to have a balanced center of gravity. This will increase the stability of the bike. Count on a battery of 400Wh to 500Wh minimum to fully enjoy your mountain bike. Know that the battery is often the most expensive component to change on an electric mountain bike.
The best electric mountain bikes