Surely you have already heard that "the electric bike it's for the lazy."Annoying, isn't it? Especially when you know that yes, riding an electric bike is a sport in its own right! Sports uses and short trips in town, we have gathered here a whole bunch of arguments which show that a bicycle equipped with a motor brings the same benefits as a grandfather's bicycle.
Riding an electric bike: a sport activity like any other
Proven effects on health
Cycling is good for your health, no one will deny that. Admittedly, riding an e-bike remains a moderate-intensity sporting exercise that offers an adjustable degree of assistance, potentially requiring less effort. However, and by definition, the electric bike does not dispense with… pedaling !
A University of Glasgow study of over 260,000 people showed that cycling to work would reduce the risk of dying prematurely by 41%. The World Health Organization recommends at least 150 minutes of moderate physical activity per week.
Here is the abstract of the study (which you can find in full on the site of the bmj):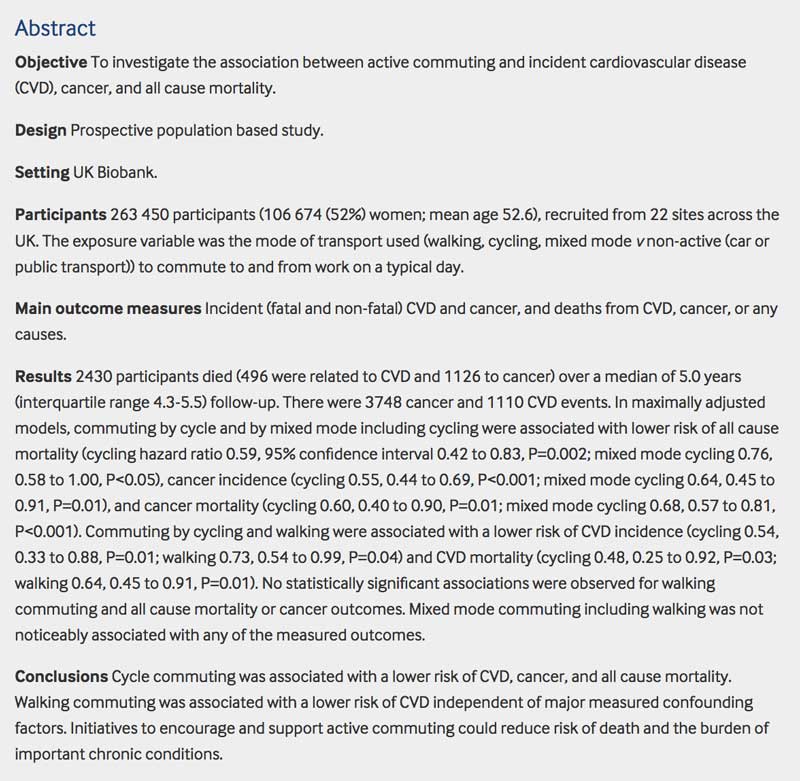 At a rate of 15 minutes from home to work by electric bike, commuting meets these criteria and ensures you a long and prosperous life:
Cycling would reduce the risk of colon and breast cancer by 25%, and type 2 diabetes by 30%.
Ok, as far as prosperity is concerned, we have not yet carried out a conclusive study.
Sustainable weight loss and muscle building
Even electric, cycling remains an active mode of transportation. In this, its regular practice contributes to a lasting and significant fat loss.even in comparison to intense fitness sessions, as proven by research by Professor Bente Stallknecht of the University of Copenhagen and in particular his study called " Effects of active daily transportation and leisure-time exercise on fat loss in overweight and obese women and men: a randomized controlled trial".

Pedaling an eBike leads to a increased calorie expenditure, but does not necessarily involve more food intake due to the "softness" of the effort. More precisely, the VAE results in an average effort of intensity 5.5 MET (metabolic equivalent), certainly slightly lower than the standard bicycle (6.8 MET) but higher than walking (3.5 MET), according to measures by Bruno Chabanas, engineer and public health intern. (2). What an easy way to regain your healthy weight!
Cycling also means developing no less than 32 muscles. When pedaling, the quadriceps, glutes, knee flexors (including the hamstrings) are particularly stressed. But the upper muscles also work! When you step up or pull up on the handlebars, you engage your triceps, pecs, and elbow flexors. Yes, cycling is a more complete sport than it seems!
If you want to go even further and if you are really looking for performance, do not hesitate to complete your electric bike session with indoor practice thanks to a connected home trainer.
The electric bike, a sport accessible to all
Riding an e-bike means allowing yourself a gentler effort. This is why the discipline attracts a wider audience. Seniors, in particular, benefit from it. Cycling is a carried activity, which, compared to road running, reduces trauma (knees, ankles, hips, etc.) while providing orthopedic benefits.
Above all, it is the average athlete or those on recovery who have the most to gain from adopting the practice of the electric bike. What could be more reassuring than electric assistance available on demand, which can support us at any time on a slightly steep slope? The electric bike encourages good habits and is a natural companion for almost painless daily physical activity.
Moreover, it fights against sedentary lifestyle : the comfort it provides inspires the temptation to ride more often, further, even on higher and harder tracks! The motor opens the way to new challenges and the electric bike becomes a vector of socialization. Many users have become followers of group outings, now assured of being able to keep up.
Climbing or steep slopes that previously seemed impassable? No problem, the assistance will come in reinforcement if necessary! The pleasure of sport is thus preserved and swallowing the kilometers on an electric bike promotes, like other sports, the secretion of endorphins, the hormones of well-being.
A complete sport, physical and mental benefits
Regularly straddle his "little Queen" noticeably and quickly improves his cardio-respiratory capacities. A few sessions are enough to feel a decrease in shortness of breath. It's been proven that cycling boosts cardiovascular health and reduces high blood pressure.
Even stronger, according to a study Danish (yes, again!) carried out in 2016 on 25,329 men and 28,394 women, the risk of heart attack is reduced by 11%, or even 18% if it is used for commuting! Very well, you will say to me, but can we consider that these results also apply to the electric bicycle?
Well yes, as scientists from the University of Basel have proven in their study " Effect of e-bike VS traditional bike on cardiorespiratory fitness in overweight adults: A 4-week randomized pilot study".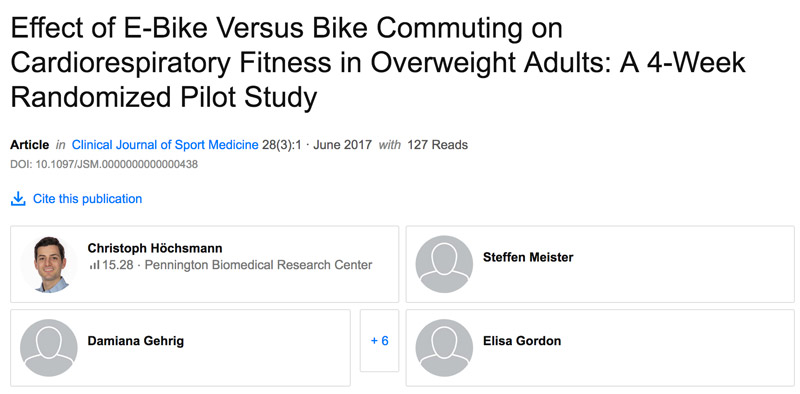 For 4 weeks, 30 overweight volunteers with little physical activity rode 6 km a day, 3 times a week. 15 of these guinea pigs took advantage of an electric bike, the other half riding a classic bike.
Result: for both groups, a similar improvement in their oxygen uptake capacity, the famous VO2. Simply speaking, even with a battery, the bike improves endurance, the health of your heart and your lungs, reduces cardiovascular risks. That is what is said!
Moreover, playing sports not only increases physical abilities, but also heals the mind by contributing to general well-being. This emerges from the study " Cycling, car or public transport: a study of stress and mood on arrival at work made by Concordia University, Canada. The outdoor e-bike is nothing less than a light therapy session, known to reduce stress and boost your mood.
Finally, pedaling boosts memory, stimulates neurons and improves cognitive abilities.
The electric bike in competition
The contribution of electric on a bicycle is not limited to the register of comfort, it also opens the way to the development of new sports disciplines.
The electrically assisted mountain bike lends itself particularly well to this. Beside the French Mountain Bike Championship organized by the French Federation of Motorcycling (FFM), there is for example a Enduro eMTB French Cup.
The 2018 edition had three stages, two of which were common to the classic bike competition, a sign that electric is a sport in its own right in the eyes of the organizers, who are concocting routes that make maximum use of the performance of mountain bikes.
The engine multiplies the capacities of the bike, the ascents and descents are done at full speed, always putting more strain on the calves, while battery management brings an additional tactical aspect. Thus, mountain biking and electric MTB racing go hand in hand and even prove to be complementary.
Undoubtedly, the electric mountain bike in competition is booming, as it is structured and seduces more and more the public as well as the riders. The French Cycling Federation (FFC) made no mistake, surfing on the e-MTB hype by organizing its French eMTB championship, headlined by Julien Absalon, double Olympic mountain bike champion. Proof of the natural porosity between the two cycling sports, motorized or not.
The 2004 and 2008 gold medalist, crowned the first e-MTB French champion on this occasion, recalled that electric mountain biking was both technically and physically demanding: in this event, his heart rate readings were among the highest in his season as he explained in an interview given to Vélo Vert magazine!
As for the electric road bike, it is currently slow to develop in competition mode even if some models have already been seen during the last editions of the Tour de France.
Sport in its own right, the use of an electric bike really provides physical and psychological benefits. And this, without the suffering and exhaustion of the marathon runner being felt. Bikers would even fall ill less often than their colleagues!
Conclusion
15% less sick to be precise as explained in " The association between cycling and the absence of disease", a scientific publication of 2010. Clean, good for the body and the mind… the electric bike is definitely a complete sport!