Do you ever worry about the air we breathe? In the world, 9 out of 10 people live in an area that is too polluted according to the thresholds established by the WHO. Today, I am testing the R-PUR Nano anti-pollution mask which is positioned as a lasting solution to these problems. Effective or not?
My opinion on the R-PUR Nano mask
Technological innovation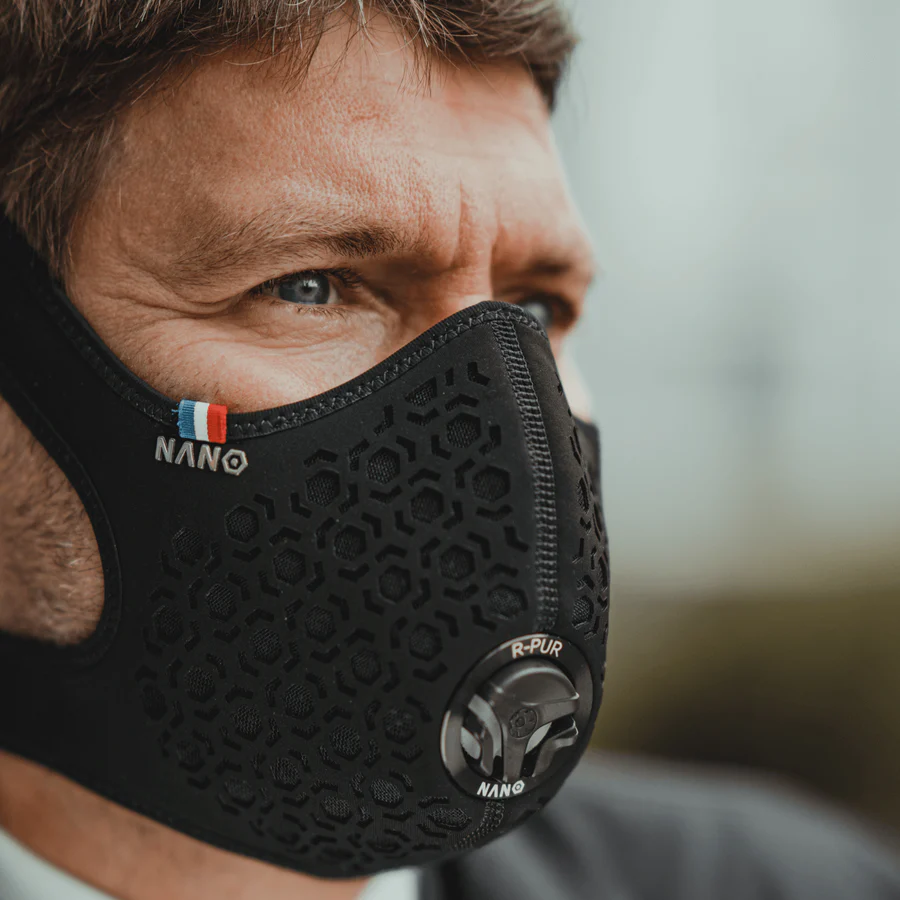 Filtration : 99.91% of pollutants.
Why opt for the R-pur Nano?
The Nano anti-pollution mask is extremely effective against viruses and particles. It is water-repellent and its technology allows hot air to be evacuated up to 60 times faster. I appreciate the look of the mask, its technology and its comfort. It is very light an I even find that, when you have it on your head, you almost forget it.
Why wear an anti-pollution mask?
When you ride your electric bike through traffic, you breathe in harmful particles, in the form of dust or gas. The fine particles become embedded deep in the respiratory tract and can cause serious health problems in the long term.
Environmental unsanitary causes 12.6 million deaths per year[…] 8.2 million non-communicable disease (NCD) deaths are attributable to air pollution (including exposure to passive smoking).

Source: WHO
Did you know ? In France, air pollution kills more than alcohol
We still want to reassure you. Whether you live in the city or in the countryside, it is always better to cycle even in polluted conditions than to do nothing! A few precautions should be taken, such as avoiding the main roads during rush hour. To fully protect yourself, not many miracle solutions. You have the choice between:
Stay cloistered at home in the countryside
Try to live in apnea
Wear an anti-pollution filter mask
We tried the first two and we quickly realized that the mask would be more interesting. About anti-pollution masks, we hear everything and anything. Recently several newspaper articles claimed that anti-pollution masks were ineffective. That's what we wanted to see. So we conducted our investigation to find THE best device on the market.
After spending a lot of time defining our very demanding specifications for the ideal anti-pollution mask (filtration, hermeticity, ergonomics) and compared the different offers, the most advanced and effective mask is today at R-PUR.
Why R-PUR?
Beyond the qualities of the mask which we will tell you about a little further down, R-PUR Nano is a French anti-pollution mask. (COCK-A-DOODLE DOO !)
Designed and manufactured in France. Flavien Hello, the founder, guarantees that all the materials used are 100% French "except Velcro". We appreciate when the product is local, certified and meets solid European standards. Especially when it aims to provide a solution to a health problem.
R-PUR filters out more particles than any other mask
Of course, it is not possible to filter 100% of the air you breathe unless you wear an anti-nuclear mask. But to give you an idea, R-Pur filters nano-particles up to a size of 50 nanometers called PM 0.05. For information, the highest European standard (FFP3 standard) is at the level of PM 0.4.
It's so nice to be able to drive through the streets of Lille without having your nose filled with the smell of exhaust on the grand boulevards. I was so used to it…
Unlike many masks presented as revolutionary, R-Pur has scientifically proven that its filter is of exemplary quality. Winner of the Grand Prix de l'Innovation de la ville de Paris, the mask filters gases, odors, pollens, bacteria and toxic fine particles (linked to air pollution and car emissions).
Particles filtered by R-Pur:
Nanoparticles (FFP3+ standard)
Fine particles (FFP3 standard)
Micro-particles (FFP1 standard)
Dust
Nitrogen dioxide
To better understand how the R-PUR mask filters all these particles, I suggest you take a look at the different "layers" of protection that compose it:
An airtight face seal to prevent particles from entering
An inner shape memory layer
A first activated carbon filter that protects against odors
2 particle filtering layers (NANO filtration® technology)
Finally, a water-repellent layer and a hot air extraction valve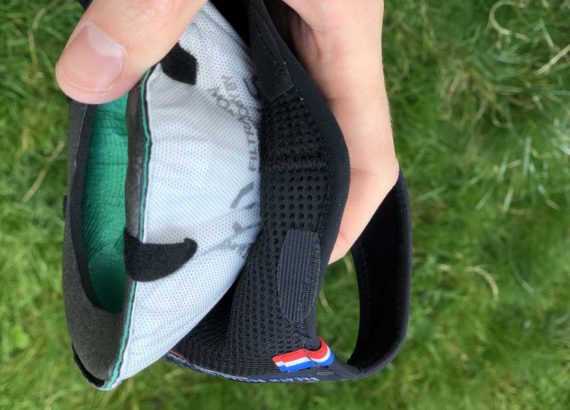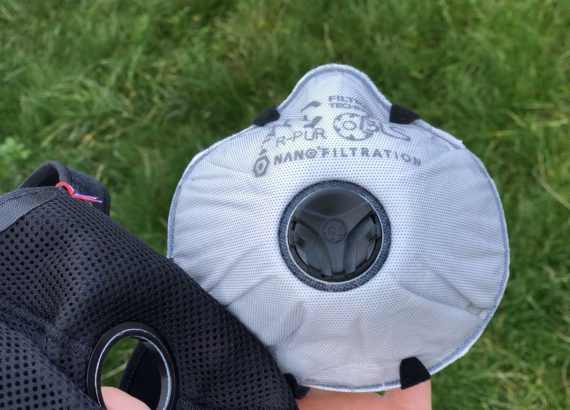 A comfortable and ergonomic anti-pollution mask
We've been waiting for it for a long time. Finally a mask that I can wear with my glasses and my helmet when I pass on the ring road. Anti-fog technology…what a joy! Moreover, for optimal comfort (and safety), you must choose your bicycle helmet carefully!
To use it, nothing more simple! Place it around your mouth. Then hook the upper Velcro at the top of your head above your ears. Then, hook the lower Velcro at the level of your neck. Finally, shape it well to your skin for total airtightness.
The big advantage of the R-PUR that makes you want to use it is that it is very comfortable to wear and does not give you the impression of too intense heat around the mouth, even after 1 hour of use. The size adjusts with scratches and this allows the mask to be as close to the face as possible and to stay in place.
The shape memory technology is really important and ensures good sealing. In fact, most critics of anti-pollution masks explain (rightly) that even with an impeccable filtration system, these masks are useless if the particles enter INTO the mask which does not stick well to your skin. It would be like putting a cork on a bottle with a hole in it.
Sober and discreet design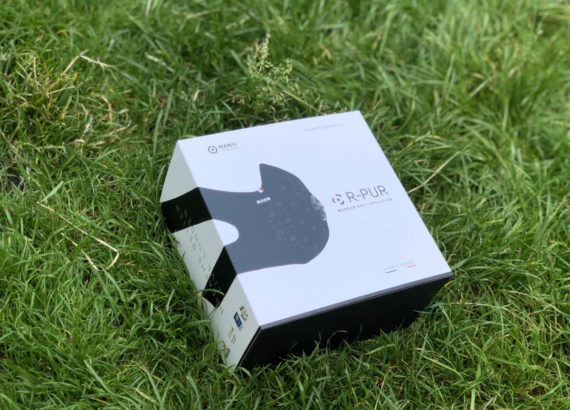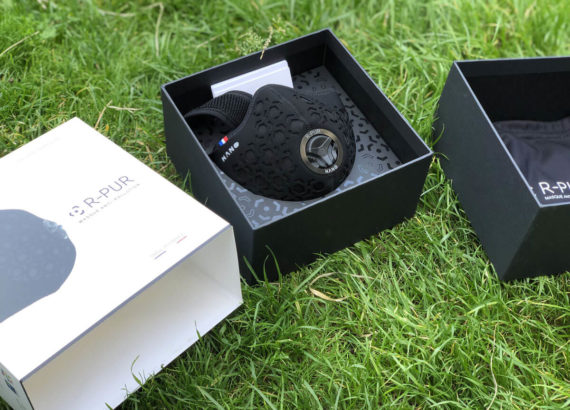 We ordered the mask with integrated filter. It arrived fairly quickly (less than 48 hours) in its pretty little box. In terms of design, we chose sobriety with the classic black model. The same exists in maroon, and two other designs are also available (skulls and sea anchors).
R-PUR Nano mask filters
The filter should be changed every 5 to 15 weeks depending on use. The brand offers packs of 5 filters to be quiet and above all to save money. A free service, very valuable when investing in this mask. The R-PUR mobile application mainly allows you to calculate the wear of your anti-pollution filter to know when it is time to change it or order a new one.
When the wear rate will be less than 15%, we recommend that you order one (this is possible directly from the application). The app also allows you to know in real time the quality of the surrounding air. The indicators relate to PM10 (dust) and PM2.5 (micro-particles) as well as the level of NO2 gas present in the atmosphere (produced by the combustion of engines).
Conclusion
After many tests in real conditions, here is my final conclusion. The R-PUR Nano anti-pollution mask: It gives the feeling of filtering pollution well, it is already very remarkable in terms of odors!
In terms of adaptability, I was pleasantly surprised to be able to use it with my glasses, and my 3 different bicycle helmets. The only downside I noticed during my test was when wearing the R PUR goggle with the Smartride Cratoni helmet that I was lent for the occasion. With this helmet which is quite a bulky helmet, I had the impression that the velcros came loose a little when I moved my head too much. Be careful to tighten your mask properly before leaving.
In terms of breathability it is still a very good note. Not to mention doing a final sprint, I had the opportunity to accelerate a little on my electric bike without feeling any discomfort or shortness of breath. As for the price, my opinion is very personal, but I prefer to invest in a safe product that will last a long time rather than a €25 (less than $30) mask that will protect me for 2 weeks and which lets particles pass inside.

With this one, all you have to do is get on the handlebars of your city electric bike and not think about the rest! By the way, a little advice: avoid excessive beards with an anti-pollution mask to ensure good airtightness. There is something for everyone in terms of design, I chose the sober one and it is very nice.
Technological innovation