Fans of bikes or occasional cyclists, we all agree on one point: a good bike ride under the sun, there is nothing better. However, it is not always possible to grant yourself a getaway in the middle of nature. This is why the connected Home Trainer is an ideal solution for several obvious reasons.
Some are simple "rollers" to place under your wheels. But those that interest us today are connected home trainers, because they make it possible to optimize indoor sessions as well as possible. In this guide, we give you all the keys to get started optimally with Home Training on the bike. In the saddle !
What is a connected home trainer?
Interactive and realistic, the connected home trainer allows you to continue your physical preparation or your cycling training from home. And this, without losing realism. This device reproduces the sensations of the road wonderfully, and there is no shortage of innovations in this connected sport sector.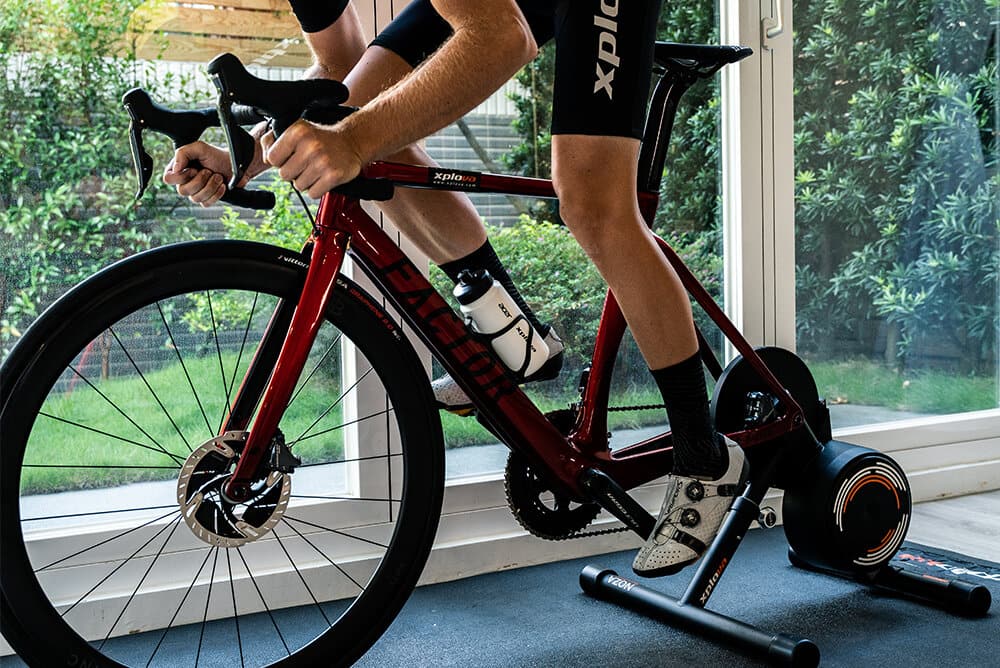 It is a device that allows you to use your own racing bike at home. The wheels work on a cylinder or directly in a cassette, and the difficulty of pedaling (brake, slope) can be adjusted in real time according to your session.
Modern systems connected to the pedal system make it a formidable training partner. Force, velocity, aerobic or sprint, you work as you see fit and visualize your performance using a screen. Mainly used during the winter, home trainers have quickly become popular among sports enthusiasts who use them throughout the year.
Home trainer or exercise bike?
As you now know the main characteristics of the home trainer, you must have noticed that it is significantly different from exercise bikes.
By definition, the exercise bike is not YOUR bike. The sensations are therefore completely different. A home trainer is more ergonomic because the various accessories that make it up can be stored and moved easily.
Let's imagine that you are going on vacation or on a competition. You take your home trainer in your trunk and your bike on the car without any problem. High-level athletes are more comfortable with the home trainer, which makes them feel the sensations of the road better, but without the shocks. A very popular solution when returning from an injury, for example.
The different types of connected Home Trainer
There are two types of systems that are most commonly encountered. These are the "wheel-on" and the "direct systems".
"Wheel-on" or resistance home trainers
Generally less expensive than the "direct" ones, these home trainers allow you to attach the rear wheel easily. They are easier to use, especially for beginners, because you don't have to remove the rear wheel to do your session indoors.
It may seem a little technical at first, but you will quickly find the hand to fix your bike securely in the axis of maintenance.
The resistance against the wheel is more or less strong thanks to a roller which presses against the rear wheel. It can be magnetic, motorized or hydraulic. The more you go upmarket on this type of device, the quieter and more stable it will be.
Direct drive home trainer
Here, you completely remove your rear wheel, fixing the entire rear of the bike on the device. The stability is better, and the road sensations are better reproduced in our opinion.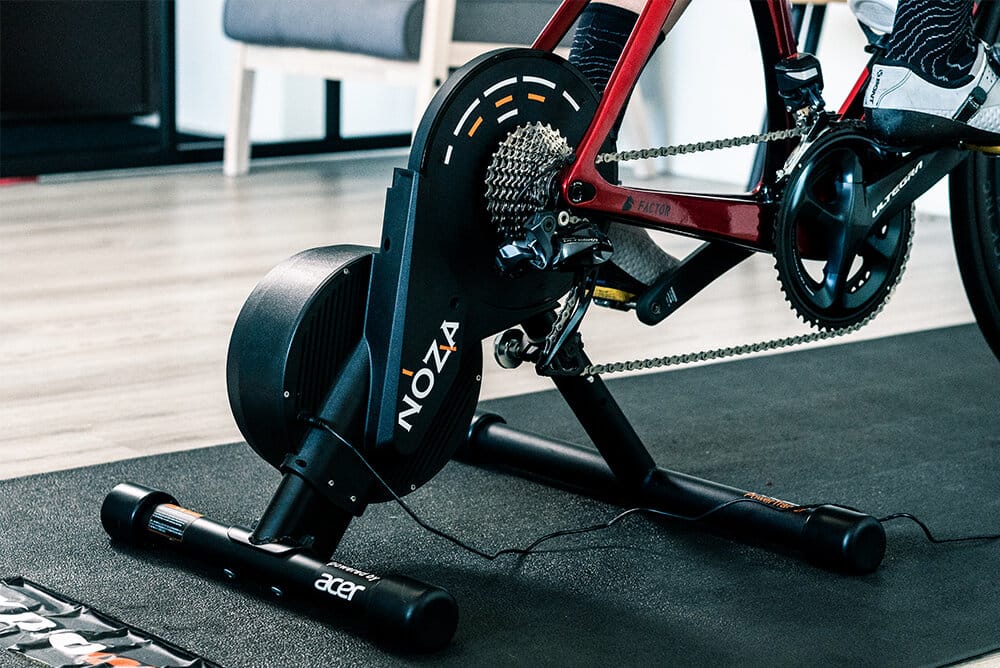 Since there is no longer a rear tire rubbing against a roller, the drive is much quieter.
More autonomous than resistance home trainers, these are also more expensive. A worthwhile investment if you consider the many advantages in terms of comfort, silence and ease of use.
How to install your bike on a home trainer?
Ready to ride in front of your TV? So take your bike, let's go for the installation.
Block the rear wheel or remove it
On a classic connected home trainer, all you have to do is remove the axle from the rear wheel in order to install the one supplied. The goal is to stabilize the bike.
Then you place this new axle on the end of the Home Trainer forks, then just tighten the nuts. To place the resistance that reproduces the sensations of the road, you just have to raise the treadmill against the wheel.
Connect your bike to receive pedaling data
Once the bike is stable and ready to ride, it remains to make the connection. You connect the cable connected to the treadmill to the handlebars for example, to adjust the difficulty of the effort.
Once the connection has been established with your smartphone or computer via Bluetooth, you will receive your session data in real time.
How to choose your connected home trainer
To help you make your choice among the devices sold on the market, here is a summary of the characteristics to take into account:
| | |
| --- | --- |
| Home trainer at Resistance | Direct drive home trainer |
| More precise and easily adjustable resistance. More realistic sensations. Less noise. | Less expensive. Often lighter. Quick to assemble. |
| More expensive. You have to remove the rear wheel and mount the bike on a cassette. | Less precise and less stable. Some models are noisy. Each session must be manually calibrated. |
Some very specific selection criteria to take into account when choosing the home trainer that is made for you:
Is it compatible with your bike model?
The maximum power;
The variety of resistance levels offered;
Is it interactive?
The ease of fixing the home trainer;
Its weight, if you have to move with it.
Examples of workouts on your home trainer
Once equipped, your home trainer installed, you can work any type of effort. Discover 3 workouts to do from home.
PMA session (Maximum Aerobic Power)
Warm up for a few minutes at a gradual pace. For the last 5 minutes, do a few accelerations to start getting your heart rate up;
Pyramid : 1 minute fast/1 minute slow, then 2′ fast 2′ slow, 3'/3′, and then back down in the opposite direction. Repeat circuit 2 to three times. Between each block of 6 intervals, run 2 minutes. Fast frequency = i5;
Recovery : 10 min unrolled while moisturizing.
Session VO2 Max + Power
15-minute warm-up at medium pace (i3);
2x (6 speedups of 30 seconds at i5 and 30 seconds at i2). Between the two series, let roll quietly for 3 to 5 minutes;
Recovery : 10 minutes back to calm;
Endurance session
20 minutes of progressive warm-up (4′ in i1, 4′ in i2, 6′ in i3, 6′ in i2);
Pyramid : 2′ in i3, 1′ in i2, 4′ in i3, 1′ in i2, 5′ in i3, 1′ in i2, 4′ in i3, 1′ zone i2, 3′ in i3. Stay on average around 100 RPM. If you are comfortable, add another 1-2 blocks at 4′ in i3;
Return to calm for 10 minutes.
Reminder on exercise intensities (i1, i2, i3…)
| | |
| --- | --- |
| Intensity | Feelings of the cyclist |
| i1 | The pedaling is very easy, almost no fatigue created. |
| i2 | Easy intensity, the muscles begin to heat up but no pain. |
| i3 | First muscular tensions, breathing which begins to accelerate. |
| i4 | Difficult to speak, the heart rate accelerates markedly, the first tingling in the legs. |
| i5 | Big effort, difficult from 4 minutes. |
| i6 | Rapid pain in the lower limbs and hyperventilation. |
| i7 | Very important nervous fatigue, rapid exhaustion. |
Conclusion
Many athletes, swear by their famous home trainer which sits in the living room or the garage.
The Zwift application available on connected home trainers allows you to participate in virtual races and fantasy competitions with other connected cyclists. Another advantage of the smart home trainer that is taking off sales in sports brands.
Yes, you really exercise with an e-bike. And even though, a home trainer isn't an electric bike, it is an effective and fun way to train when we can't leave home. Any type of session can be done to indulge your passion at home, or simply to keep in shape!