With their wide tires, fat bikes can go anywhere. For beginners as well as for advanced riders, fat bikes are efficient fast electric bikes
Electric fat bikes are electric bikes with very wide tires. They combine the best of the electric bike thanks to an electric motor that pushes us in the effort, as well as mountain bike elements to improve comfort. They are therefore aimed at everyone: whether you want to ride in town or on mountains! The price of electric fatbikes has dropped quite a bit. We took the opportunity to analyze the market and identify the best models. We present them to you here.
What is the best electric fat bike?
The best electric fat bike is the Ride66 RX02. It's the one that combines the best elements (powerful 1000W motor, hydraulic disc brakes, high performance battery, Shimano derailleur… all respecting the IP54 waterproof standard to be able to ride in the rain with the fatbike) with a very good autonomy, and a very affordable price at the moment.
Space-saving comfortable bike
Jasion EB7 (500W)
Foldable e-bike. 500W motor. 48V 10Ah battery. Front and rear suspension. 20"x3" puncture resistant fat tires. Shimano 7-speed + throttle twist design. Integrated headlights and taillights. USB LCD display.
Budget: $ | Speed: 20 mph | Range: 40 miles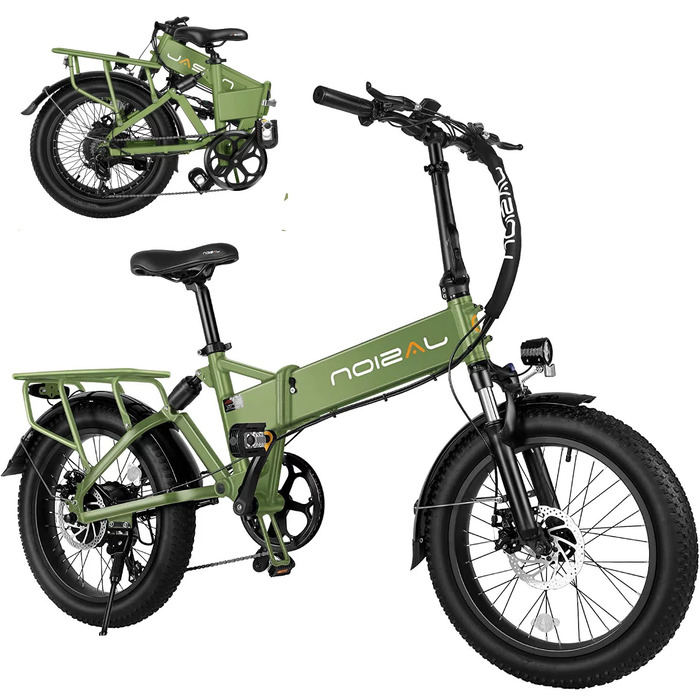 We earn a commission if you make a purchase, at no additional cost to you.
Heybike Brawn (750W)
48V 18Ah large capacity battery. 750W brushless motor. 26x4 Chaoyang fat tires with strong grip for off-road use. Shimano 7 speed. Hydraulic disc brakes + suspension front fork. Light-sensing front light. Adjustable seat. Heybike App.
Budget: $ | Speed: 28 mph | Range: 65 miles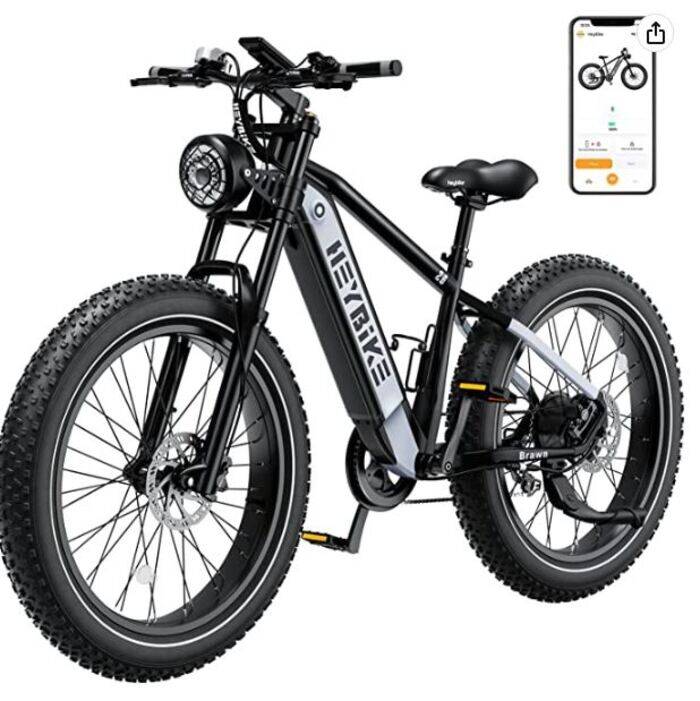 We earn a commission if you make a purchase, at no additional cost to you.
All terrain fat bike
Ecotric Coolboy Hammer (750W)
Strong 750W brushless geared hub motor. 48V 12.5Ah battery. Shimano 7 speed. Hydraulic disc brakes. Durable and allroad 26x4 fat tires. 26 inches wheels. Allows to climb 15° hills. Fork and seat suspension. UL certified.
Budget: $ | Speed: 25 mph | Range: 35 miles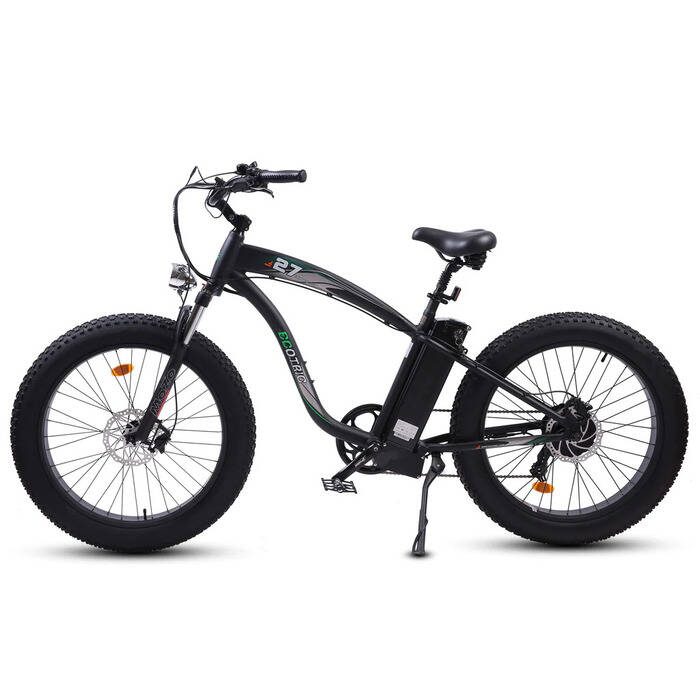 We earn a commission if you make a purchase, at no additional cost to you.
Why buy an electric fat bike?
You hesitate to invest in an electric fatbike? Here are 3 good reasons that should convince you.
Fat bike : the most comfortable bike
With its big tires, the fat bike allows a very comfortable ride. Firstly because the wheel has greater contact with the road, and also because you can drive at low pressure (not flat either, but not fully inflated!). The advantage of driving at low pressure, ie at 1 bar of pressure, or even less, is that the ride is smoother. It's more comfortable because the tires react better to bumps in the road. In addition to that, the tires also have the advantage of keeping good traction when crossing obstacles. Oh yes, I forgot: fat bikes are super fun! (And that's also a huge argument! 🤣)
The fat bike is really all-terrain
Yes, the fat bike can ride on (really!) all terrains: snow, dirt, sand, mud, etc. Another advantage that we owe to the big wheels and their low pressure inflation. This is because tires used at low pressure "float" on soft surfaces, which can smooth out your ride even with an electric fat bike without suspension.
In recent years, electric fat bike tires have become wider to enhance the flotation effect in extreme conditions. The frames of electric fat bikes have also become lighter to improve their performance (and also to be able to do more miles with electric assistance.)
However, be aware : fat wheel e-bikes are not made for big MTB tours with jumps. So let it be said: if you want to mountain bike on very technical terrain, choose instead an electric mountain bike 😀!
Fewer punctures
Like any bike, fat bike tires can puncture. But thanks to their design and height, they are inherently more resistant and the inner tube cannot compress completely against the rim.
How to choose your electric fat bike?
Want to buy an electric fat bike? Here's what you need to pay attention first.
The engine power
For some people (including me 😀), power is the ultimate element of the electric fat bike. 1000W is a good power for an electric fat bike. What to be well pushed in the effort and to make small sensations if you want!
The best 1000W electric fat bikes
Soon.
What is the right wheel size for an electric fat bike?
Most electric fat bikes come with either 26-inch or 27.5-inch wheels. How to choose? The 27.5-inch wheels allow you to go faster and overcome obstacles more easily. If you're looking for a quieter ride on flat roads, go for the 26-inch. As for the rims of fat bikes, know that we often find them ranging from 60 to 100 mm. A rule to keep in mind is that the wider the tire you want to use, the wider the rim should be. However, narrow rims have a big advantage: making the bike lighter. You know everything ! It's up to you to choose according to your use!
How should the tires of a fat bike be?
To put it simply, the bigger the tire, the more comfortable it is! The counterpart is that wide tires make the fat bike a bit heavier. If you only ride in town, I recommend the widest tires possible, if you plan to use the fat bike in MTB mode then go on narrower tires which will also allow you to gain speed.
Electric fat bike with suspensions or rigid?
Since the tire pressure on an electric fat bike is very low, having suspensions is not at all mandatory. Even without suspension, I can assure you that a fat bike gives the impression of floating, so comfortable is the ride! If you want an electric fat bike to ride on very rough, rocky roads, or if you want your tires to be inflated to a higher pressure, I advise you to buy an electric fat bike instead with full suspension. However, if you're more into mountain riding in very cold temperatures, a suspensionless fork may be more reliable.
How much does an electric fat bike cost?
Today we find fat bikes between €1000 (less than $1100) and €7000 (more than $7500.)
What is an electric fat bike?
Fat bikes are electric bikes with ultra-wide tires that can be up to 5 inches wide. These tires provide better comfort and better traction, especially on mud or snow. There are 2 families of electric fat bikes:
Cruisers fat bikes : This is the type of fat bike that we see the most. A beach bike look and ultra wide tires for a very comfortable ride.
Mountain fat bikes : For purists. This type of fat bike is most of the time without suspension and resembles mountain bikes (hardtail.)
Recap: The best electric fat bikes
Soon.