I have been using the Bafang BBS02 B for 3 and a half years (already covered 8000 miles!) and today I have a clear opinion on this electric bike kit. How is the actual performance of the kit? Is the assembly complicated? What battery did I install it with? Have I had any breakdowns? What about maintenance? What is the total cost? Does the Bafang BBS02 really deserve its number 1 spot in our ranking of the best electric bike kits ?
My opinion on the Bafang BBS02 B 750W kit
Our favorite
Bafang BBS02 (750W)
Tested and approved for 3 years. It's the best value for money. 1-year warranty. Very light weight (around 9 lbs). Can be assembled in under 2 hours.
Price: $$ | Speed: 31 mps | Battery: Optional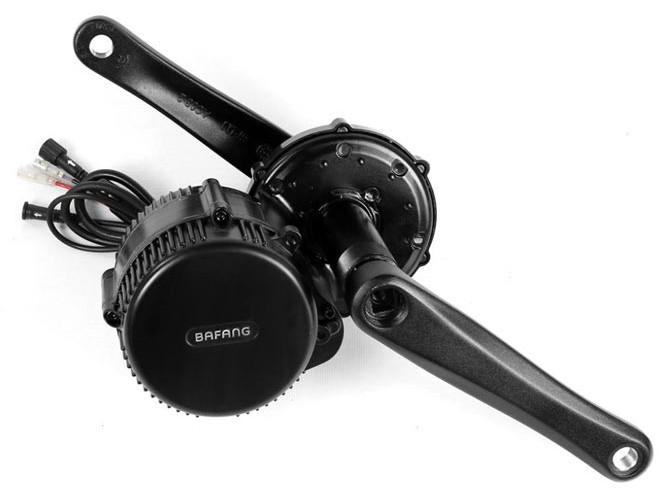 We earn a commission if you make a purchase, at no additional cost to you.
Why choose the Bafang BBS02?
It's simple, this is THE best quality/price/performance ratio to turn any bike into an electric bike. Very solid, it adapts to both mountain bikes and city bikes.
Bafang: the motors found on most electric bikes in Europe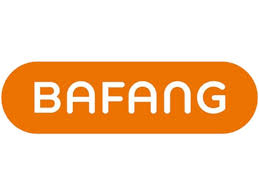 The brand is recognized worldwide for the quality of its pedal motors. Bafang now equips a large majority of electric bicycles in Europe and even claims to equip 40% of the market. After weeks of research, I decided to choose the Bafang BBS02 B kit (44T sprocket.) Having used it almost every day since I installed it, I can see why so many builders choose this kit.
Why did I choose the Bafang BBS02 B?
As you surely know, behind the idea of ​​choosing your electric bike kit and installing it yourself, there is a real philosophy of Do It Yourself and above all, the idea of ​​making great savings. Here is my feedback
Great performance
The Bafang BBS02B 750W is considered one of the best today and there's a reason for that. It has been around since 2014 and has been constantly optimized over the years. It is light (9 lbs), powerful (31 mph) and has a very good torque (120 Nm). The advantage of a crankset motor like this also lies in the fact that it provides incomparable driving comfort thanks to the weight which is located at the level of the crankset, the center of gravity of the bike.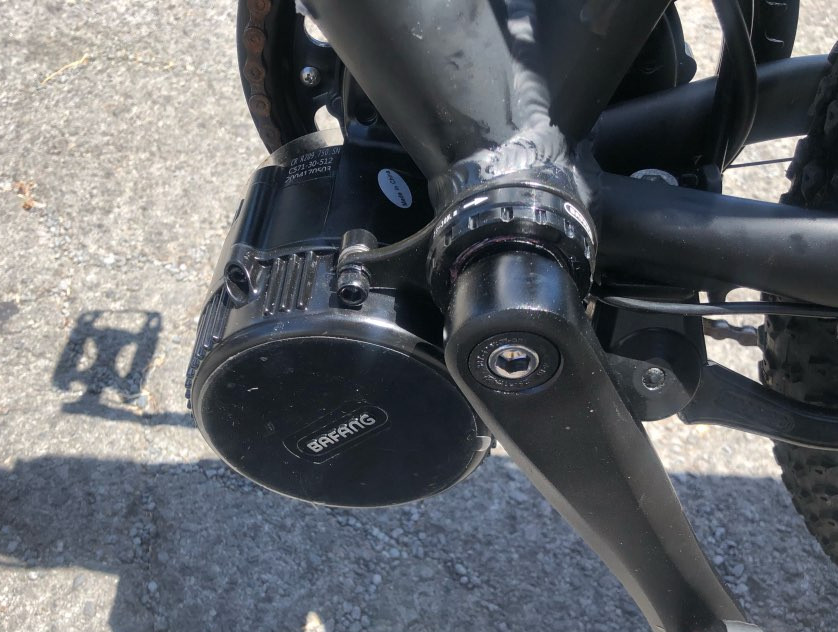 It has 9 levels of assistance and it even comes with progressive assist technology. As you pedal, the motor uses a sensor to detect if you need assistance and automatically adjusts its power. This has the big advantage of avoiding jolts. You know, the unpleasant jolts that we often have on electric bikes with low-end motors!
I should also note that the motor makes almost no noise. It may seem like a detail to you, but I assure you that when you drive in a field or in the city at dawn, it's really very pleasant! Yes, I chose the electric bike, it's not so that my bike makes a moped noise!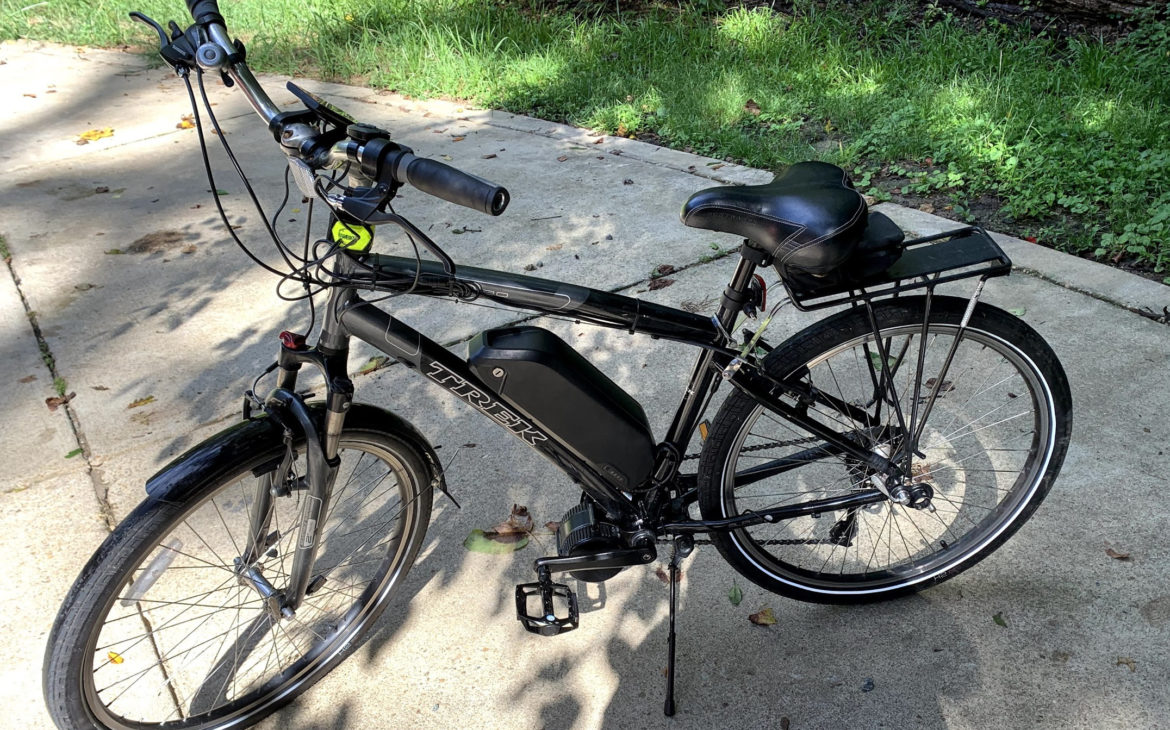 Technical characteristics of the Bafang BBS02 (750W)
Use
As I told you above, I use my bike equipped with the Bafang BBS02 kit on a daily basis. Concretely, I use it to commute (mainly from the city with some climbs) but also to go hiking in the fields and the forest. I live in Lyon and even if the weather is fairly mild most of the year, it sometimes rains. No worries for this kit: the Bafang's BBS02 meets the IP 65 standard well and is water resistant.
I know a lot of people use this kit on their MTB and are also very happy with the performance, especially the Bafang BBSHD (1000W) version who is a real monster!
The Bafang BBS02 motor having a power of 750W, it is considered as a moped motor. If you want to use it on the road, you will therefore have to comply with the strict regulations in your country. In France, for example, you must have moped insurance and wear a helmet. Note that there is a less powerful version of this motor: the Bafang BBS01 (250W). The latter has technical characteristics similar to the BBS02 but does not require insurance and wearing a helmet because its power is limited to 250W and its speed at 15.5 mph.
Guarantee
The manufacturer guarantees the kit for 1 year and has a technical customer service that responds in less than a day. Just for information, I specify that in 3 years and after having traversed more than 13 000 km (around 8080 miles) I never had to contact them.
Where to find the Bafang BBS02 B (750W)?
With the Bafang BBS02 B (750W) is kit that allows you to divide the price by 2 (minimum) compared to the purchase of an already assembled electric bike with the same performance. Yes, it's definitely worth the 3 hour tinkering! The Bafang BBS02 is one of the most advanced kits and paradoxically, one of the cheapest. If we compare it to a Bosch motor with the same performance, we notice that Bafang simply divided the price by… 4!
Our favorite
Bafang BBS02 (750W)
Tested and approved for 3 years. It's the best value for money. 1-year warranty. Very light weight (around 9 lbs). Can be assembled in under 2 hours.
Price: $$ | Speed: 31 mps | Battery: Optional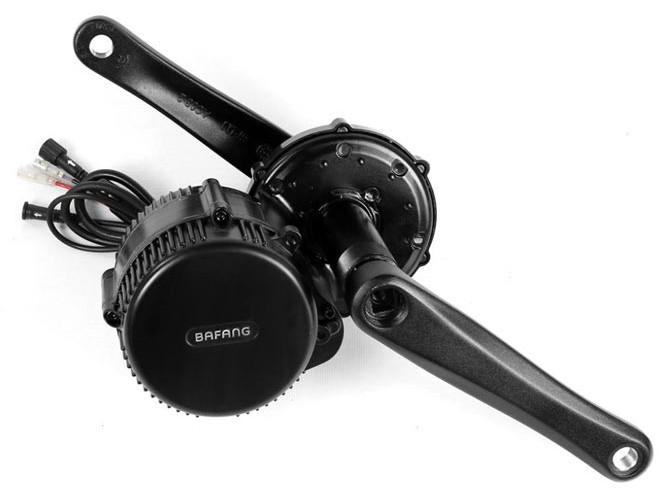 We earn a commission if you make a purchase, at no additional cost to you.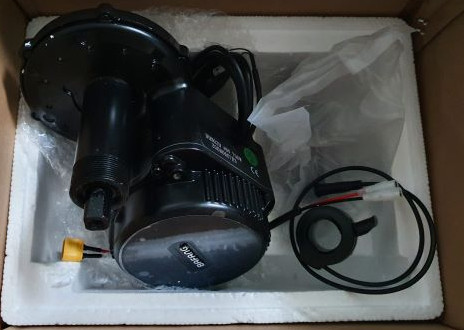 This Bafang motor can be installed on any bike with a standard crankset: mountain bike, city bike and even tandem. I myself installed it on 2 of my bikes: on my Trek hybrid bike and on my wife's Decathlon hybrid bike. I reassure you right away, I'm not a great handyman. Just someone like you who doesn't want to pay for an item twice its value.
So yes, it takes a bit of energy to install the Bafang BBS02 B, but you will be surprised yourself by the simplicity of the assembly. I admit that having assembled this kit myself is a real satisfaction. No modification is to be expected on your bike, except the removal of your original crankset (this is the most complicated part.) So you remove the old crankset and mount the BBS02 kit instead, then plug in the cables and…that's it!
What tools do you need to install the BBS02 B kit?
You only need a few basic mechanic tools : Allen keys, a set of screwdrivers, pipe wrenches, a crank extractor to remove the crankset and a Bafang spanner. To be 100% comfortable during assembly, I also advise you to use a bike rack. It is not essential but you will have better stability.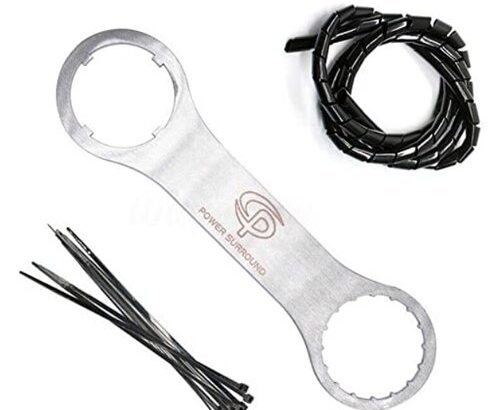 Note that the Bafang tightening key will also be very useful for you to tighten the motor retaining ring afterwards. I noticed that when I stuff a little on country roads, it sometimes needs to be tightened.
Tutorial: How to install the Bafang BBS02 B?
Chief's advice : If you want to use the Bafang BBS02 for intensive sports use (for example to do mountain bike stunts, or climb/descend mountains in angry mode) I advise you to replace your basic chain with a very solid chain. Indeed, the motor is very powerful and a basic chain risks breaking due to the torque.
What is the BBS02 electric bike kit made of?
Here is the list of items you will find in your kit:
Bafang 48V 750W BBS02 motor
Hydraulic sensors / mechanical brake levers
LCD screen with Bluetooth function to be connected to your smartphone
Speed ​​sensor and magnets
Waterproof EB-BUS cable (1 to 4 cables)
Chainring (44T / 46T / 48T / 52T according to your choice) with plastic protector
A pair of cranks
A small bag with nuts and the cables necessary for assembly
Installation manual (I recommend the video instead)
I use a Junstar 48V battery (with Samsung cells) and 17.5Ah, mounted on the frame on my Trek VTC and one on the luggage rack for my wife's VTC Decathlon. Lithium is today the top level of lifespan and this battery allows me to do 25 miles without problem. I strongly advise you to use a 48V battery with your Bafang BBS02 because it will allow you to get the best performance from your motor.
For the on-board computer (the counter) I chose the 860C. It is very easy to configure. It includes the distance, the travel time, the battery charge level and of course the speed. I know it can be linked to the phone via Bluetooth but I don't use this feature. The little extra : you can adjust the 9 levels of assistance as you see fit. For example, specify that level of assistance #1 must have a maximum speed of 1,9 mph.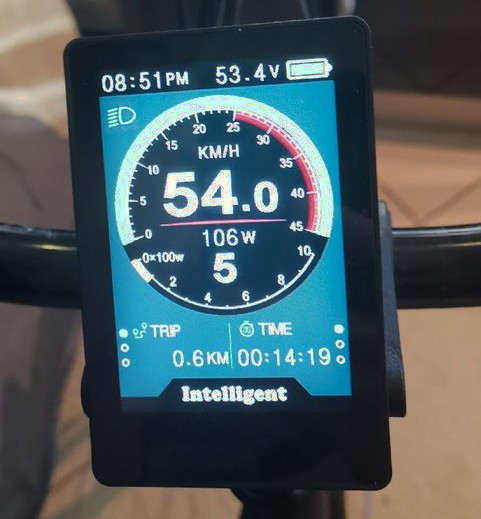 Bafang BBS02 Engine Maintenance
After several thousand miles (generally more than 6200 miles), the maintenance of the BBS02 is strongly recommended, and you will see, that it is not complicated. There are 2 areas to grease and the operation takes about 20 minutes.
If you don't, here's what you risk : abnormal motor noise (a properly greased BBS02 motor should not be noisier than an electric drill), premature wear or worse: breakage!
The first area to grease is that of the Bafang BBS02 secondary gearbox. This reducer is easily accessible: it is located under the plastic cover of the motor: there are 5 screws to remove. I advise you to use thick black grease and to not forget to wear heavy gloves to put it. You must ensure that there is always grease in this area, especially on the teeth around the large ring and the small ring.
The second reducer to be greased is the main reducer. You have to remove the motor and open it with the Bafang key to access it. The grease in it is white. It is necessary to check that the grease has not hardened, especially if you have been using the engine for several years. If so, clean the entire compartment and re-grease, especially the 2 sides of the big wheel.
Conclusion
I hope that my opinion on the Bafang BBS02 will have been useful to you and that it will have made you want to take the plunge! The pleasure of driving with this engine is present on each outing with the bike thanks to its performance, the quality of the kit is excellent. Of course, if you want it to last over time, you have to take it easy (don't drive at speed 9 all the time) and grease it from time to time. If you respect this, I guarantee you will be able to do many miles together!
Our favorite
Bafang BBS02 (750W)
Tested and approved for 3 years. It's the best value for money. 1-year warranty. Very light weight (around 9 lbs). Can be assembled in under 2 hours.
Price: $$ | Speed: 31 mps | Battery: Optional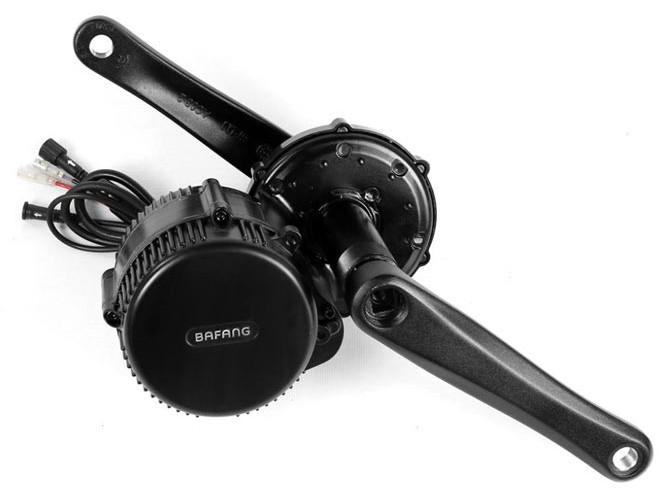 We earn a commission if you make a purchase, at no additional cost to you.