The Bafang BBSHD is a kit especially dedicated to mountain bikers looking for power! Does this 1000W motor with a torque of 160 Nm deserve its success? Can you really use it to transform your mountain bike into an electric mountain bike for a price divided by 4? Power, installation, driving comfort, reliability: here I share my opinion on the Bafang BBSHD.
My opinion on the Bafang BBSHD 1000W
Bafang BBSHD (1000W)
Tested and approved. A very powerful and robust motor, 2-year warranty. Quick assembly (2h). Ideal for mountain roads and mountain biking.
Price: $$$ | Speed: 37 mph | Battery: Optional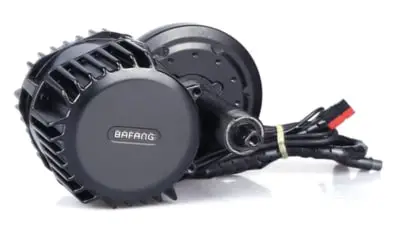 We earn a commission if you make a purchase, at no additional cost to you.
Today, I present to you Bafang's BBSHD kit mounted on a hardtail mountain bike from Carrera! I can tell you right away, this kit is very versatile: it is also often used to equip fatbikes but also hybrid bikes and even tandems.
Formerly found under the name "8 fun" or "BBS03", this Bafang bike kit is a real power booster when starting. It is the best seller of the Bafang brand on the powerful kit market with its 1000W and its impressive torque: it can produce up to 160 Nm. Intended for intensive use, the manufacturer has thought out the design of this engine so that it heats up as little as possible by integrating external cooling fins.
The particularity of this kit is that it is supplied with a small accelerator to put on the handlebars, which allows you to transform the bike into an electric (cross) motorcycle. I find that chaining the moments of pedaling and the moments "moto cross" allows to vary the pleasures and to push back a little the limits of the mountain bike.
Why choose the Bafang BBSHD?
Whether you already own an electric bike or not, you must have already heard of electric bike kit. The possibility of adding an electric motor to a crankset of a classic bicycle is just incredible: basically, you can add power to a bicycle thanks to this electric assistance device.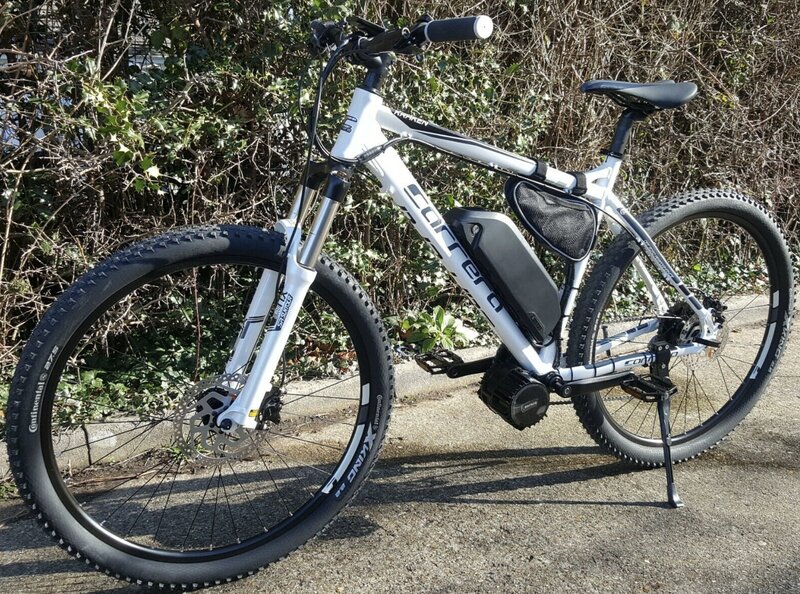 Engine power
This Bafang 1000W motor and 48V is one of the most powerful currently on sale. The electric assistance is automatically activated according to your pedaling level. The more power you want, the more the engine gives you. If you just want to ride quietly, the engine will automatically adjust as well.
The motor can theoretically run with a 52V battery but from experience, I recommend a 48V battery. I find that the reliability is better, while maintaining excellent power.
This extra power offered by the engine is not without consequences. First, the very high torque makes the engine "move" a little, especially if you go hard on off-road! Nothing serious, but it will be necessary to remember to tighten the engine regularly with a special spanner. On the other hand, also remember to install a solid chain because the "electric motocross" mode will put a lot of strain on it. Note that installing a stabilizer bar can greatly correct this. A basic chain may blow up on your first outing with this engine.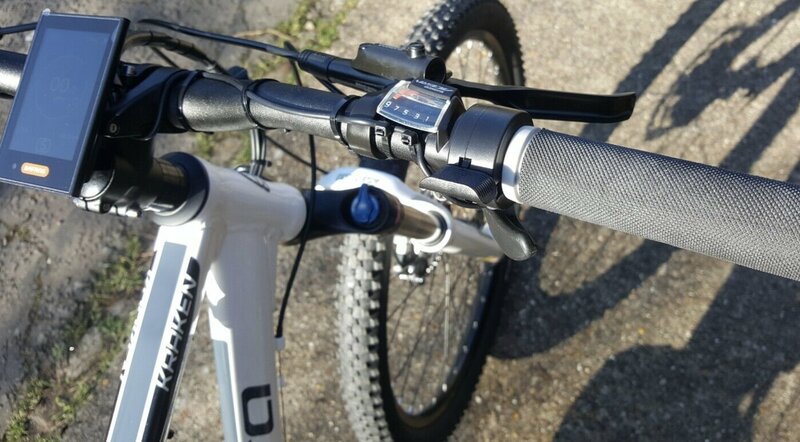 Driving
The engine has 9 speeds which makes it very pleasant in all situations. It follows the pedaling and adapts to the speed you want. If there is a word that comes to mind to define the feeling of driving, it is "power": we are stunned by the torque produced by the engine. I even find that with mode 9, we are at the limit of "too" powerful when we are not used to it. I can only advise you to equip yourself accordingly: helmet, knee pads, elbow pads, vests.
I had the opportunity to test it in the forest in slightly rainy weather and I stayed most of the time in speed 5 because it tends to leave very quickly. It's a bike that I will keep improving and I think I was showing crescendo of speed as I progressed. By the way, if you have any advice on how to improve your "fast off-road" skills, I'm all ears. 😉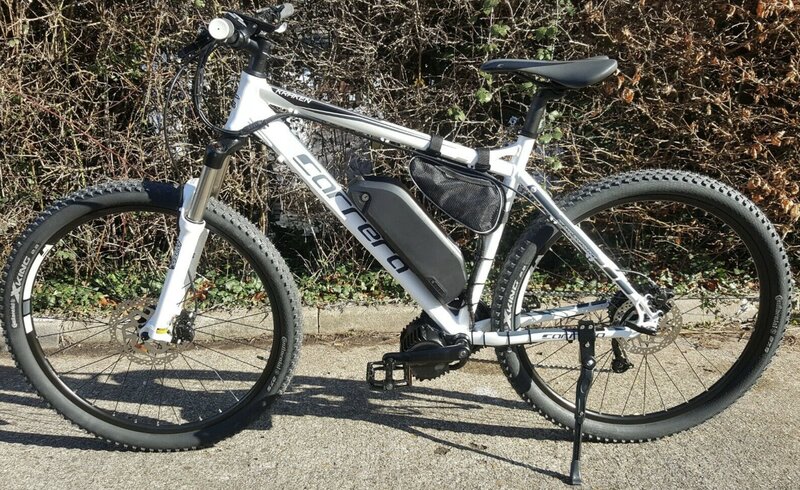 A small pedaling movement with the Bafang BBSHD gives you a boost that radically changes the sensations of a usual mountain bike. Usually, you feel the action of the parts and the resistance as you pedal. Here, you no longer feel this action, since the crankset propels you as soon as you start to turn your pedals.
On hills, the electric motor behaves very well. Almost without pedaling, we managed to climb good hills at around 12 mph. Above all, do not use the maximum level of assistance when climbing too steeply on the side, at the risk of wearing out the motor prematurely.
How to install the Bafang BBSHD?
It's easy, you don't need to be a mechanic to install the Bafang BBSHD. Here is a very well done video on the installation of the kit.
In the package you will find:
The motor (including the built-in pedal assist sensor)
2 electronic brake levers
LCD Screen
All cables
A chainring of 46 teeth
The two cranks
The trigger accelerator
The speed sensor
All necessary screws, bolts and nuts
So you have everything you need to install it, right in the box.
On your bike, start by removing the sprockets, crankset and cranks. For the latter, it is better to use an extractor. Then, insert the motor into the bottom bracket, tightening the 3 nuts very tightly in the places indicated by the instructions. Then, you connect the battery, brake, speed sensor and screen cables.
Conclusion
More powerful version than the Bafang BBS02 (750W), the BBSHD is more suitable for sporty use and supports hills even better thanks to its power and torque. It is a motor dedicated to pleasure outings that is best installed on a solid bike with good brakes. Small downside: the weight. It is 13 lbs, 4 lbs more than the BBS02. But when you use an engine with this potato, that there is 4 lbs more does not change absolutely anything.
You can further boost its capabilities with a 48V battery, to attach to your frame like I did. In this regard, if you want to get the most out of it, I advise you to bet on a 48V 17.5Ah battery because the motor consumes a lot of energy. A battery of this type can last you more than 75 miles or even 87 miles, if you limit your speed to 20 mph. This Bafang electric motor kit is guaranteed for 2 years.
Bafang BBSHD (1000W)
Tested and approved. A very powerful and robust motor, 2-year warranty. Quick assembly (2h). Ideal for mountain roads and mountain biking.
Price: $$$ | Speed: 37 mph | Battery: Optional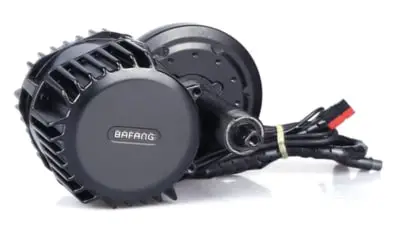 We earn a commission if you make a purchase, at no additional cost to you.