Comfort, weight, frame structure, design… Women's electric bikes are very different from classic bikes. We explain it all here.
The best electric bike for women
The best electric bike for women is today the Biwbik Gante : adapted design, light weight, practical, it gathers all that one seeks on this type of bicycle!
What is an electric bike for women?
First of all, we need to distinguish female and male electric bikes. Are there really bikes that are exclusive to one gender? The answer is no! No matter what your gender is, an electric bike for women or men could very well become your dream bike. But then, why gendering the bikes?
This is simply because, throughout history, preferences have been set apart according to gender. In reality, a bike said to be for a certain gender is just a generalization of preferences (the frame with the lower center bar on women's electric bikes for example.) In other words, whether you are a male, a female or non-binary, your personal preferences may very well fall into a category that was not necessarily thought of specifically for your gender.
As a reminder, even though it may seem obvious, the experience around cycling is unique to each individual. so trust your own preferences before relying on generalized opinion. To be clear, you can buy an electric bike for women, regardless of your genderthe important thing is just that you like it!
What are the particularities of a woman's electric bike ?
In an electric bicycle for women, we find the following characteristics:
A low frame
The low frame, also known as the "Dutch" style frame, the "V" frame, the "gooseneck" frame or the "trapeze" frame is probably the typical characteristic of the electric bicycle for women. It allows the cyclist to straddle the bike easily with a skirt or a dress, and allows a better comfort for longer legs. In addition, it increases alertness while driving because the frame allows a better posture by keeping the back straight.
Useful accessories
In the electric bike world, women are seen as forward thinking. In fact, you will more often find accessories sold with your bike if you look at the "women's" models. The accessories you can find are often: a luggage rack, a basket, lighting lamps.
A stylish design
You can consider this point as purely subjective, but in my opinion (and a majority of cyclists), an effort is made on the aesthetic aspect. You only have to look at the difference between a man's electric bike and a woman's electric bike to realize it. The style on a woman's electric bike can often make one think of a "retro" and vintage style. So if you are a fan of vintage style, we suggest you look for a women's electric bike 😀.
An optimal comfort
Having tried both men's and women's bikes, I can say that the saddles of women's electric bikes are very different. They are usually wider (and sometimes suspended) which is ideal for long-distance rides, where comfort is a must. In addition, there are usually adjustable handlebars that can be adapted to different morphologies (ideal for women of small and large sizes.) This has a huge impact on the user's health, as it allows the rider to keep his back straight.
There are additional features such as a suspension fork, hydraulic brakes and a side stand. If you're looking for comfort, women's electric bikes clearly put the emphasis on it!
A light weight
A woman's electric bike will often be lighter than a man's electric bike. This is often due to the fact that the battery and wheels on the bike will be lighter than on a man's bike. We remind you that lighter wheels allow for better stability, making for a better experience when riding.
A good performance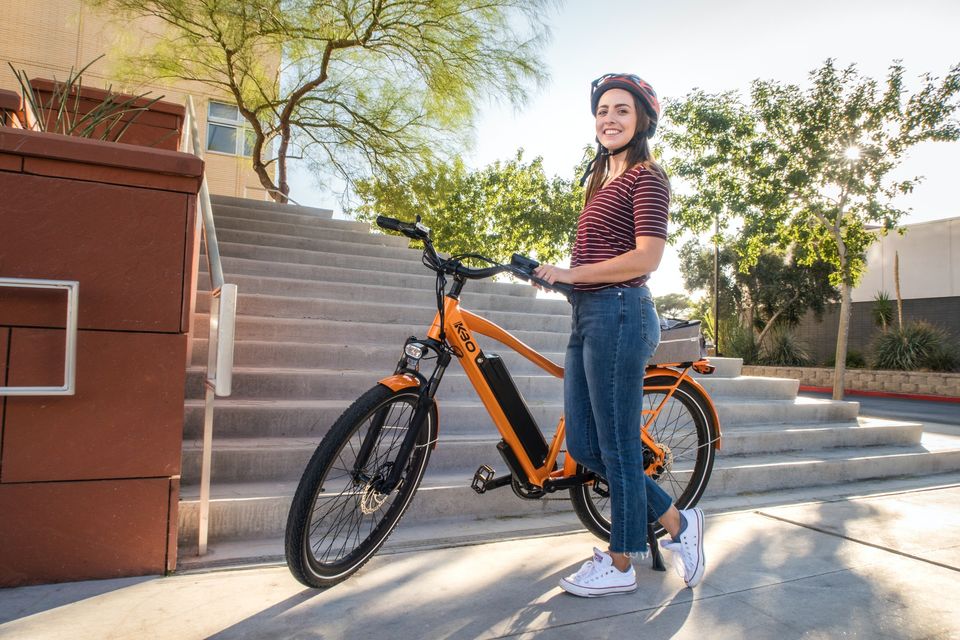 As for men, women also seek the best possible performance, speed and stability. So don't think that just because you have a woman's electric bike, the performance is less good. If you are looking for autonomy, a good braking system and a good electric assistance, you can find it in both categories. This bike that we like a lot is a good example of a good performing electric bike for women :
Soon.
How to choose an electric bike for women?
Whether you're looking for a women's or men's electric bike, the requirements are very similar. In order for you to make the best choice possible, here are the important points to respect when you look for your electric bike for women :
Different types of electric bikes
What will you use your bike for? What do you want to achieve with it? In order for you to answer this question, here are the different types of bikes that exist on the market:
The Urban Ideal for trips to the city, to get to a workplace.
The All-road Bike: This bike allows you to ride in the city, but also to ride in the countryside while surveying different paths.
The Folding Bike : Perfect for travel, public transportation and city commuting.
The Cargo Bike: Allows you to transport your children, run errands or move equipment.
The MTB: An electric bike made for different types of trails.
Fat Bike: An electric mountain bike that, with the help of its large tires, can easily traverse roads like sand and snow.
Gravel Bike: A specialized electric mountain bike for paved and unmaintained roads.
Beach Cruiser: Electric bike with wide tires that makes riding easy on terrains like the beach.
The Mini Electric Bike: Also known as the electric draisienne, it allows you to travel short to medium distances, in the form of a "small" bike.
The Hybrid Bike: The hybrid bike can be a mix of the above mentioned categories. Its advantage is that it can mix the best features of each category (an example would be a folding electric mountain bike).
The Speedbike: This super-powerful electric bike can go up to 28 mph. However, with such a speed, it must be registered.
The different price ranges and brands
After you've chosen your ideal style of bike, it's important to know how much you're willing to spend. There are three main categories (four if you consider speed bikes): entry-level, mid-range and high-end. If you want to learn more about this topic, check out our article on electric bike prices.
It is also important to consider brands that will guarantee you a good standard of quality. Here are our favorite brands:
Biwbik
Todimart
Moma Bikes
Urbanbiker
Hitway
Ancheer
Rich Bit
Windgoo
BlueWheel
Todimart
Super 73
Yuba
Samebike
DYU
The battery
The battery is a key element of your electric bike. It directly affects the autonomy of it. If you've chosen a mid-range bike (or better) there's no need to worry about buying an extra battery. These bikes are generally well equipped. If you want to know more, read our electric bike batteries guide.
The low frame
The female morphology being a little different from that of a man, we advise you to opt for the famous "swan neck frame". A lower frame will allow you a better comfort, and thus a better feeling during your rides. However, if you are looking for an electric mountain bike, this may be less of a concern. We recommend that you look for a hybrid electric bike that has the comfort of an urban bike while still having the ability to climb different types of trails.
Which electric bike for women choose?