The Bezior XF200 is a fatbike with a large 1000W motor at a very low price. Foldable, it is a surprisingly practical fatbike. Discover my opinion on this bike and its technical characteristics.
This ebike has a powerful motor/battery pair that will allow you to tackle any type of road. The Bezior XF200 also has the advantage of being foldable, which allows you to transport it anywhere. This fatbike is efficient thanks to its well-serrated wheels, a great braking system, efficient shock absorbers but also an intelligent LCD display. My complete opinion on the Bezior XF200, right here.
My opinion on the Bezior XF200
The engine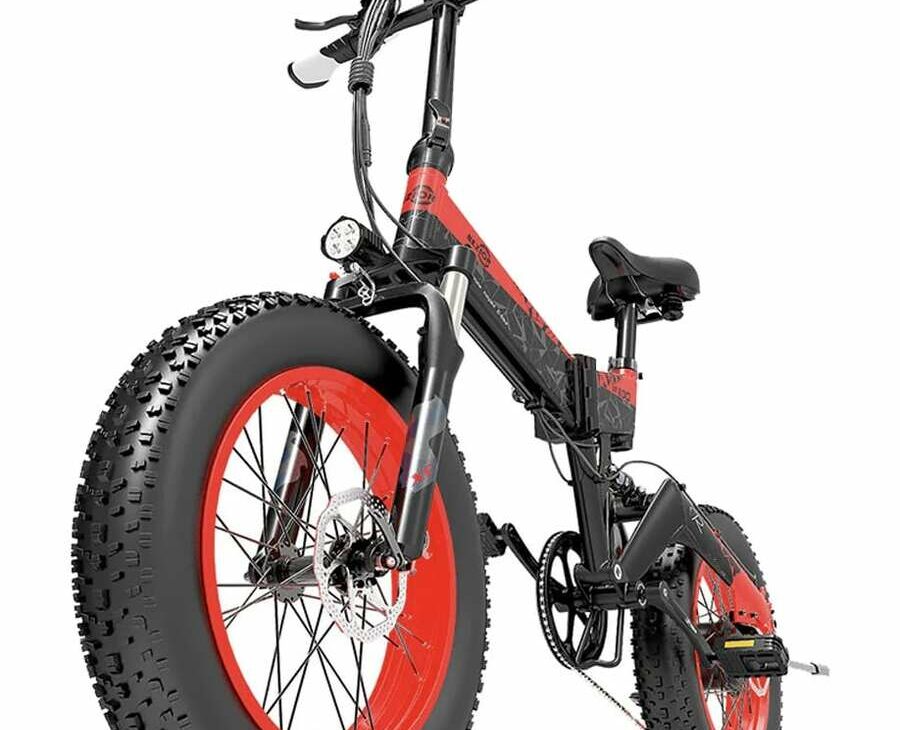 The strong point of this mountain e-bike is undeniably its engine. The XF200 Bezior has a 1000W brushless motor which makes it a very powerful bike. The advantages of a brushless motor are numerous: it is reliable and has a long life, it is light and compact, it is quiet and its start-up time is short. With its 1000W, this fatbike that looks like an electric mountain bike will take you to around 25 mph maximum and to 15.5 mph in less than 5 seconds (4.9 to be exact). Likewise, its engine provides it with the power needed to climb the mountains up to 35° in altitude, which guarantees you thrills.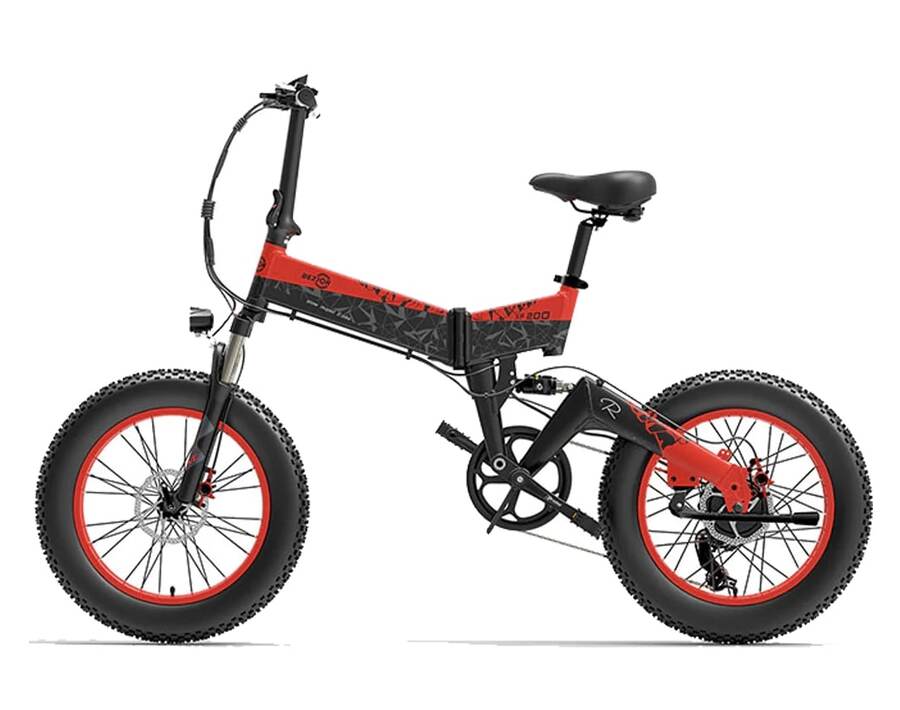 The battery
Its second strong point is the battery. The Bezior XF200 is equipped with a 48V/15Ah battery which will offer you a range of 80 miles allowing you to practice sports sessions that last. Integrated into the frame of the bike, the latter is waterproof, useful when riding on all different types of road, but also dust-proof, practical for keeping the battery in good condition. Big battery means long charging time: around 6 and 7 hours.
Easy to carry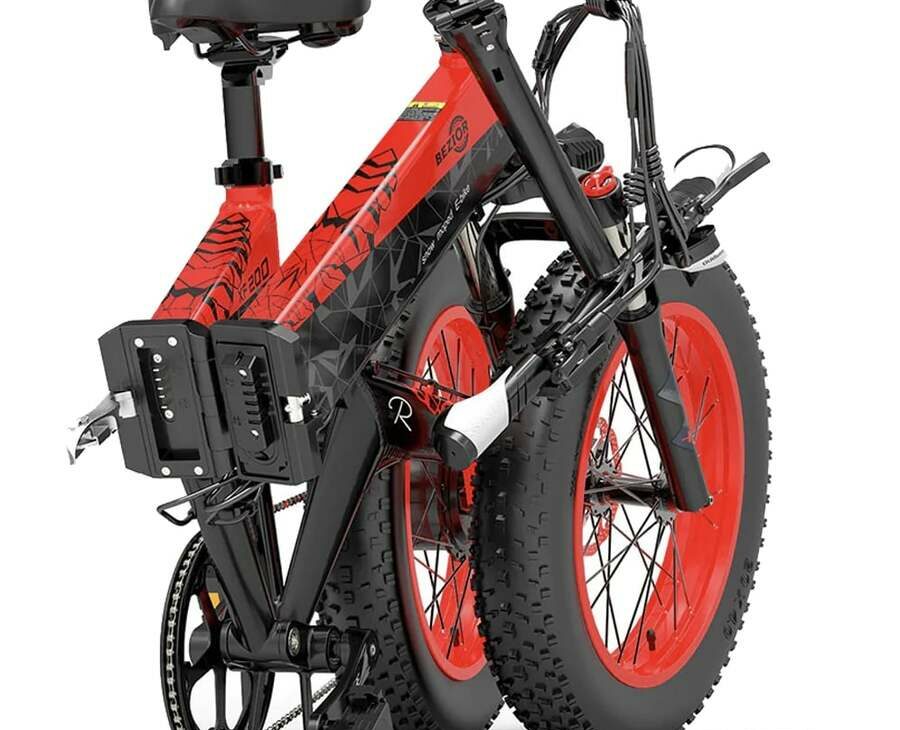 The Bezior XF200 may be a fatbike (usually thick bikes) it's no less difficult to carry ! Whether you live in town or in the countryside, you will be able to store your electric bike wherever you want thanks to its foldable functionality. (Find out about our favorite folding electric bikes!) Its large wheels will not prevent you from storing it in your trunk, taking it with you in the elevator or even storing it, even in a confined space. It is practical and adapts to all lifestyles. Likewise, its weight, 27kg (60 lbs) is quite reasonable for this type of bike. Without too much difficulty, you can therefore lift it and transport it.
Unfailing technical characteristics
The Bezior fat bike XF200 has 20 by 4 inch wheels and a tire width that reaches 10 cm: enough to stay hooked to the ground. The tires are anti-slip and anti-vibration to ride comfortably whatever your route. It's also a bike that can carry up to 200 kg (around 441 lbs) so it's an electric bike suitable for heavy riders.
On the braking side, we have a double system (front and rear) of hydraulic disc brakes allowing effective and frank braking, even in case of emergency. Safety guaranteed with this electric mountain bike !
To absorb vibrations and dampen shocks, the electric bike created by Gogobest is equipped with oil spring rear shock absorbers. These make the use of the bike more flexible and pleasant for the cyclist, thus enabling him to perform better. With its 7 speeds, you will have enough to vary your desires and pleasures, whether you are on asphalt or rubble.
Interesting features
With its interactive interface, the Bezior XF200 offers you the possibility of monitoring your performance in real time. Assistance mode, live speed, battery level, single and total mileage, it's simple, you know everything. You can change gears easily with the gear switch which you can operate with the help of + and – buttons.
Just like motorcycles, you will find on one of the handles an electric accelerator. The latter will allow you to take full advantage of the 1000W motor and to accelerate. You will also be able to customize your electric bike. Many accessories (front and rear racks, mudguards, etc) are available on the Gogobest site to give you better driving sensations.
Conclusion
The Bezior XF200 is an exceptional electric bike, which handles all types of path, from gravel roads to trail riding. Likely to join our best fatbike list, the latter ticks all the boxes of a fatbike at an excellent price/quality ratio. Affordable (around $1400) and ridiculously fun, this is a very good surprise.