The two-seater electric bike is becoming more and more popular and it's easy to understand why. Riding a two-seater electric bike is cool, it promises great rides and it's twice as much fun! You will find here the best two-seater electric bikes (2 seats) approved for the road.
Ranking of the 2-seater electric bikes
RadRunner 2
Garret Miller X
There is also the Fat Bike Garrett Miller X also at an interesting price for a 2 seater electric bike. It's an electric bike with an American chopper style two-seater.
Here is a two-seater bike with a vintage look very typical of the 70s, also with big tires (fatbike type).
For electric cargo bikes, we suggest the longtail Elops R500 from Decathlon, which offers a maximum load volume of 375 lbs, all at an unbeatable price/quality ratio. Enough to carry 1 or even 2 children in the luggage rack provided for this purpose.
There is also the Familéö cargo bike from Oklö which has the particularity of having a large front rack independent from the steering.
The U-Cargo Family from Addbike has a design with a steel cabin at the back covered with a textile frame.
As far as 2-seater electric tandems are concerned, not many electric bikes are available. The French brand Moustache, famous for its electric mountain bikes, offers a model available in 2 versions (Trekking and MTB): the Samedi 27 X2.
Whether you are riding as a couple, with friends or family, this state of the art bike is suitable for all roads. It is equipped with two batteries with a total capacity of 1000 Wh and a range of over 90 miles. Extremely complete, this bike adapts to all uses, whether recreational or practical. These bikes are still quite expensive with prices between €6700 and €6900 ($7300-$7600).
With its 2 seats saddle, the Yuvy from Elwing is a very good urban electric bike at an affordable price.
The Elwing Yuvy has all the advantages of a single-seat electric bike, but with a wide, comfortable seat for 2 people. Modular and customizable, it is a very complete bike with a maximum load of nearly 330 lbs. Its wheels and its design will allow you to navigate in any environment easily.
How to choose your 2-seater electric bike
More fun, more practical, more ecological: more and more people want to buy a 2-seater electric bike. So, if you are one of them but you don't know anything about it, this guide is for you!
Power, battery, motor, design, brakes… A lot of criteria are to be taken into account when you want to buy an electric bike for 2 people. Especially since the electric bike market has a lot of different models!
Why ride a 2-seater electric bike?
The two-seater electric bicycle is a new development in the world of electrically assisted bicycles. More and more people are opting for this two-seater bike which offers a serious alternative to the car.
Environmentally friendly, it adapts to both everyday situations and more sporty lifestyles. With it, you can do your shopping, go for a ride or even go to work. You've probably noticed: the electric two-seater is already a must-have on the electric bike market!
What type of electric tandem bike is right for you?
In the family of 2-seater electric bikes, there are 3 types of design cargo bikes, tandems and electric bikes with a 2-seater seat.
Electric bikes with a 2-seater saddle
Electric bikes with a two-seater seat are the most popular 2-seater bikes. Operating on the same principle as a moped, scooter or motorcycle, the two-seater seat allows for one person to ride behind the driver. These models are often customizable and modular, which makes them very versatile.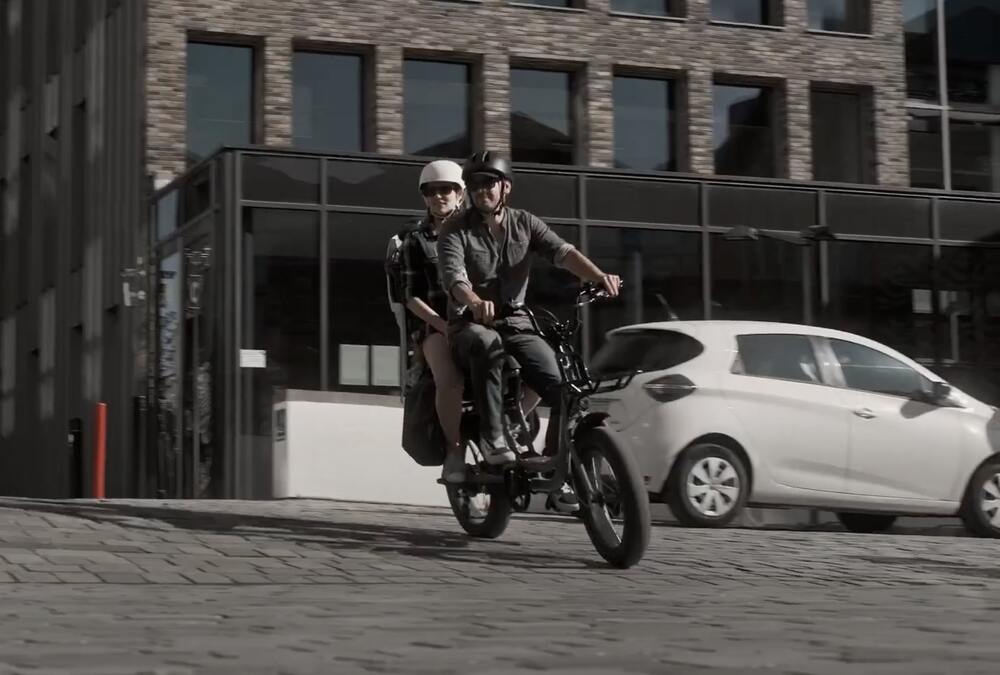 Indeed, a whole bunch of accessories can be added according to your desires and your budget (front and rear basket, mirrors, central box, etc.).
Cargo bikes
Cargo bikes are comfortable and versatile bikes. Ecological and inexpensive to buy, a 2-seater electric bike of the cargo type allows you to free yourself from the constraints of fuel, parking or insurance.
If you have a family, this is the perfect bike for you. Whether you're dropping your kids off at school or running errands without getting too tired. Cargo bikes are perfect alternatives to the car because of their ability to carry a substantial load of up to 330 lbs. This type of bike is available in different models The two-wheeler, the longtail and the three-wheeler. Do not hesitate to consult our guide to electric cargo bikes to learn more.
Tandems
Tandems are 2-seater electric bicycles that are still rarely offered on the electric bicycle market. For a leisurely ride or for a thrill, the tandem electric bike provides a real experience in pairs. Here, no jealousy, whether as a couple, with friends or family, everyone pedals! Designed to be robust and adaptable to all types of roads, they are suitable for all types of use. Most tandem bikes are equipped with 2 batteries which doubles the autonomy!
Which motor to choose on a 2 seater electric bike?
If the motor is primarily used for assistance and will propel you at about 15.5 mph : a limit imposed by the electric bike law. The type of assistance is an element not to be neglected. There are 2 types of assistance.
The first type of assistance found on 2-seater electric bikes is the rotation sensor. Here, the motor starts as soon as you start pedaling. It is a simple, easy and low maintenance technology.
The second is the pressure sensor. In fact, just press the pedals and it works immediately. Also, by adapting to the environment, it optimizes the battery. The harder you push on the pedals, the stronger the assistance. Conversely, if you push the pedals less intensely, the assistance will be less strong.
The battery: an essential element!
The battery is one of the most important criteria in the purchase of a 2-seater electric bike. Why? Because the engine needs to receive enough power to support the weight of 2 people (especially if you want to do some climbing!).
In this case, we advise you to look at the voltage of the battery, a unit of measurement that will tell you its power. The more volts there are, the higher the level of assistance. For thrill-seekers who want to ride through tricky and complex courses, the battery of a 2-seater electric bike should be as powerful as possible.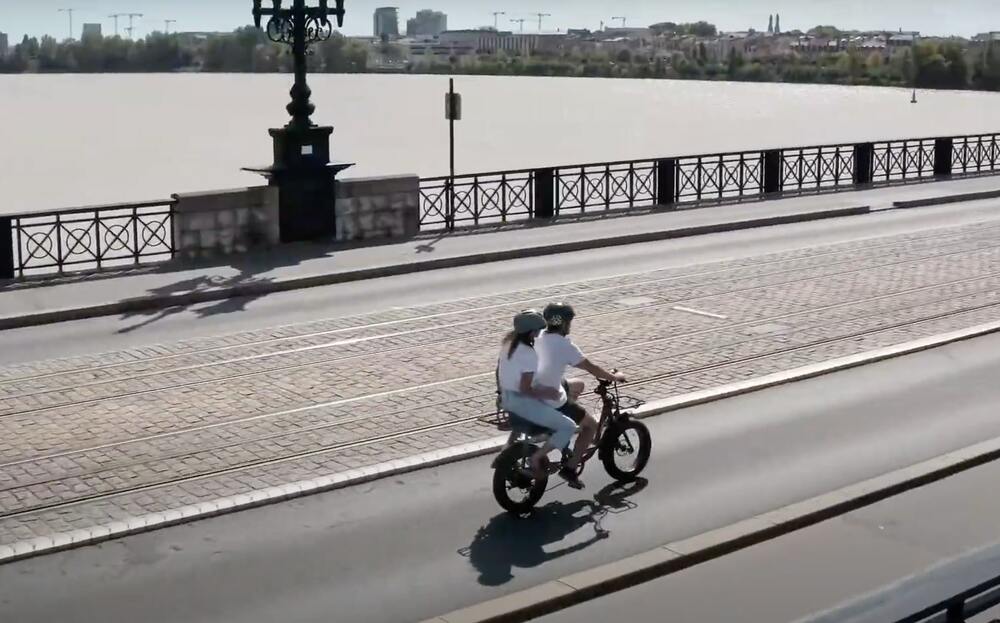 Also, find out about its range and charging time. The autonomy of the battery is expressed in Ampere-hours (Ah) and is usually found next to the voltage figure. Here, the same principle as for the power, the higher this figure is, the greater the autonomy.
Today, almost all 2-seater batteries are removable. To recharge the battery, you just have to plug it into the mains. However, it is possible that the battery is integrated into the bike. In this case, unless you store your bike at home, you will not be able to recharge it. This can be a disadvantage, especially if you live in an apartment.
The design
The design can also be one of your criteria in choosing the acquisition of an electric bike for 2 people. Indeed, the purchase of an e-bike is an investment and must correspond to you. Thus, the personality of a bike can be a determining factor.
The first thing to look at is the shape of the frame which must be comfortable for you. If the frame is open, then it will be easier to get your legs through. A closed frame gives it more stability and therefore better comfort, especially over long distances. It's up to you to judge what is best for you.
Also, depending on the shape of the handlebars, you will be able to sit upright and handle your bike with more or less precision. The size and weight of the bike are also elements to take into account. They must allow you to be comfortable and to move with ease. Electric bikes for 2 people tend to weigh more than conventional bikes so make sure you can lift your bike so you can handle it with as much ease as possible.
Brakes
Regarding braking, 2 types of brakes exist: mechanical brakes and hydraulic brakes.
The mechanical disc brake system will pinch the wheel which will trigger the braking. This is a type of braking that will more easily damage the wheels of the bicycle. The hydraulic disc brake system will pinch a disc with the help of a liquid, which will allow a more progressive braking without damaging the wheels. It is most often recommended, because it is a very efficient type of braking and has the advantage of causing less damage to the bike.
This is also reflected in the price of the electric bicycle, since mechanical disc brakes are less expensive than hydraulic disc brakes. So, depending on your needs, it will be important to adopt the best possible braking system. Even more so for a 2-seater electric bike that carries a heavy load and therefore needs good braking power to stop.
Where to buy a 2-seater electric bike?
You can find 2-seater electric bikes at more and more brands and stores, but the qualities are very different from one manufacturer to another. We mainly recommend Decathlon for longtails and cargo bikes. For 2-seater tandems, look at Moustache. For electric bikes with a 2-seater saddle, you will find your happiness at Elwing or Garrett Miller.
Used and refurbished
Are you terrified by the prices of the new 2-seater electric bike market? Then opt for the reconditioned and second hand market to get a two-seater electric bike!
These types of models may be recent, but some are already available on certain bike resale sites. This technique can allow you to save hundreds of euros on bicycles that are rarely used or even almost new. We can recommend you websites specialized in second hand bike sales on which you can find a lot of ads for electric bikes. Then, especially dedicated to reconditioned electric bikes, you have websites which offers a very large choice of recent bikes.
Can 2 people (legally) ride an electric bike?
Electric bikes that can carry 2 people are, like all electric bikes, subject to the EN 15194 standard. Thus, they must meet important criteria:
1. The assistance system must automatically engage during pedaling and stop when pedaling is complete.
2. The maximum speed is limited to 15.5 mph.
3. The electric bicycle must have a motor with a maximum power of 250W.
More specific to 2-seater and "utility" electric bicycles, the French standards agency (AFNOR) has recently created the NF30050 standard. It includes static and dynamic stability tests for two-seater, three-seater and longtail cargo bikes.
Conclusion
The 2 seater electric bike market is booming! More and more models are being created. Whether it's a cargo bike, a tandem or a two-seater, we're sure you'll find what you're looking for. We hope that this guide will help you to choose the right electric bike for 2 people. We can only encourage you to invest in a bike of this type if you are looking to reduce the use of your car, or even completely eliminate it.
The best 2-seater electric bikes