Want to go green? Transport your children, your pets, your groceries and your equipment on an electric cargo bike. Whether you're a fan of a two-wheeler, a three-wheeler, a longtail, a midtail or a compact bike, we've selected the best electric cargo bikes here!
What is the best electric cargo bike?
The best electric cargo bike is currently the RadWagon 4! It is the n°1 cargo bike in the US and is now available in France. It is fully customizable and has room for 2 kids in the back + a front basket space. It has a range of 45+ miles and a weight capacity of up to 350 lbs.
Bonus: its quality-price ratio is excellent. A solid and neat design, for a price about €600 (around $660) cheaper than its competitor from Decathlon and €4000 (less than $4400) cheaper than its equivalent from Moustache (Lundi 20).
Here are some video examples of what this electric longtail cargo ship offers in terms of customization:
The RadWagon 4 is the latest cargo bike from the American brand Rad Power Bikes, known for the quality of their bikes and their innovations.
On the performance side, this longtail cargo bike has a Samsung 35 lithium ion battery of 672Wh, 48V and 14Ah as well as a hub motor of 250W. A power assured with a powerful and responsive motor and a battery with a maximum range of 45+ miles.
Moreover, the RadWagon 4 has a maximum load capacity of 350 lbs, including 120 lbs on the rear rack alone. It is long and spacious, ideal to put 2 children in it, or to put your stuff in it: panniers, bags, or a whole load of various stuff. The cargo bike has a starting aid that allows the bike to be propelled at 3 mph, which can be activated via an accelerator handle. It also has a walking assistance, between 2 to 4 mph.
The RadWagon 4 has big wheels (it's Rad Power Bikes trademark) that bring a better stability and a very good grip. For better visibility, the wheels have reflective strips and a built-in brake light at the back that comes on when the brakes are applied. Another big advantage of this bike is that its center of gravity is about 6 cm lower than other similar bikes, which allows for better handling.
Moreover, the low frame of the Rad Wagon electric cargo bike makes it easy to straddle (which is not the case of all the cargo bikes we tested!), and the seating position is comfortable, despite a somewhat hard seat. All this makes it the best electric cargo bike of the moment!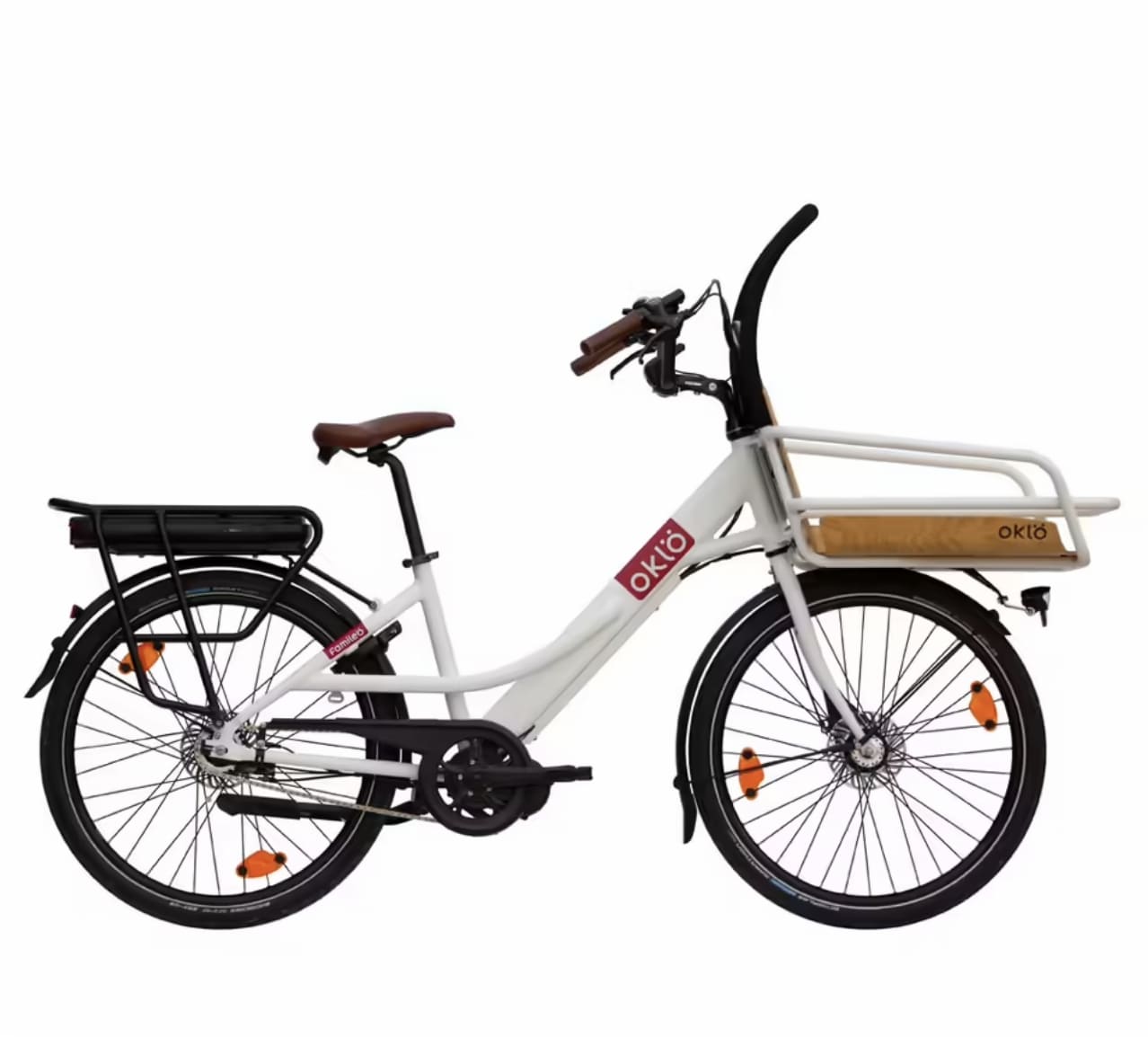 Buy your first electric cargo bike
Looking to buy an electric cargo bike? Here you will find all the answers to your questions, the points to watch out for, and our professional advice, to make sure you make the right choice. All summarized in this guide to electric cargo bikes! Of course, you know us, if you have any questions, we're here to help you in the comments. 😉
Front or rear loading: which type of electric cargo bike to choose?
Electric cargo bikes come in 2 configurations:
With the load in the front a kind of trailer at the front of the bike. They are called electric cargo bikes longtails (or midtails).
With the load in the back which extends the rear of the bike. In the electric cargo bikes with rear loading, we distinguish the two-wheelers electric and scooters electric.
Know that the 2 configurations of electric cargo bike have their disadvantages and their advantages. How to choose ? I explain you all that !
The longtail (or midtail) electric cargo bike
The electric longtail cargo bike (rear loader) is personally my favorite. It can accommodate 1 or 2 children on the back, it is easy to store (short and thin) and above all, its driving is very close to a traditional bike. It is in my opinion the most adapted bike to a use in city where we must sometimes sneak.
If you buy a rear-loading electric cargo bike, I urge you to add a few accessories. Footrests for the kids, possibly a basket, and also a sturdy double kickstand to get the kids on and off safely.
The electric bipod
The electric two-wheeler (or cargobike) is a bicycle with a front loading area. The "loading box" often contains accessories. The "cargo box" often contains accessories such as small seats or seat belts. It can carry 1 to 3 children, from babies to 5 years old. This type of bike also works well in the city, but here is what you must have in mind before buying an electric two-wheeler :
The space in the front body is the big highlight of the electric bipod, its space is just perfect for all types of cargo.
The front loading makes (in my opinion) the bike a little less maneuverable when you're a beginner (even if it's a good move!). With the volume of the body, you have to anticipate obstacles.
Its length (generally more than 2m50) makes it more complicated to park than a cargo longtail.
The electric three-wheeler
This type of electric bike is the most "spacey" to ride: it's super stable but it's not super maneuverable 😀. Already it has 3 wheels, that's actually why it's called a TRIporter. Like the two-wheeler, the storage space is in the front. This is the type of electric cargo bike that I like the least because beyond its lack of agility, it is also super imposing. If you don't have a garage, it's a pain to store and park it in town. However, if you live in a village of 200 inhabitants where parking is not a problem, it could be a nice option for you!
How much does an electric cargo bike cost?
An electric cargo bike (scooter) costs between €2300 ($2500) and €9000 (almost $10000). Such a price difference can be explained by several elements: the materials used, the type of electric motor, the battery (or batteries) (check out: the best electric bikes batteries) and the "loading" capacity.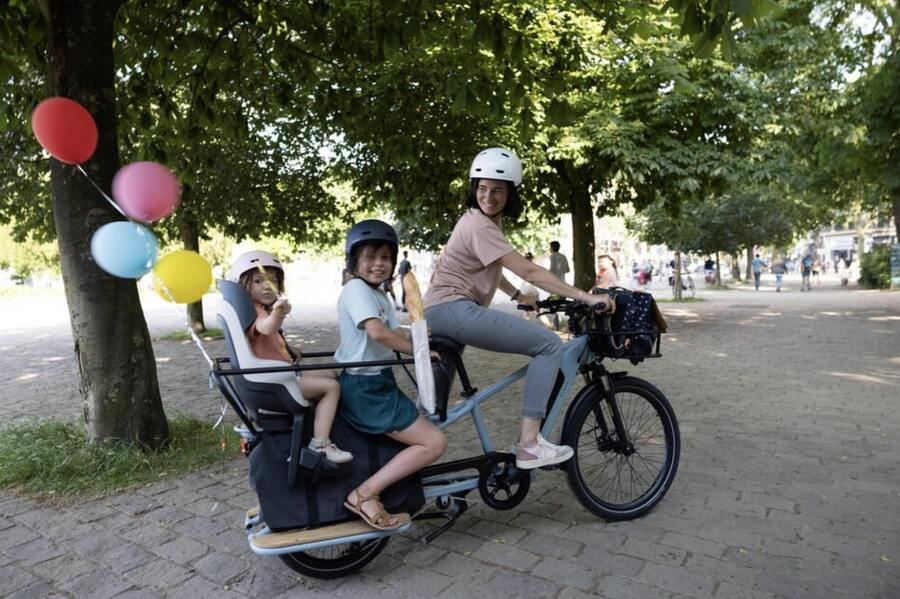 Second hand electric cargo bike: good plan or not?
You are convinced of the attractions of the electric cargo bike, but you are considering buying a second hand one? Some users don't hesitate to sell their old electric cargo bike at used prices, but is it really a good plan? Until August 2022, yes it could be a good plan to buy a second hand cargo because the state was "only" paying €1000 ($1100) of aid. Today, the electric cargo premium has been doubled and can reach €2000 (around $2200), the second hand is not necessarily the good plan anymore.
Looking for a cheap electric freighter? (my tips)
There are 3 options for people who want to buy a cheap electric cargo ship:
Buy a first price cargo bike (spoiler: this is a bad idea 😅)
Buy a mid-range electric cargo bike and get a 40% discount (so basically, get a mid-range for the price of a first price). Our comparison of electric cargo ships only includes mid-range models, from €2500 to €4500 ($2700-$5000). To benefit from the 40% discount, I invite you to read again the part about the electric cargo bonus.
Our opinion on Decathlon's electric cargo bikes
Decathlon's strategy has always been to make sports accessible in terms of price. For a few years now, Decathlon has started to produce an electric longtail cargo bike in this spirit. Having tested it, we consider that the first longtail cargo bike from Decathlon is a real success!
Beyond the very affordable price for such a well equipped electric cargo bike, Decathlon offers an electric cargo bike that costs half as much as its competitors. Note from 2023: The RadWagon cargo bike from Rad Power Bikes, which comes from the USA, is today cheaper than the one from Decathlon by about €600 (around $650). On its cargo, Decatlon offers 2 guarantees: a lifetime warranty on the frame and a 2-year warranty on parts.
The ONE thing you can't overlook on an electric cargo bike
Did you guess it? The most important thing about an electric cargo bike is the brakes. Your future electric cargo bike must be equipped with disc brakes and, if possible, hydraulic disc brakes. They are the most powerful and I can assure you that considering the weight of a loaded cargo bike (with your children for example), it is better to have good brakes to stop in the descents.
Cargo bike without motor or electric cargo bike?
Why pay €2500 ($2700) minimum for an electric bike when you could have a cheaper cargo bike (without motor) and use your calves? Good question! The answer is simple: cargo bikes are made for electric.
They are used to carry a lot of load (it can go up to 375 lbs, even 441 lbs on some models) and also because cargo bikes already weigh a certain amount (62-132 lbs). Now you know why you need an electric cargo bike 😀 !
Why use an electric cargo bike?
There are many good reasons to buy an electric cargo bike. First of all, from an ecological point of view: you may want to reduce the use of your car, to reduce your carbon footprint.
You may want to make your children aware of ecological and environmental values. You may also want to save money: gasoline is extremely expensive today, and electricity can divide the cost of your trips by 20.
Whether it's to transport your children (you can put 1 to 4 children in a cargo bike), your pets, your daily errands, your bags, the electric cargo bike is a bike of transportIt will allow you to change your "boring" trips into real walks, and you will see that slowing down a little is very appreciable.
We can also note that despite the electric assistance, an electric cargo bike is also a good way to exercise, because the presence of the motor does not exclude pedaling. In short, if you want to follow the Dutch trend and switch your family's commute to cycling, I highly recommend switching to an electric cargo bike. I can assure you one thing: big life change ahead!
Which electric cargo bike to choose?
On our media bestebike.net, we have been analyzing the electric bike market for years and electric cargo bikes have not escaped us! You now know that the electric cargo bike is an excellent ecological and economical means of transportation.
By now you know that electric cargo bikes are an excellent, environmentally friendly and economical way to get around.