The 26-inch 36V 800W rear wheel from Oukaning is currently one of the best options for transforming your traditional bike into an electric bike when you have a very small budget: less than €300 (around $330).
My opinion on the Oukaning rear wheel (800W)
The Oukaning 800W is a rear wheel who does the work ! Easy to install, inexpensive, powerful, it will be very suitable for people who want to electrify their bike on a small budget. Of course, at this price, we are quite far from the quality of others electric bike kits like the Bafang. For example, we will have to be more vigilant on the controls because the screws will tend to move a little over time. But if we are not ready to spend a little time on maintenance, to start it is a very good kit. !
Technical characteristics
Weight: 23 lbs
Size: 26"
Max speed: 31 mph
Motor: 36V*800W Brushless
Protection index: IP65
Assistance levels: 5 levels
Display kit: LCD
Braking: e-brakes
Why choose Oukaning 800W rear wheel kit?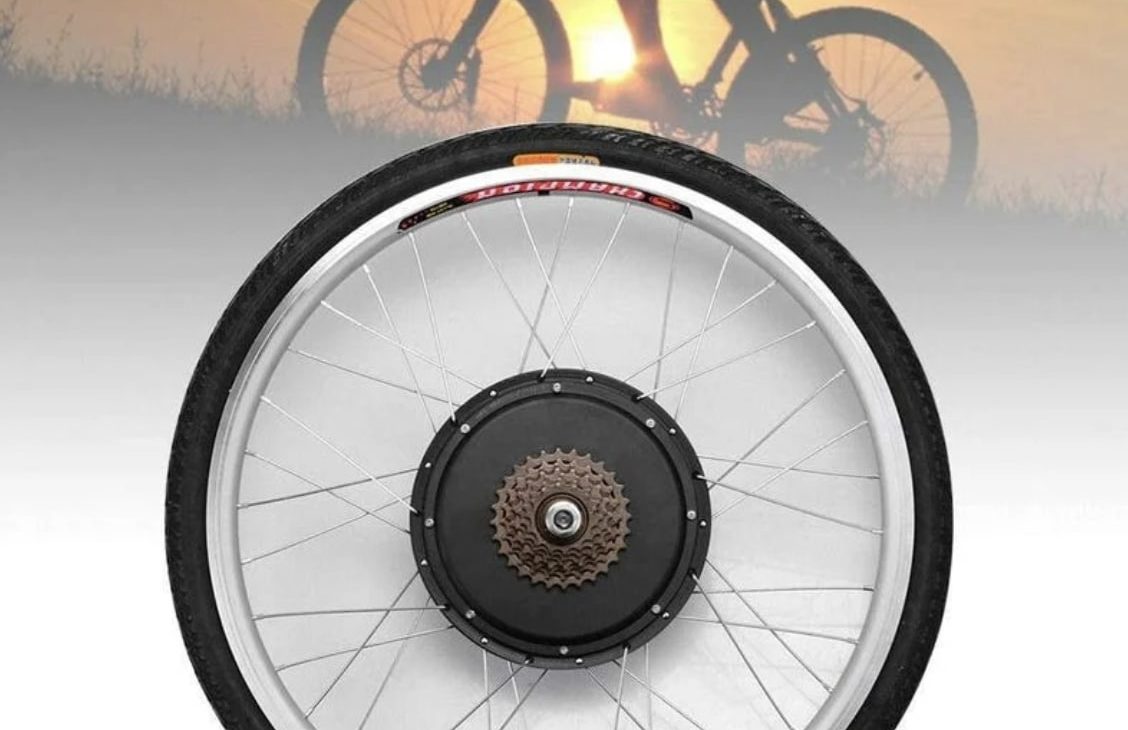 Engine and speed
One of the biggest expectations of an e-bike is the engine. With the Oukaning, I have a motor with a power of 800W. Based on a 36V battery, you can quickly reach 28 mph over a distance of less than 200 meters (on a flat road). When going uphill, it will be of great help to you and you will leave many struggling cyclists behind. In the city, you pedal normally without the slightest effort with good reliability.
The comfort of use
The 36V 800W rear wheel from Oukaning frees us from the difficulties we may have on the climbs and accompanies us on all our journeys reducing our efforts. The pack comes with a set of very well-made components and produces a much lower operating noise thanks to its improved electrical system. Thus, you will have the advantage over your friends during outings with a nice little e-bike look.
Also note that thanks to its brake levers, the engine automatically shuts off in complete safety and will save you a lot of energy. The integrated freewheel allows you to disengage the motor and thus you pedal without resistance from it.
Edge screen
The LCD screen supplied with the Oukaning 800W 36V kit is basic. It includes the display of speed and mileage during your outings. In short, you don't need more for this kind of little conversion kit.
Installation
The part is more delicate, unlike the front kits you will obviously have to touch the chain and the derailleur. Even if it can be scary, with patience and also a little tutorial rather easy to find on the Internet, you will get there. no problem, be sure! Allow 30 minutes to install the Oukaning 800W rear wheel kit. As for the electrical part, color markers are present and prevent you from any possible confusion ("The green wire on the green button").
Advice for use and maintenance
Be sure to do regular maintenance, especially on an electric bike. Watch that the chain is well oiled because the speed and the distance that you will do with it will tend to make it disappear. Also, check the brakes and the tire pressure, which will greatly affect rolling resistance and therefore the energy used by the engine.
Despite its resistance to dust, you are never safe from it deteriorating depending on the type of terrain you take and eliminate the dust or soil present. Instead, use specialized products and above all do not use a high-pressure jet. As its protection index indicates, the jet can damage not only the electrical parts but will especially degrade the mechanical parts due to the pressure. Which would have a devastating effect on your kit from Oukaning. Electric bike or conversion kit, none are really waterproof.
The lack of an included battery may scare the most novice among you. You just have to make sure that the capacity of the one you choose is aligned with the power of the motorized wheel (36V). Do not choose a battery that will not allow you to provide long and lasting power to the engine. This is the best way to ensure you get enough mileage on the go.
Conclusion
This conversion kit on the rear wheel from Oukaning (36V 800W 26-inch version) is a good introduction for those who want to tinker with their bikes as well as to boost it.
Its power delivery is substantial and will bring you to a good speed very quickly and sometimes with brutality (which is to be managed with the joystick) when you want to accelerate. Yes, the wheel is dustproof and IP65 rated, the connector cables are water resistant, but the controller bag itself isn't really waterproof, so be careful where you put it.
Nevertheless, it can be difficult for large bikes to convert into an electric bike and this kit is a solution to motorize you easily at a lower cost!