Are you a deliveryman (Seamless, GrubHub, Uber Eats, Postmates, DoorDash…) or a courier and you want to optimize your trips with an electric bike? You are in the right place.
Electric bikes are becoming increasingly popular among delivery people as they provide a convenient and cost-effective way to transport goods. With the right electric bike, you can save time and energy while also earning more money. In this article, we will discuss the top electric bikes for deliverymen, including their features, prices, and performance. Additionally, we will provide you with valuable tips and advice to help you choose the best electric bike. By the end of this article, you will have all the information you need to make an informed decision and start enjoying the benefits of using an electric bike for your delivery business.
Our favorite electric bikes for delivery people
Can a deliveryman use an electric bike?
Make twice as many deliveries (and earn twice as much money) in the same day, it seems too good to be true… Can a delivery driver really use an e-bike? Well, yeah ! But there are few rules to follow when driving on public roads. First, you must drive on the road (not on the sidewalks) and your speed must be limited to 15.5mph. ✅ As a deliveryman, your electric bike must also comply with the regulations. All the bikes present in this list are well approved and can be driven on public roads.
Why use an electric bike when you are a deliveryman or a courier?
Electric bicycles are increasingly used for business travel in all delivery services, such as grocery delivery, food delivery, flower delivery, package delivery, etc. It is a green means of transport, both fast and pleasant, which allows you to keep a physical activity. We can also talk about the savings we make by riding an electric bike: no gas, no traffic congestion, no parking ticket and (almost) 0 maintenance. The electric motor gives assistance that allows delivery people to cover more kilometers faster and therefore, make more deliveries. It is a great way to earn more money for all professionals paid by the race.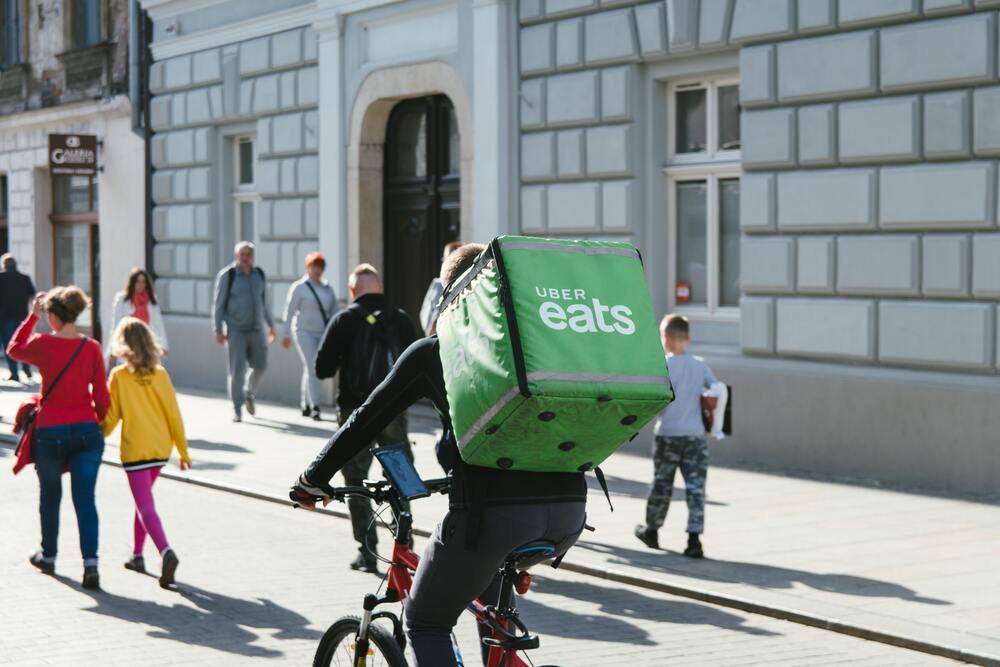 Guide: How to choose your electric bike for delivery?
Whether you are already a deliveryman, a courier or not, here is a list of questions to ask yourself when choosing your electric bike :
Questions to ask yourself
Do you have to carry a heavy load? If you are an Uber Eats delivery person and you have a backpack, you can opt for an electrically assisted mountain bike or a folding e-bike. If you do home shopping delivery tours, I would advise you to choose a cargo bike instead.
How far do you ride each day? This question is very important because it will help you define the minimum autonomy that your electric bike must have.
Where will your e-bike be stored? (at home? in your hallway? in a garage?) A deliveryman who lives in an apartment without a lift can, for example, opt for a folding electric bike. If you have a garage, you are free to choose whatever e-bike you like.
How many hours a day do you spend on your bike? Almost a trivial question which, in reality, should help you determine the level of comfort you need.
Do you have a limited budget? If your budget is between €800 and €2,000 ($900 – $2200) all the bikes in this selection are within your price range. If you have less than €500 ($550) of budget, then I advise you rather to build your electric bike yourself.
What type of electric bike for delivery people?
There are several types of electric bikes, but not all of them are suitable for this occupation. We have summarized the types of electric bike that are the best suited for couriers and delivery people !
Mountain, road and urban e-bikes
These types of electric bikes are the most used by delivery people, because they are light (often made of aluminum) and have powerful electric assistance that helps you cover miles without getting tired. They are equipped with long-range batteries and their price is affordable.
Cargo e-bikes
Cargo electric bikes are made to carry large loads, it's like the new generation van! Ideal for delivering groceries, mattresses, beers or any other items to multiple homes. The electric cargo bike is equipped with an electrically assisted motor, a pedaling aid that makes it easier to carry weight without realizing it and to easily manage climbs and long distances. You can add extra storage and saddlebags all over the frame, or even an extra trailer! It is therefore really the ideal bike if you transport a lot of goods.
Folding e-bikes
An electric foldable e-bike mixes the convenience of portability with power assist. It is an ideal bike for delivery people who do not have much storage space at home and who have to transport their bike regularly. For a folding bike that is comfortable to ride on a daily basis and pleasant to get on and off, choose a low frame and large tires foldable e-bike.
Is it possible for deliveryman to receive the electric bike bonus? (Only in France)
Yes, you can get a bonus up to €1000 (around $1100) for the purchase of an electric bike. To benefit from it, all you have to do is buy your new electric bike, then apply for your "bike bonus" check on the government website.
Conclusion
Here are the best electric bikes for delivery people. Choose it according to your usage, your charging needs and your budget. Which of these electric delivery bikes will you choose?