Today I'm sharing a step-by-step guide to make your own electric bike using a Bafang BBS02 motor on a mountain bike and create an electric mountain bike that costs half as much as a similar ready-made model.
How to make an electric bike?
You will find below the video tutorial to learn how to build your own electric bike by yourself. This tutorial is divided into several parts to transform a mountain bike into an electric bike. Count between 20 and 30 minutes in total for assembly. You will see, the proposed solution is simple and allows you to learn how to mount an electric motor on a bicycle for a very affordable price! The motor will be installed on the pedal board.
What do you need to build an electric bike?
✅ A bike. We're taking a Rockrider mountain ebike. It's not expensive and the quality is sufficient.
✅ A motor kit, including the motor, the pedal sensor and the on-board computer. If you don't know which one to choose, read our guide of the best motor kits for electric bikes.
✅ A battery, in accordance with your engine (it is sold with the kit.) If you don't understand batteries, go read our guide to ebike batteries.
What we recommend
Our favorite
Bafang BBS02 (750W)
Tested and approved for 3 years. It's the best value for money. 1-year warranty. Very light weight (around 9 lbs). Can be assembled in under 2 hours.
Price: $$ | Speed: 31 mps | Battery: Optional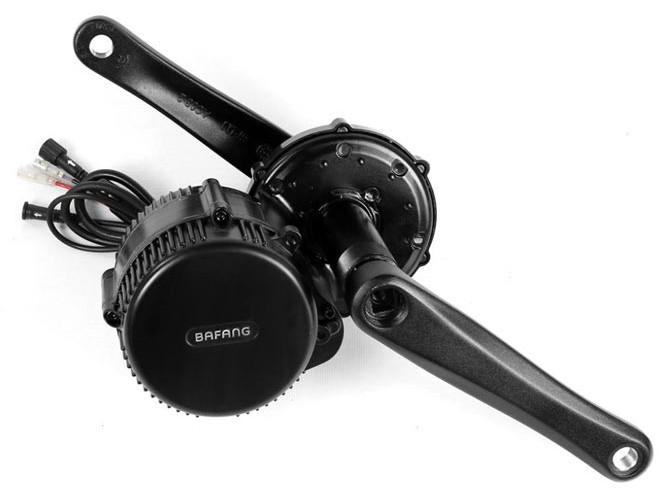 We earn a commission if you make a purchase, at no additional cost to you.
To build your custom bike for off-road use (MTB, fatbike, gravel), I advise you to choose the BBS02 electric kit.
Bafang BBS03 HD (1000W)
1-year warranty, easy to install (video & documentation), 1000W, for 68-73mm bottom bracket
Price: $$ | Speed: 34 mps | Battery: Optional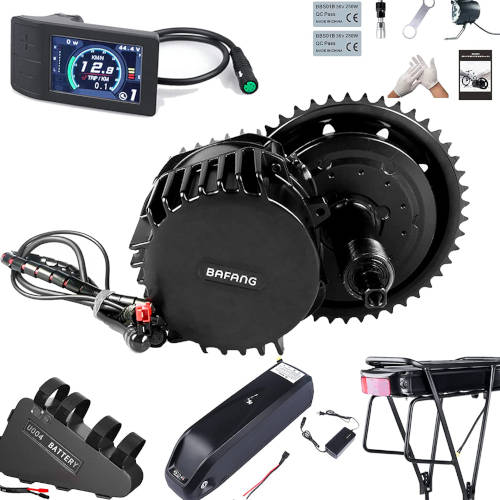 We earn a commission if you make a purchase, at no additional cost to you.
To make an electric bike for urban use, I advise you the BBS01 (250W) or the BBS03 (1000W) kit
If you don't have a bike, here is the bike that I recommend to electrify (this is the one I would personally choose if I was getting a new electric bike today.) Why ? It's semi-suspended, it has disc brakes, it's cheap and it's very well made. It is therefore a bike that you can keep for a long time and for which you will easily find all the parts if necessary.
How much does it cost to electrify a bike?
Electrifying my bike cost me just under €800 (less than $900) all-inclusive (bike + motor kit + battery.) For €800 (around $900), I was able to install one of the best electric motors at the moment from Bafang, the manufacturer that equips half of the electric bikes in Europe. If I had wanted to buy an electric bike with the same characteristics, I would have had more than €2000 (less than $2200) the choice was quickly made! 😀
The different steps to build your electric bike
Remove the brake cables
Remove the handlebars from the bike
Rearrange the handlebars
Remove the cranks
Remove the chain
Remove the front derailleur
Remove the crankset
Install the motor
Install the speed sensor
Move up the chain
Install the battery and connect it to the motor
The tutorial video to make your electric bike (from an old mountain bike!)
Wondering how to make an electric bike easily? Let's see in the video!
Where can you convert your bike to electric?
Specialized workshops to convert your bike into an electric bike exist, but if you are a handyman or you like to do-it-yourseld and you have 30 minutes in front of you, then I advise you to electrify your bike yourself and follow the same tutorial as I did myself with the Bafang BBS02 few years ago. Doing the assembly yourself is obviously the most economical solution but also the most fun because you will have the satisfaction of having succeeded in transforming your bike into an electric bike yourself.
Advice : Knowing how to add an engine on a bicycle, allows you to be much more comfortable for maintenance!
Conclusion
As you can see, it's easy to electrify a bike! I hope you liked this tutorial to install an electric motor on your bike!