What if instead of contemplating the landscapes of the Tour de France through your TV, you did your own Tour de France by electric bike? We have prepared a route for you to follow using only your legs and an electric motor. Ready to take the challenge ?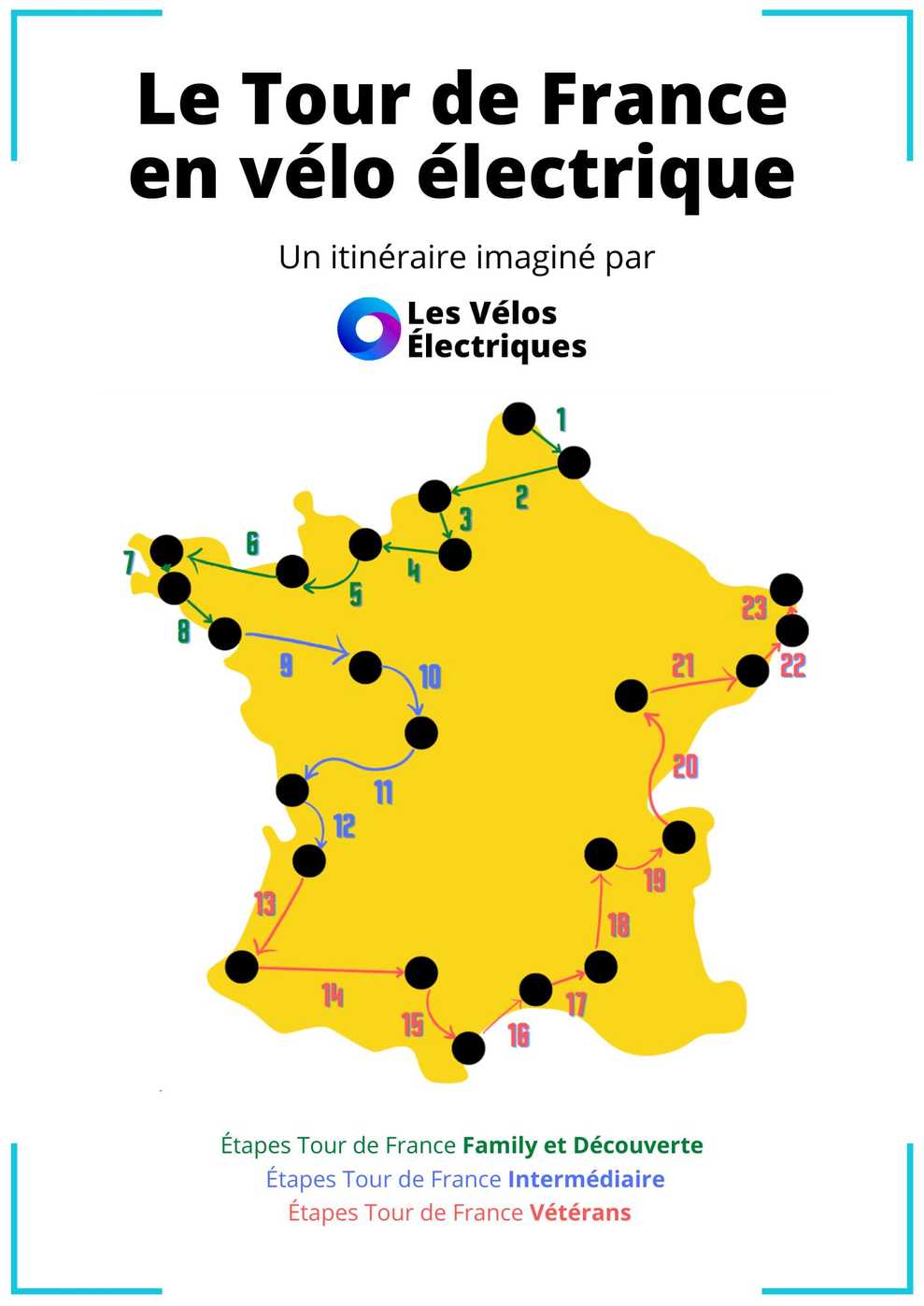 Which Tour de France electric bike route is right for you?
Before getting to the heart of the matter, we are going to offer you a course divided into 3 parts: depending on your level and what you are looking for. Do not worry, the 3 parts offer stunning landscapes:
1. Family and Discovery Tour de France
Want to discover the country without straining your legs too much? Do you have one or more children and want to enjoy the country with your family? This stage is for you! Rest assured, there will be no big departure planned in Denmark like for the 2022's Grand Départ. We will offer you a trip that will allow you to fully enjoy the landscapes without taking physical risks. For the Grand Départ, meet in Dunkirk!
2. Intermediate Tour de France
The first step did not tire you enough? In this case, we give you an appointment in Angers for the rest of the route. If you want to discover more of the western part of France, this stage is made for you. This stage is also dedicated to those who have an intermediate level. If you were already struggling with the first stage or prefer not to strain your legs too much, we advise you to organize breaks for the longer routes.
3. Veterans Tour de France
Are you a great athlete ready to cross the finish line? Do you want to discover the rest of France by e-bike? So on the way to discover the south and east of France. The paths will be longer, but the landscapes reward your efforts. Warning: As for the previous stage, the courses have a distance and a significant difference in altitude. It will be necessary to take breaks in order to recharge your batteries, as well as the ones of your electric bike.
Preparations required for the 3 stages
Use reliable equipment:

Change the battery if necessary for more autonomy (see our guide of the best batteries for electric bikes)
Mudguards for more risky paths
Luggage rack and saddlebags for the snack
Mirror (optional)
GPS/Counter

Adopt responsible conduct:

Set achievable goals before each race
Never overestimate yourself
Check the conditions of the bike
Find landmarks (between each race) to rest and recharge your battery
Some advices…
We advise you to take precautions for the battery, in particular for routes with a steep drop, where the electric assistance will be invaluable to you. If you are looking for the ideal electric bike, we recommend that you read our guide to the best electric bikes. This article will allow you to discover our selection of electric bikes for this year.
Should you take a mountain bike, an all-road bike or a cargo bike? It entirely depends on your preferences in terms of comfort. Nevertheless, we advise you to choose bikes with high autonomy, capable of crossing several types of terrain.
The proposed route takes several greenways, so the path may not be as flat as in town. Therefore, we advise you, as well as for your long walks, to take a mountain bike. This choice will guarantee you better comfort, which is necessary for long distance journeys.
Our "Tour de France" by electric bike
We now invite you to consult our map "The tour of France by electric bike" so that you can see what awaits you. We have numbered each route, so that you can read more about important information further down the article. This being, the length of the route (with the path to take), the total ascent and the descent distance. This information will be essential for you to ensure that you and your electric bike are in condition to complete the stage.
We have also left you the names of places not to be missed for each arrival. These will act as a "reward" for each completed step. And yes, the Tour de France in e-bike is above all a sporting moment, but also a cultural one.
Family and Discovery stage (651 miles)
1. Dunkirk – Lille
Length of the route: 47 miles via D916 and D933
Total ascent: 169 m
Descent distance: 153m
Places not to be missed:
Old Lille District
Grand-Place
Fine Arts Museum
2. Lille – Veules-les-Roses
Length of the route: 130 miles via D925
Total ascent: 961 m
Descent distance: 965m
Places not to be missed:
Veules-les-Roses Village
Saint-Martin Church
La Veules
3. Veules-les-Roses – Rouen
Length of the route: 36 miles via D142
Total ascent: 291 m
Descent distance: 295m
Places not to be missed:
Rouen's Notre-Dame Cathedral
Old Rouen District
Rouen's Fine Arts Museum
4. Rouen–Caen
Length of the route: 83 miles via D675
Total ascent: 516 m
Descent distance: 514 m
Places not to be missed:
Caen Memorial
Birds Hill
Men's Abbey
5. Caen – St Malo
Length of the route: 117 miles via the Swiss Normandy Greenway
Total ascent: 977 m
Descent distance: 977 m
Places not to be missed:
Chateaubriand's Place
St-Malo Walls
St-Malo Harbor
6. St Malo – Brest
Length of the route: 142 miles via D764
Total ascent: 1620 m
Descent distance: 1576 m
Places not to be missed:
Marine's National Museum
Brest's National Botanic Conservatory Garden
Capucins Workshops
7. Brest–Locronan
Length of the route: 42 miles via D770
Total ascent: 806 m
Descent distance: 707 m
Places not to be missed:
Locronan Historic Center
Notre-Dame-de Bonne-Nouvelle Chapel
Saint Ronan Church
8. Locronan-Lorient
Length of the route: 55 miles via D765
Total ascent: 347 m
Descent distance: 491 m
Places not to be missed:
Groix Island
Flore Submarine
Compagnie des Indes Museum
Intermediate stage (496 miles)
9. Lorient–Angers
Length of the route: 156 miles
Total ascent: 1154 m
Descent distance: 1125 m
Places not to be missed:
Angers's Castle
Lurçat Museum
Terra Botanica
10. Angers – Angles-sur-l'Anglin
Length of the route: 100 miles
Total ascent: 307 m
Descent distance: 253 m
Places not to be missed:
Angles-sur-L'Anglin Castle
Roc-aux-Sorciers Interpretation Center
Angles-sur-L'Anglin Tourism Office
11. Angles-sur-l'Anglin – La Rochelle
Length of the route: 119 miles via D611
Total ascent: 680 m
Descent distance: 766 m
Places not to be missed:
La Rochelle Old Harbor
La Rochelle Towers
La Rochelle Old City
12. La Rochelle–Bordeaux
Length of the route: 120 miles via D733 and D808
Total ascent: 278 m
Descent distance: 275m
Places not to be missed:
Miroir d'eau
Saint-Pierre District
Saint-André Cathedral
Tour de France : Veterans stage (1250 miles)
13. Bordeaux – Bayonne/Biarritz
Length of the route: 124 miles via D87
Total ascent: 301 m
Descent distance: 308 m
Places not to be missed:
Bayonne:
Sainte-Marie de Bayonne Cathedral
Bayonne's Basque Museum
Botanic Garden
Biarritz:
Virgin Rock
Biarritz's Aquarium
Basques Coast
14. Bayonne/Biarritz-Toulouse
Length of the route: 199 miles via D158
Total ascent: 611 m
Descent distance: 471 m
Places not to be missed:
Capitol Place
Jacobean Covent
Saint-Sernin Basilica
15. Toulouse–Perpignan
Length of the route: 125 miles via D500
Total ascent: 825 m
Descent distance: 927 m
Places not to be missed:
Perpignan's Downtown
Historic Center : La Citadelle
Castillet
16. Perpignan-Montpellier
Length of the route: 110 miles via the Agly Greenway and D613
Total ascent: 345 m
Descent distance: 338 m
Places not to be missed:
Comedy Place + Charles de Gaulle Plaza
Arc of Triumph
Historic Center : L'Écusson
17. Montpellier–Avignon
Length of the route: 59 miles via N113
Total ascent: 140 m
Descent distance: 161m
Places not to be missed:
Popes Palace
Doms Rock
Avignon Les Halles
18. Avignon–Lyon
Length of the route: 150 miles via N7
Total ascent: 573 m
Descent distance: 428 m
Places not to be missed:
Old Lyon Distrcit
Fourvière Hille + Notre Dame de Fourvière Basilica
Lyon's Traboules
19. Lyon–Annecy
Length of the route: 91 miles via D517
Total ascent: 876 m
Descent distance: 598 m
Places not to be missed:
Lac d'Annecy Walk
Lac d'Annecy Boat Tour
Heights of Annecy's Hike
20. Annecy–Dijon
Length of the route: 144 miles via D109
Total ascent: 1666 m
Descent distance: 2162 m
Places not to be missed:
Chouette's Ballad
Liberation Place
Dijon's Fine Arts Museum
21. Dijon-Kaysersberg
Length of the route: 164 miles via D13
Total ascent: 1185 m
Descent distance: 893 m
Places not to be missed:
Kaysersberg's Castle
Invention De La Sainte-Croix Church
Kaysersberg Art Glassware
22. Kaysersberg-Strasbourg
Length of the route: 46 miles via VV11
Total ascent: 103 m
Descent distance: 209 m
Places not to be missed:
Strasbourg's Notre-Dame Cathedral
Little France
Strasbourg's Downtown
23. Strasbourg–Hunspach
Length of the route: 37 miles via D263G
Total ascent: 157 m
Descent distance: 138 m
Places not to be missed:
Hunspach Town
Schoenenbourg Fort
Hunspach Tourism Office