Is it legal to install an electric motor kit on a bike to transform it into an electric bike? Is the law OK with that? What are the standards for transforming your bike into an e-bike? Here is a tour of the regulations on electric bike kits.
Can you install an electric bike motor kit on your bike?
Yes, it is quite possible to equip your bike with an electric motor kit while being within the law, according to the Directive 2002/24/EC of the European Parliament and the Council of 18 of march 2002 relating to the type-approval of two or three-wheel motor vehicles and repealing the Directive, and Council 92/61/EEC (Text presenting interest in the EEA). Still, there are certain rules to respect to be in good standing.
Electric bike kit: what are the rules for riding on public roads?
Are you considering buying an electric bike kit (: add an electric motor and a battery to your traditional bike) and equip your bike with it? You also want to use your bike equipped with the kit to ride on public roads? Are you crazy? I'm joking of course. Since 2002, using an approved bicycle kit on public roads has been legally authorized, provided that certain conditions are met. You can electrify your bike and travel on public roads provided that:
The motor power should be 250W maximum (like the excellent Bafang BBS01 motor kit)
Speed ​​must be capped at 15.5 mph
The assistance must be configured to only start when pedaling and stop when pedaling stops. According to the law, you can set up a starting assistance without having to pedal but it must not exceed 4 mph.
If you respect these conditions then, you will be able to use your motorized electric bike on public roads without worry, and you will not have to register it.
Bafang BBS03 HD (1000W)
1-year warranty, easy to install (video & documentation), 1000W, for 68-73mm bottom bracket
Price: $$ | Speed: 34 mps | Battery: Optional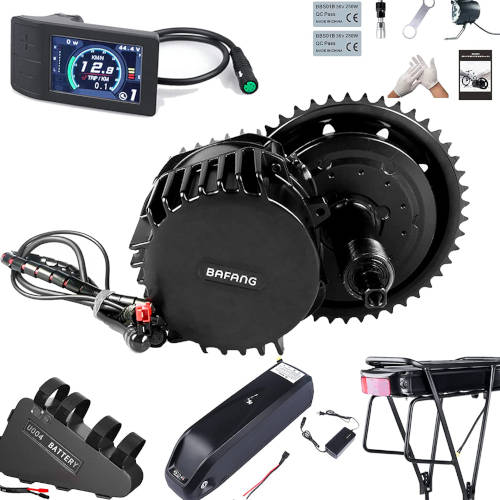 We earn a commission if you make a purchase, at no additional cost to you.
Are bike kits over 250W (750W, 1000W) illegal?
It is quite possible to use a 750W (the power of the Bafang BBS02) or a 1000W electric bike kit, provided that it is on private roads. The legality of bike kits varies depending on the country and region. In some places, it is legal to use bike kits with higher wattage, while in others, it is not. In the United States, the federal law defines an electric bike as a bicycle with a motor of no more than 750W and a top speed of 20 mph on level ground. However, individual states and local jurisdictions may have different laws and regulations regarding e-bikes.