Today I'm testing the Tenways CGO600 Pro, the new belt-driven electric bike for the city. It's an electric bike that combines style, comfort and performance without breaking the bank (under 1800€).
I've been waiting impatiently for this bike, and I'm super happy to finally be able to test it. Will it become one of the leading urban electric bikes of 2023? I share my opinion with you here.
My opinion on the Tenways CGO600 Pro
Tenways is a bike brand I'm getting to know. A few months ago I had the opportunity to share with you my opinion on the Tenways CGO800S, the Tenways CGO800S is a very comfortable, lightweight, low-frame VTC with a belt-driven motor.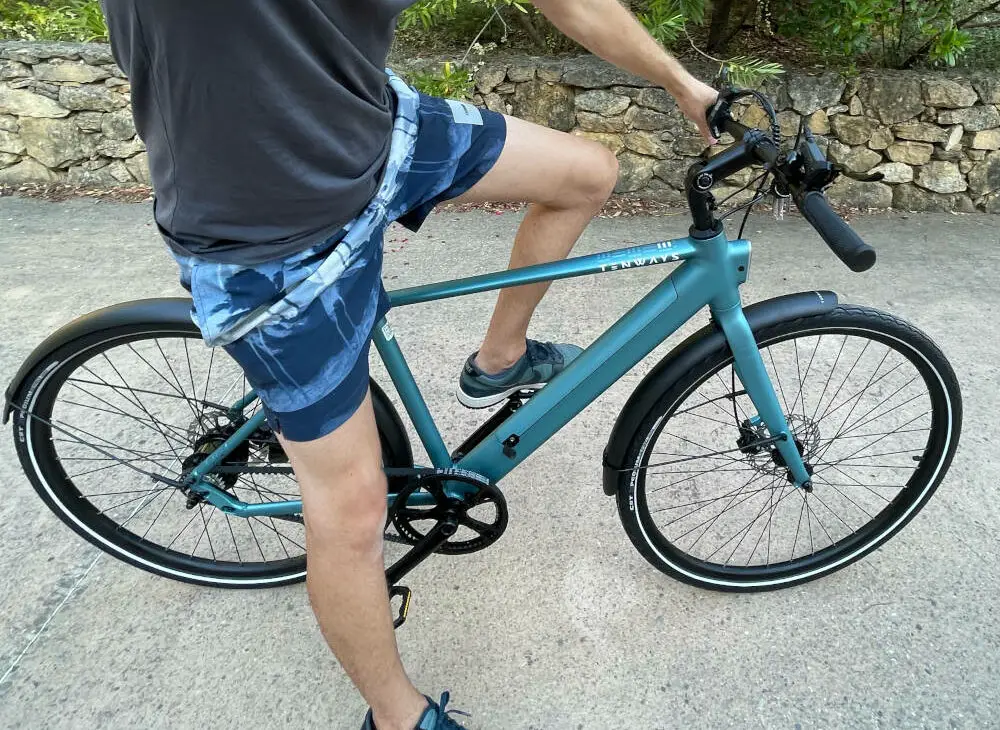 Today I'm sharing my review of the Tenways CGO600 Pro, another electric bike for city dwellers who love beautiful, minimalist, high-tech bikes. With its aluminum frame, fork and seatpost, it comes in a stylish sky-blue color.
We have to say it right away, the most striking thing about the Tenways CGO600 Pro is its weight! At 16kg, it's one of the lightest electric bikes of the moment! You'll feel right at home on this urban bike: the build quality is clear to see, and everything seems well thought-out to create a superb experience for the rider (every part of the bike can be adjusted to fit the rider's dimensions).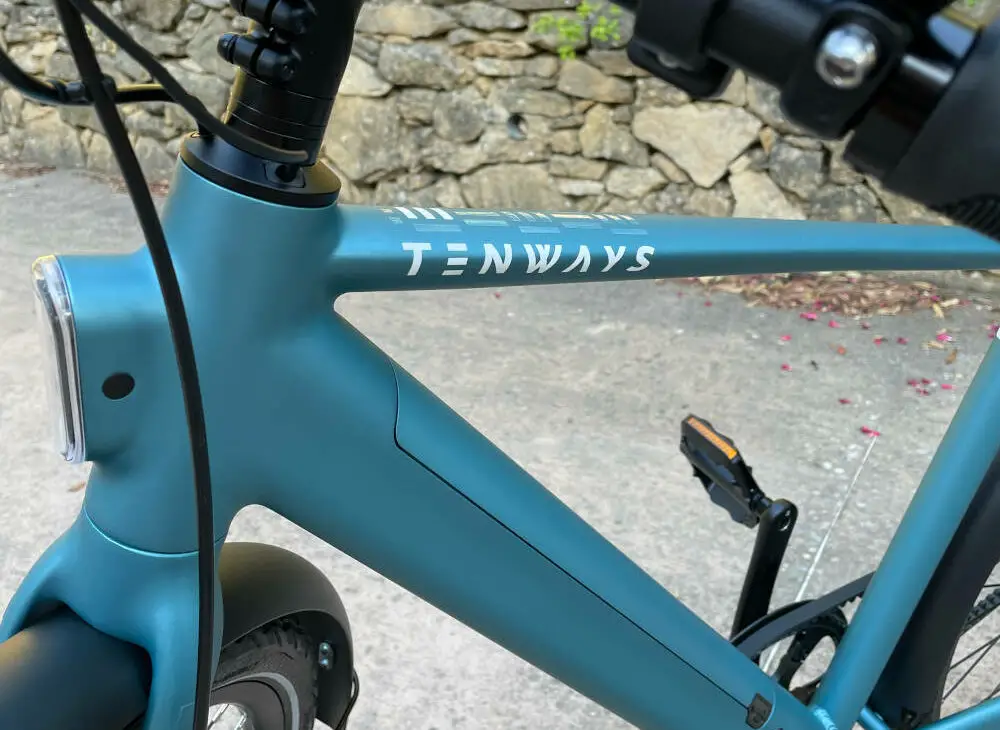 In terms of comfort and maneuverability, the bike's light weight is very much appreciated. Like its predecessor, the CGO800S, the CG0600 Pro almost makes me forget I'm on an electric bike. The motor makes almost no noise, and the belt that replaces the chain also reinforces the bike's "smooth" feel. In short, it's a bike that "glides" through town and will be an excellent choice for daily commuting.
Find out if the Tenways CGO600 Pro makes the grade of the best electric city bikes.
Why choose the Tenways CGO 600 Pro?
The Tenways CGO600 Pro is an urban electric bike that offers a pleasant and comfortable riding experience. Is this bike for you? We'll find out below.
The Tenways CGO600 Pro: modern design and robust construction
The CGO600 Pro is an eye-catching bike. Its design is modern and uncluttered, with particular attention paid to the integration of various components, such as the headlight, which is integrated directly into the frame.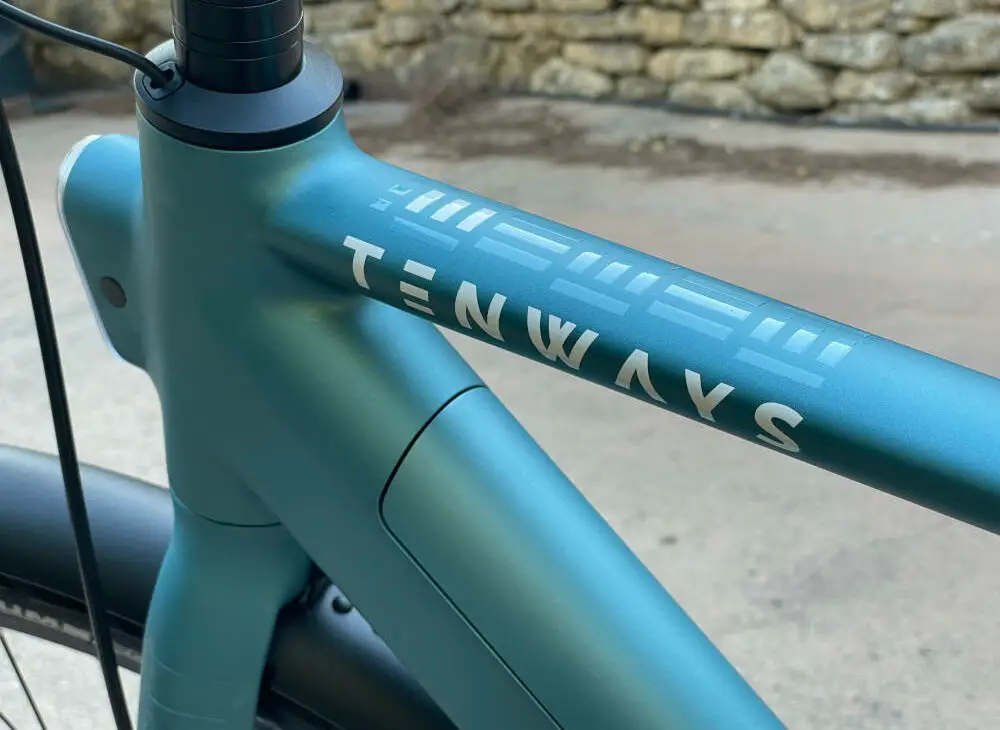 The frame, fork and seatpost are made of aluminum, a material that offers a good compromise between lightness and strength. Aluminum is also corrosion-resistant, an advantage for a bike that will be used in the city.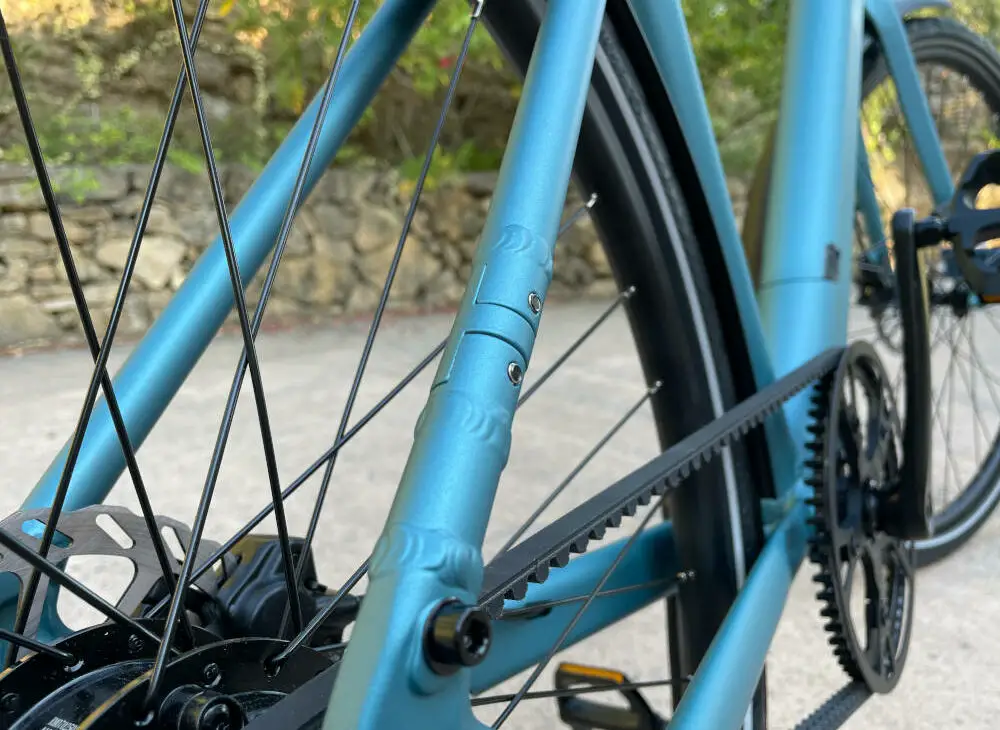 The Tenways CGO600 Pro is available in three sizes:
M for riders between 165 and 185 cm tall
L for riders measuring between 180 and 200 cm
XL for cyclists over 1m95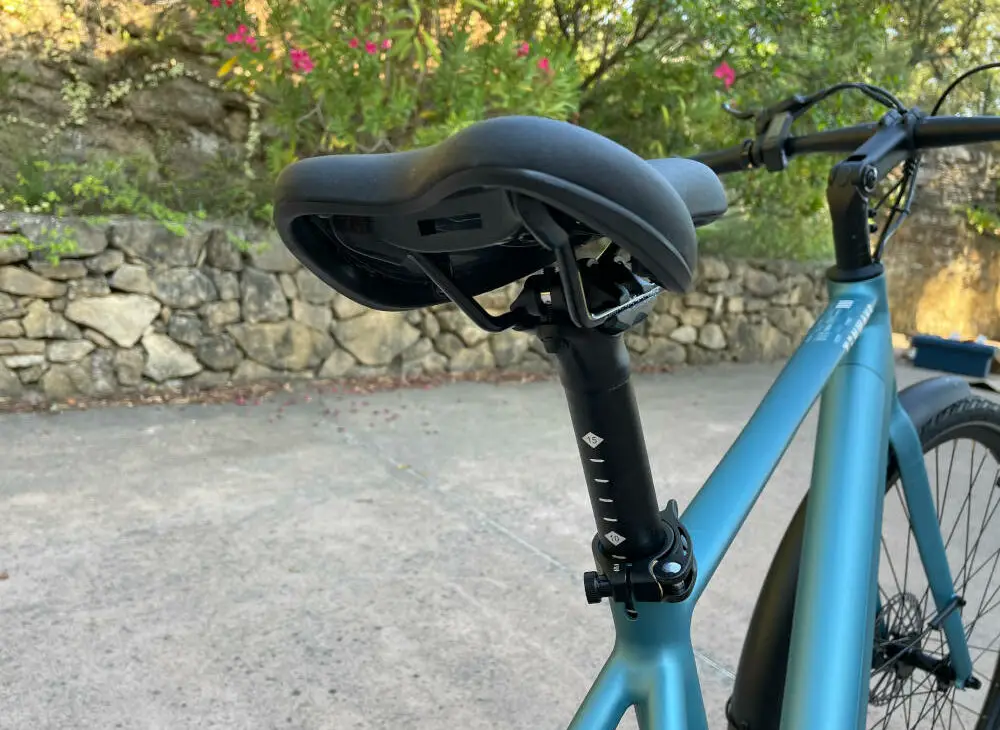 Balanced weight for optimum handling
The bike weighs 16 kg, which is more than reasonable for an electric bike. This weight is a good balance that allows the bike to be stable enough for safe riding, yet light enough to be easily maneuverable.
The Tenways CGO600 Pro is available in 4 colors (with a special mention for the sky blue!).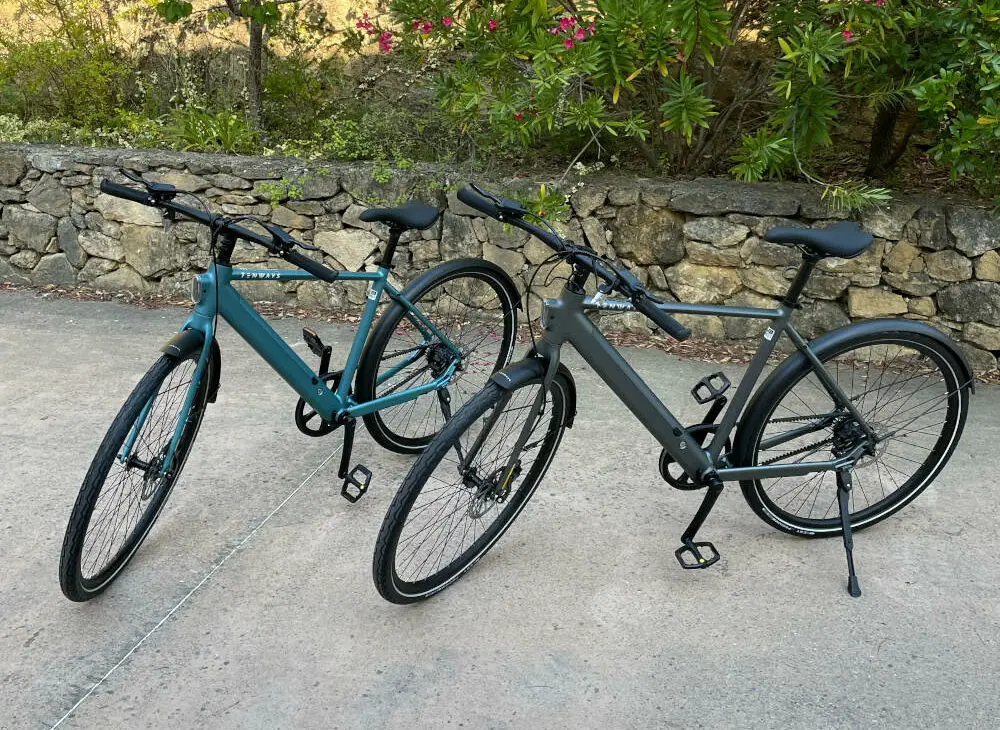 The CGO600 Pro stands out for its trendy colors, especially the one I prefer, which Tenways calls "sky blue".. This bright, original color gives the bike a dynamic, modern look. I love antracite gray and black bikes, but I also appreciate when brands make bold choices. And in this case, I think Tenways isn't afraid to think outside the box, offering bikes that stand out visually.
4 color choices are available:
Midnight black (matte)
Sky blue (matte)
Avocado green (matte)
Pebble gray (mat)
The Tenways CGO600 Pro engine: power and discretion for your urban commute
The CGO600 Pro is equipped with a 250 W Mivice motor.with a torque sensor that delivers 35 Nm of torque. It reaches a maximum speed of 25 km/h.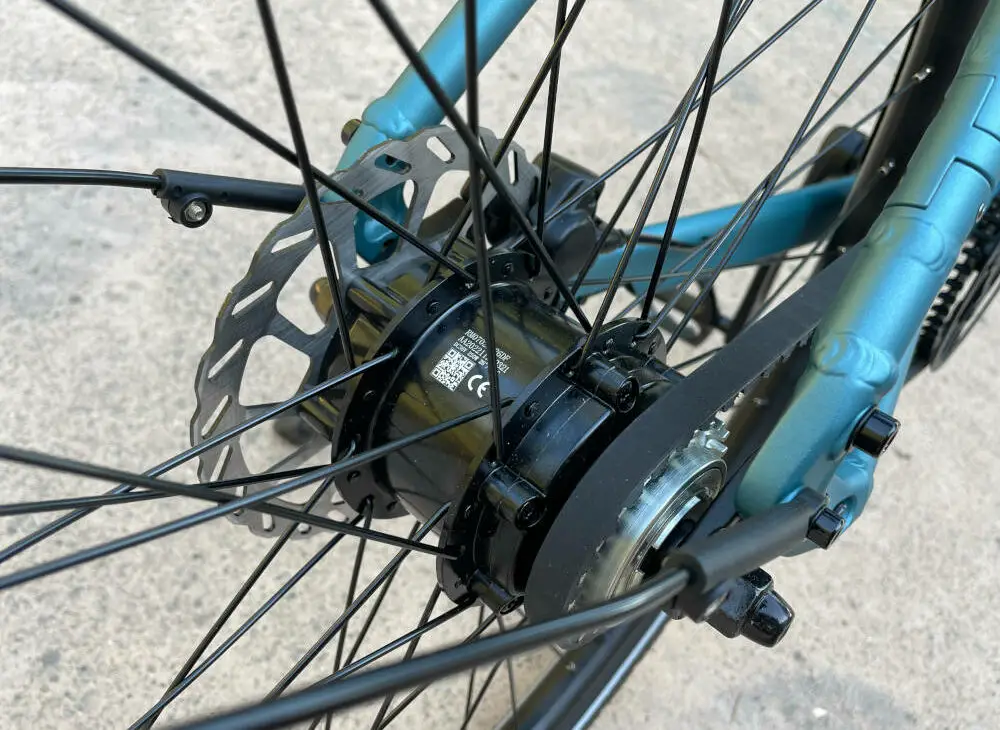 This power is sufficient for city use or for velotaf and can negotiate gradients of up to 10%. The unobtrusive motor provides natural pedaling assistance, without giving the impression of pedaling for you.
The Tenways CGO600 Pro battery
The CGO600 Pro's battery is removable, which is an advantage when recharging or replacing it. It's a 36V, 10Ah lithium-ion battery with LG cells. This type of battery is currently the best available.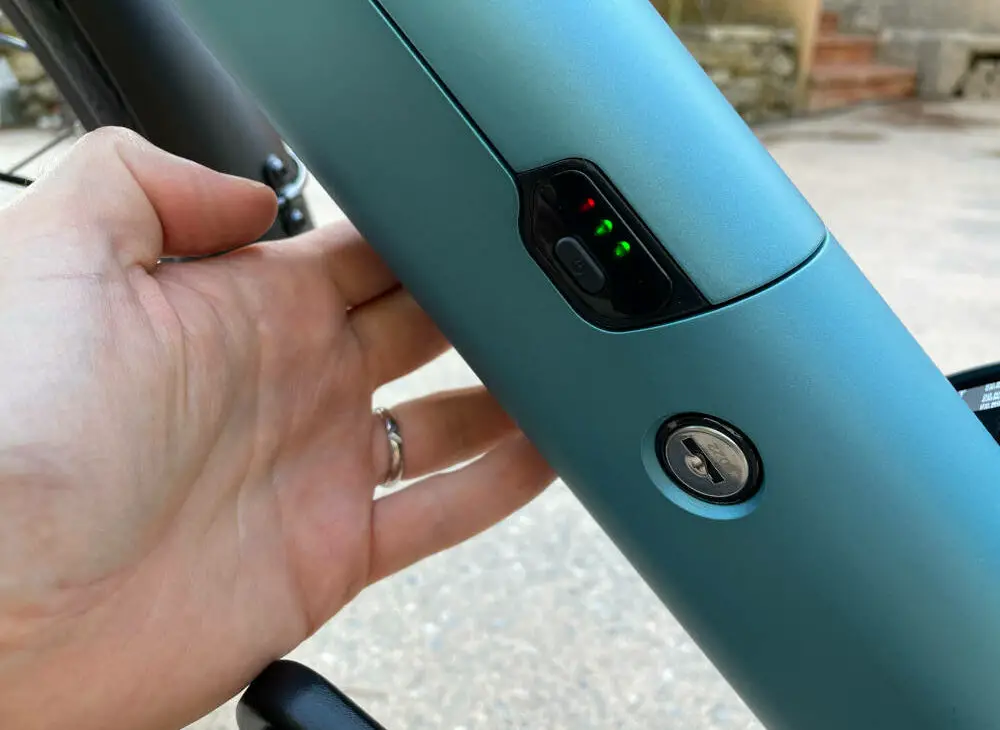 It offers a claimed range of 100 km, although this depends on your riding style. This range is sufficient for most city trips.
The belt: the Tenways CGO600 Pro drive system
The drive system is managed by a Gates carbon belt, which means zero maintenance and a single speed.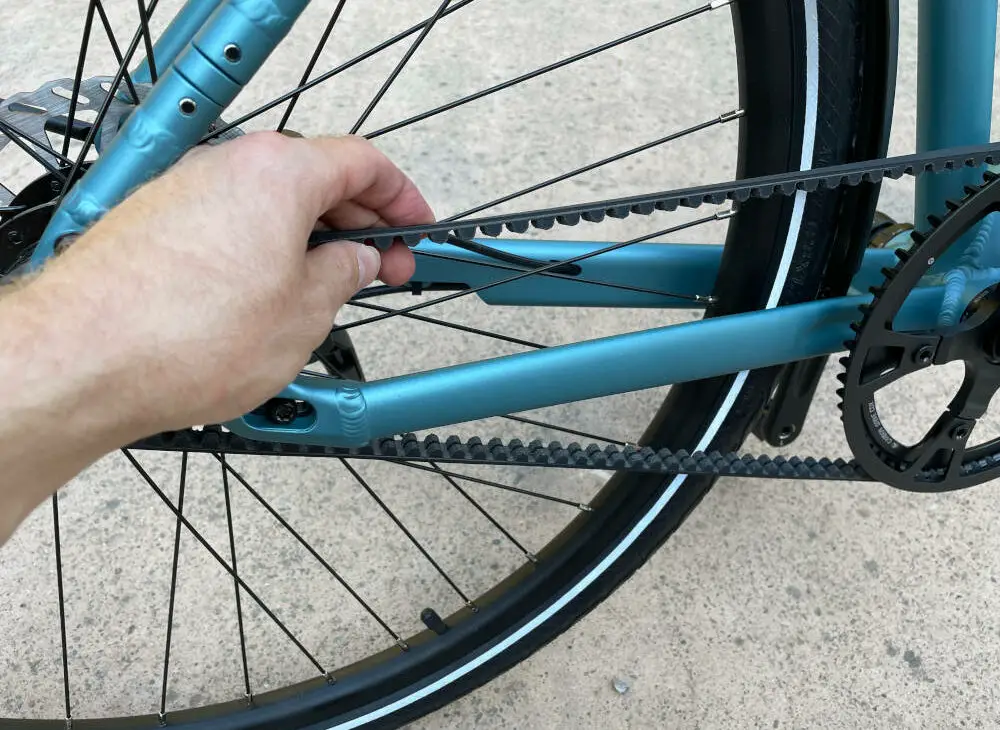 This configuration is ideal for city use, where frequent gear changes are not necessary. However, if you live in a hilly area, this may not be the bike for you.
Tenways CGO600 Pro brakes: Safety and reliability with hydraulic disc brakes
The bike is equipped with Tektro front and rear hydraulic disc brakes, offering excellent stopping power and reliability. These brakes are particularly suited to city use, where frequent stops are the norm.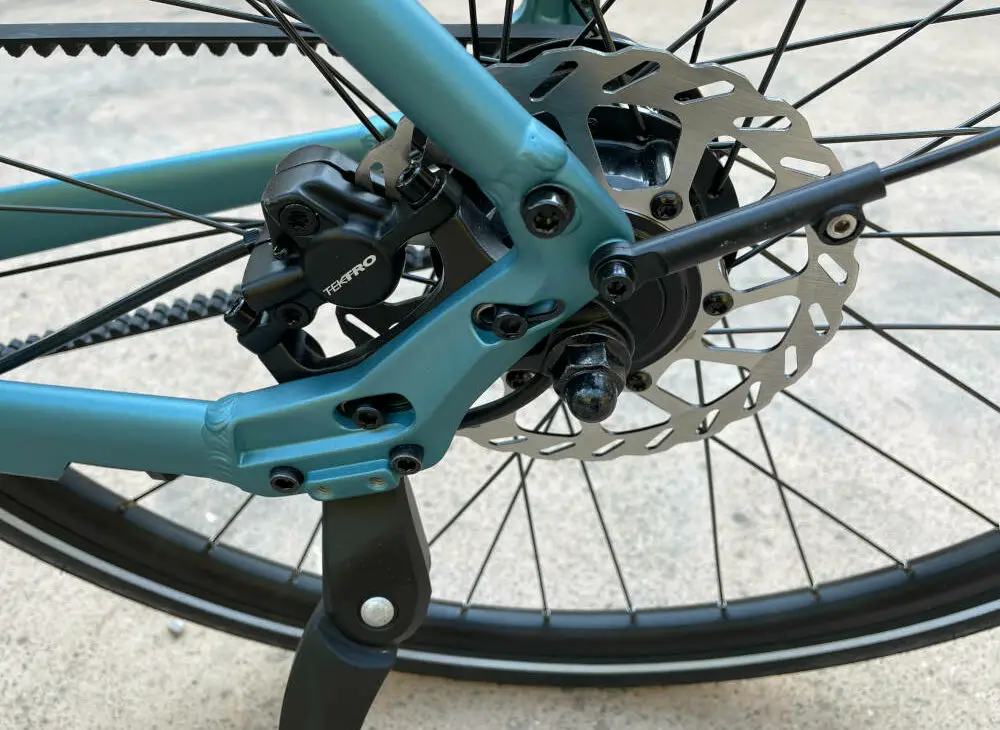 Tenways CGO600 Pro extras
One of the most remarkable features of the CGO600 Pro is the integration of light into the frame.. This gives the bike a sleek, modern look, while improving visibility for safer riding.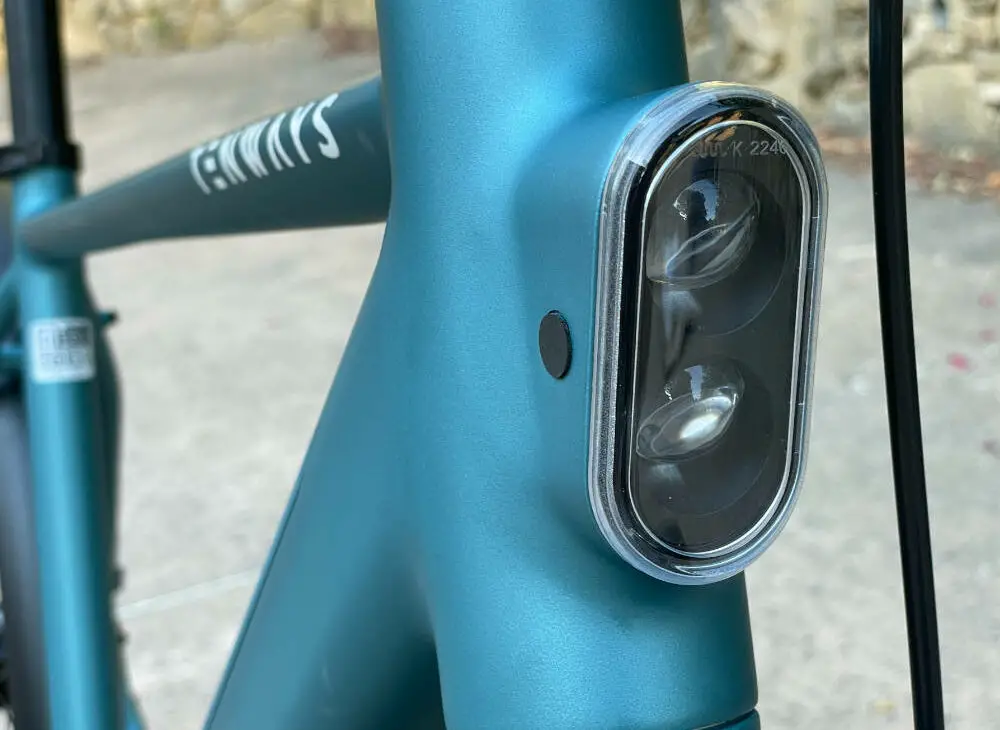 The bike is also equipped with metal mudguards and a kickstand. These accessories are essential for city use, where roads can be wet and you'll often need to park your bike.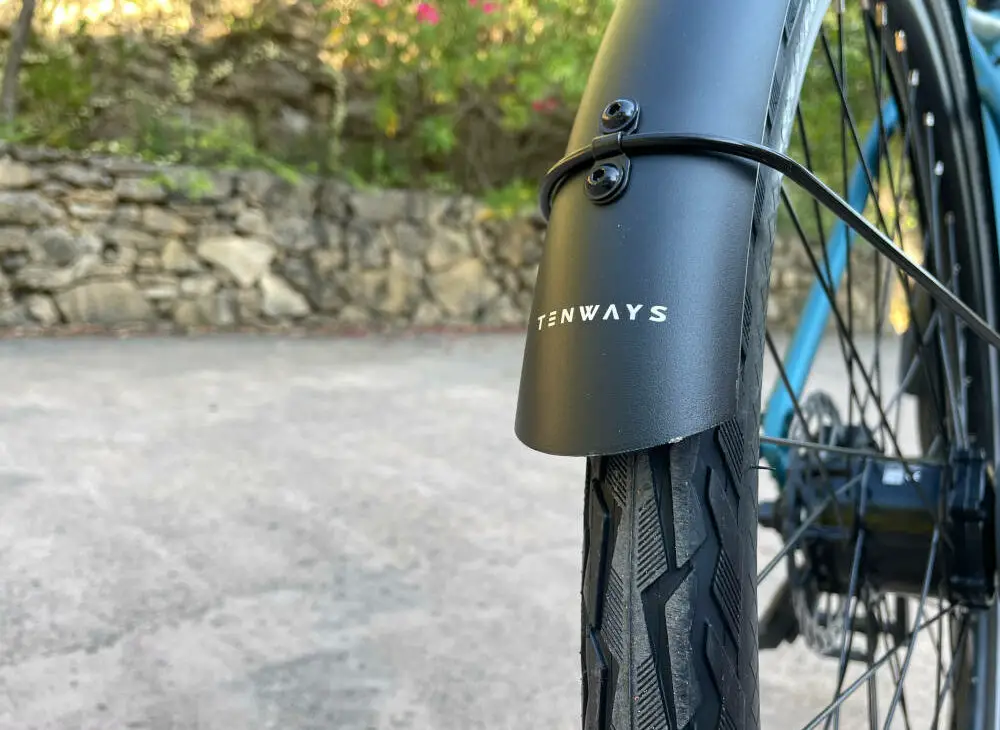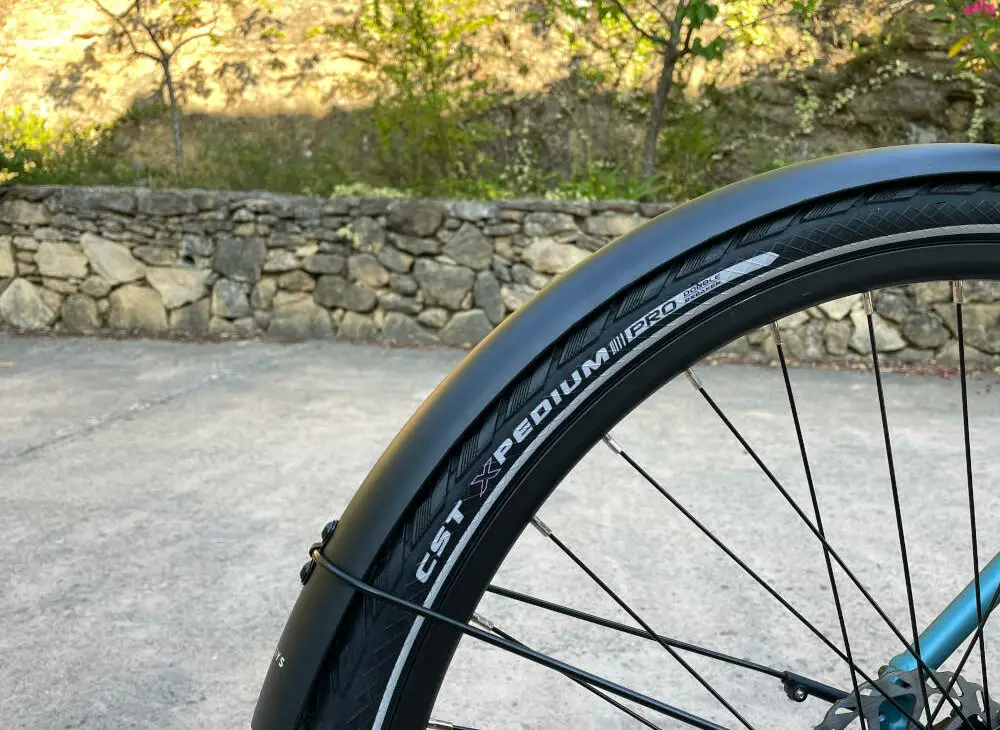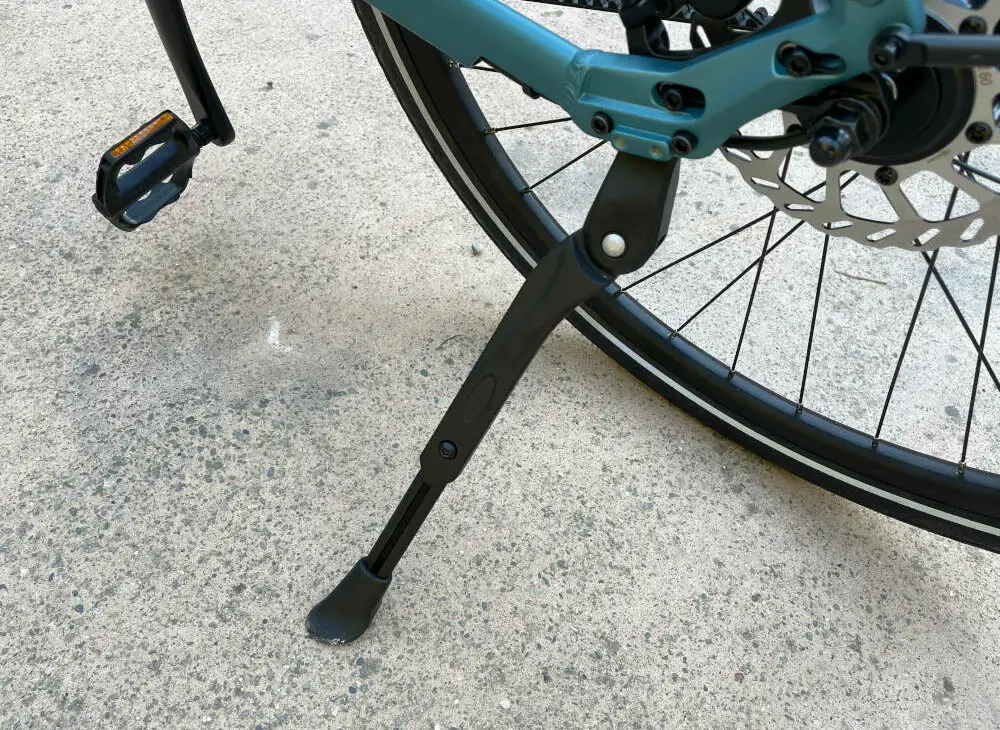 The bell on the CGO600 Pro is fairly basic. It's functional, but may need replacing after a few months' use. It's a small detail, but one that can make all the difference in terms of user comfort.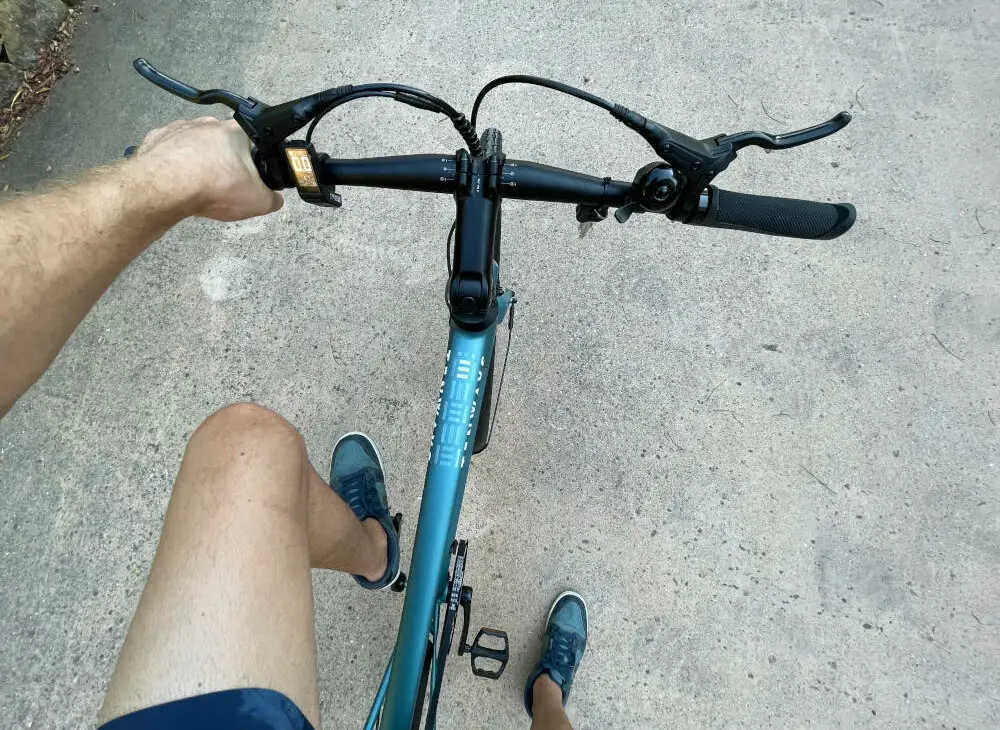 On the road with the Tenways CGO600 Pro: a pleasant, natural riding experience
I had the opportunity to test the Tenways CGO600 Pro for a full day.. Riding this bike is like meeting up with an old friend! From the very first turns of the pedals, you feel at ease, ready to explore the city from a new angle. The riding position is pleasant: it's not Dutch-style, but you're not stretched out on the handlebars like on sportier bikes either. It's a good balance that lets you enjoy the ride while keeping an eye on traffic.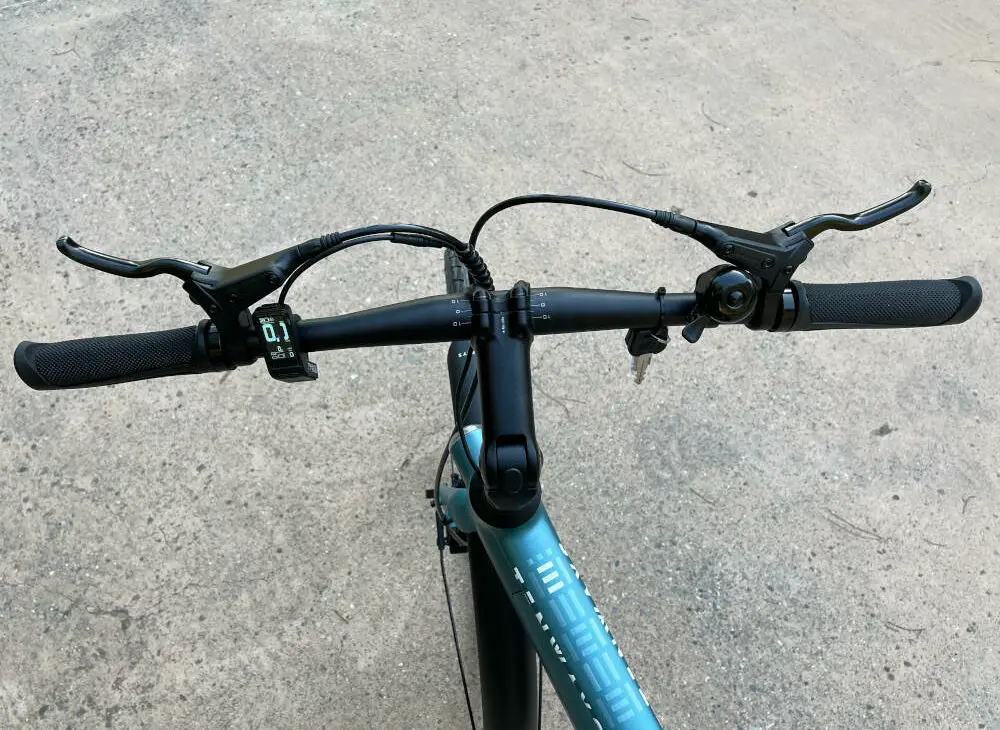 The day of my Tenways CGO600 Pro test was particularly sunny, and the route included a fairly steep hill near my home that I always dreaded back when I rode a mechanical bike…😅 With the CGO600 Pro, the climb was effortless. The unobtrusive but efficient motor accompanied me without ever trying to pedal for me. I reached the summit without getting out of breath.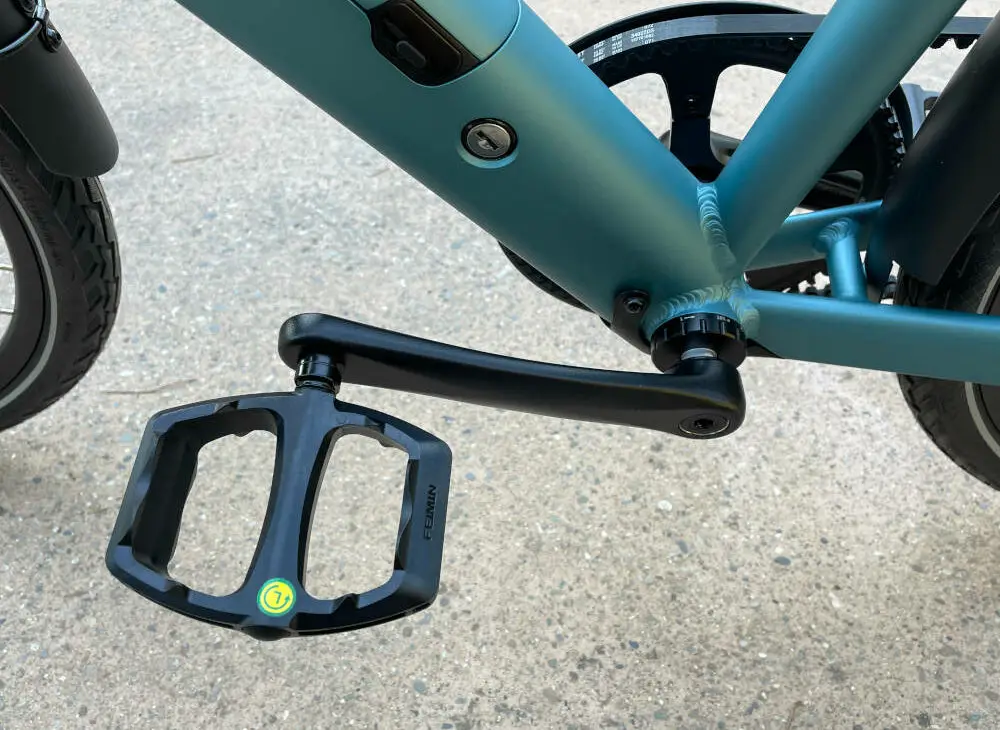 Coming back down the same hill a few hours later, I was able to appreciate the quality of the hydraulic disc brakes (clearly my favorite type of brake). Despite the rapid descent, I always had control of the bike, a good point for safety.
The Tenways CGO600 Pro was also my companion on a night outing. The integration of the light into the frame is not only aesthetically pleasing, but also very practical. It allowed me to see and be seen, ensuring my safety.
Overall: I found the experience of riding the Tenways CGO600 Pro very pleasant and natural. Whether you're commuting to work, going for a ride around town or just getting around, this electric bike proved to be a reliable and pleasant companion that was almost forgettable because of its featherweight of 16 kg.
Speed controller and display
The CGO600 Pro also features an Oled display that shows speed, distance traveled and battery charge level. It's sleek, and perhaps a little too small for my taste. I would have appreciated a slightly larger screen in color, which would have enhanced the bike's high-tech look.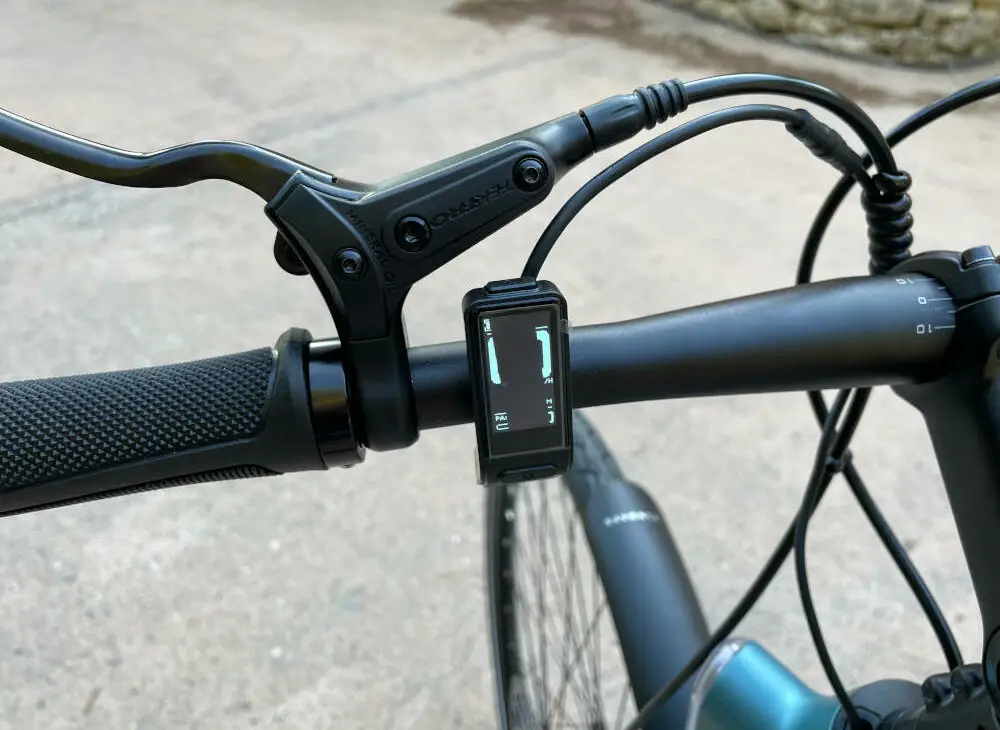 The Tenways application: a useful companion for your Tenways CGO600 Pro
The CGO600 Pro comes with an app that provides you with information on your speed, distance covered, etc. However, you don't have to use it to enjoy the bike.
There's no geolocation, remote unlocking or remote locking of the electric motor.
Tenways CGO600 Pro vs CGO600 ?
The CGO600 Pro from Tenways is an electric bike that has caught the eye of many cycling enthusiasts, myself included! This model, available for under €1800, is the upgraded version of the CGO600, which has already been praised for its performance and affordability. The CGO600 Pro has been launched with upgrades including an integrated headlight and removable battery.
Tenways CGO600 Pro: Our verdict after the test
The Tenways CGO600 Pro is an electric bike for small budgetsoffering good value for money and a 2-year warranty. It's got a cool design, well-integrated components and a pleasant riding experience, plus it can be taken anywhere thanks to its 16 kg weight.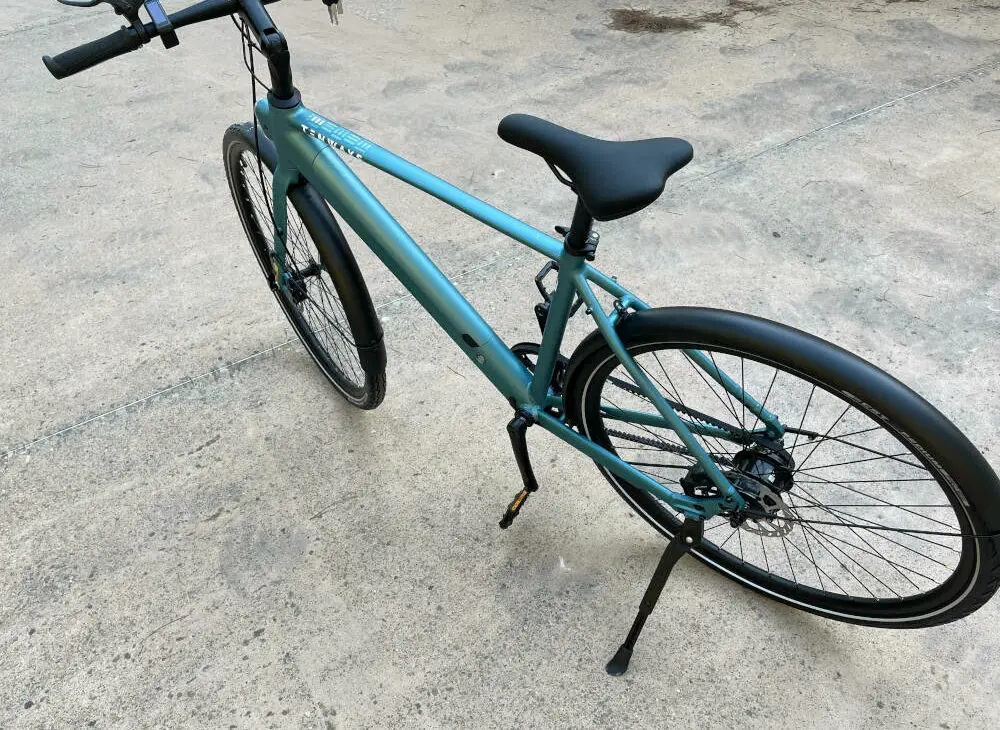 If you're an urban cyclist looking to get around town quickly and easily, and you don't need multiple gears, the CGO600 Pro could be a great choice for you.