You're attached to your electric bike? So hang it up with a lock! How can you be sure to dissuade the most reckless thieves? Here's the answer. By the end of this article, you'll be the final boss of electric bike protection.
How easy is it to steal a bike?
Before knowing how to protect your bike, we're going to explain to you why it's really important to equip yourself properly with strong locks. To know how the different types of locks resist, here is how long they hold on average against the different tools of our enemies the thieves.
One can quickly see that the most profitable solution is the U-shaped lock. It is resistant to many tools, and takes time to be sawed by a grinder. Moreover, it is easily transportable. For your information, this kind of tool that turns for 30 seconds makes a lot of noise and will alert anyone who is nearby. In the middle of the day, in a busy place, it is almost impossible to fly with a good U-lock.
U-shaped locks
The U-shaped locks are composed of 2 parts:
A rigid shackle to place around your bike frame/wheel
A bar containing a lock that holds the shackle and will lock your lock
The most popular U-shaped locks are manufactured by Kryptonite, ABUS and OnGuard. They are very popular because they are strong and easy to carry, as they can be easily attached to your bike while riding.
The best anti-theft locks
This is our favorite! It has saved our bacon many times, as the signs of struggle left by the thieves and their pliers suggest. I like that a steel cable is included with the U-shaped lock. It allows you to hook the front wheel with the rest of the lock. The Kryptonite Evolution Mini 7 is the best value for money in terms of good locks. It's an easily transportable and very strong lock at an affordable price, it's all we needed!
The Kryptonite Mini-7 is small, as its name suggests. This can be a drawback, as it can be difficult to attach it. But it can be a quality! The fact that it is quite short prevents thieves from using leverage to break into the lock.
Foldable chain locks that cannot be cut
Composed of a series of metal meshes, chain locks offer a very dissuasive protection. If many bikers use these locks, it is for a good reason! Their main flaw: there are much heavier than U-locks. To carry this type of lock, you can place them in the basket of your bike (if you have one) or tie it around your luggage rack to better distribute the weight.
Not all chain guards are made of the same metal. To guarantee optimal protection with quality material, we advise you to choose the Kryptonite or Abus brands. We can distinguish two types of chain locks: chains with integrated locks and chains with separate locks.
The ABUS Steel-O-Chain Lock
The ABUS steel-o-chain 9808 is with integrated lock, foldable and is available in two lengths: 85 cm or 110 cm. This lock is quick to use as the chain locks directly into the lock, no need to carry an extra lock with you. The chain is quite light compared to others in its category. Count 2 lbs for the 85cm version and 2.2 lbs for the 110 cm version.
A very good value for money also for this easily transportable chain. The security level is not maximum, if you want a better protection with a chain, go for a heavier anti-theft device that can stay attached to a fixed point (in a garage for example).
The Kryptonite Evolution 4 heavy chain lock
With the Kryptonite Evolution 4, the New York brand has struck a blow in the bike protection market by offering a virtually indestructible shield. This model is rather intended to remain attached to a fixed point near your home or work. It was originally created for scooters or motorcycles. In short, it is an anti-theft device that is not meant to be carried around. On the other hand, it is almost inviolable, which is its greatest strength !
This is a lock that is used to leave the bike in the common areas of a building or to hang it at home, in a garden shed for example. You can't do much better in terms of security. But when you have an electric bike costing several thousand euros that must be left unattended outside your home, it's an excellent investment!
To summarize, remember that chains can be classified into two categories:
Easily transportable chains, which are 10mm thick or less.
Heavy-duty bicycle chains, preferably sedentary.
Tip: To resist all cutting pliers, the favorite weapon of thieves, a chain should ideally be 12mm thick.
Electric bike locks with alarm
In an another register, the alarm devices for bicycles aim rather at dissuading a thief in a frequented place. There is something for every budget and taste. The anti-theft alarm should not be the only protection on your bike if you leave it unattended.
Why buy an alarm lock?
We recommend this type of lock for short breaks, or simply when you don't have your solid padlock on you (U-shaped or chain). The purpose? Use the surprise effect with a shrill sound up to 120 decibels in order to make the attacker flee.
How does it work?
Several types of anti-theft devices with alarms exist:
Boxes attached to your frame or rack: Controlled remotely by a car-like key, these devices are triggered when your bike moves. They are usually battery operated and very discreet.
Connected alarms, usually attached to the handlebars. Work with Bluetooth, often with a geolocation option of your bike.
Finally, the locks with alarms integrated into the lock. ABUS has developed a lock of this type: when the attached bike moves, the lock emits a beep. If the thief continues to try to force or pick the lock, a powerful alarm is triggered.
Our choice: the smart connected anti-theft device
Connected anti-theft device
Smart anti-theft device with Bluetooth® and alarm. Connected to your iOS / Android smartphone. Bracket included. Size: 110 cm.
Safety level GOLD (Sold Secure®)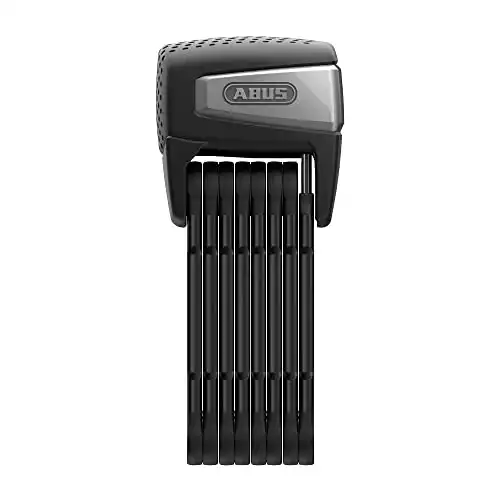 Tested and approved device: the ABUS smart lock melts into the frame of the bike and is triggered by the slightest suspicious vibration, for a surprise effect that will scare off the thief. If you want the perfect combo of electric bike anti-theft device, I suggest you couple the smart alarm with a GPS tracker system. Like this one:
I really like this GPS tracker Invoxia Bike Tracker for bike because it looks like a tail light, so it's super discreet. This gives you good visibility on the road and extra security against theft of your bike.
Saddle locks
When thieves can't get at your whole bike (now that you've protected it well) they sometimes take revenge by stealing an accessory. Often, it's your saddle that takes the brunt of it! I've experienced the humiliation of riding home without a saddle, and believe me, it's not pleasant.
The ABUS saddle nut
For the saddle
An innovation from ABUS. Bolt to be installed on the saddle and wheels of the bicycle. Clamp / Lock seat post. Diameter : 30 mm.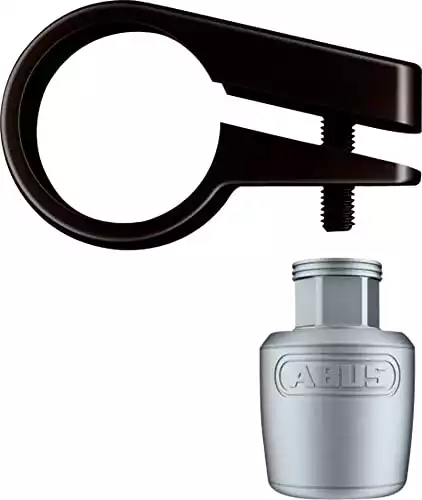 The ABUS saddle and wheel lock is almost impossible to saw once installed around your seat tube or on your wheel axles. You attach it once, and that's it! The sleeve has a mechanism that releases the screw underneath only when the bike is lying on its side. Otherwise, no access is possible! This is a must if you want to avoid carrying your saddle around all the time.
Electric bike locks (the boss mode of protection!)
Now you know what to use to properly secure your bike and all its components. To become the ultimate anti-theft boss, here's the secret: multiply the protections. With this tip you can leave your 2 wheels anywhere, anytime, and with peace of mind.
ABUS Bordo 6500A SmartX
Smart anti-theft device with Bluetooth® and alarm. Connected to your iOS / Android smartphone. Bracket included. Size: 110 cm.
Safety level GOLD (Sold Secure®)
ABUS saddle nut
An innovation from ABUS. Bolt to be installed on the saddle and wheels of the bicycle. Clamp / Lock seat post. Diameter : 30 mm.
How to choose the right lock? (key padlock VS code padlock)
Why choose a keyed padlock?
No risk of forgetting your code
Locks are more difficult to pick
The only disadvantage is that you can lose your key or forget it at home, it's a risk for the dizzy.
Nowadays, most keyed padlocks come with several sets of keys (2 to 3, sometimes even 5!). Some brands like Kryptonite also provide you with preventive insurance against key loss if you wish.
Why choose a code padlock?
No need to think about taking your key, it's in your head!
Easy to lend your bike to someone you trust in your absence: just give him the code
NB : Write down your code somewhere at home in case you forget it
What size lock should I choose?
For what concerns the U-shaped padlocks, it is better to take a small one, or a medium one. First of all, it's easier to carry, but it's also more secure! Indeed, the less space there is between your U-lock and your bike, the more complicated it will be for the thief to introduce an object allowing to force the steel handle.
The downside is that it may take longer to secure your frame and wheel to a fixed point. To remedy this, a steel cable that runs through the wheel is recommended as a supplement if you really don't have the space to properly secure your bike.
For chain locks, it's much easier to choose, as the length will not influence the difficulty for the thief. Take a medium-sized chain that will be lighter than the very long chains, usually reserved for motorcycles.
How strong is my lock? (Sold Secure® security levels)
Go to the website of Sold Secure to know the quality label of your lock, or the one you want to buy. Sold Secure is a certification body created by the Master Locksmiths Association (a non-profit trade association), which aims to guarantee the strength of thousands of devices against theft.
3 levels of Sold Secure® security exist:
Bronze level (BRONZE)
The Silver level (SILVER)
The Gold level (GOLD)
The categories are defined by the time spent on each anti-theft test, and the tools used. The higher the ranking (bronze is the lowest level, gold the highest level), the stronger the security offered by the product.
Thanks to a search engine working by keyword, by type or brand of anti-theft device, you can be sure of the level of security offered by the manufacturer. The biggest brands like Kryptonite or ABUS offer many GOLD certified locks on Sold Secure®.
The material of the anti-theft device
To our knowledge, the best locks are made of steel. This very strong material offers great resistance to the tools of bike thieves. The best locks are made of reinforced steel, which guarantees maximum protection. Some very high end locks, often used for motorcycles, are made of titanium.
Does my lock need to be certified?
The homologation of a lock is used to make your electric bike insurance in case of theft or attempted break-in. Several quality labels exist like the SRA certification, a guarantee of quality.
SRA is the abbreviation for Sécurité et Réparation Automobile (:Automotive Safety and Repair). It is an association (under the law of 1901) which includes many insurers. The locks and padlocks are tested in a particularly demanding way, and those which are up to the mark receive the "SRA class" logo. This is a guarantee of quality.
You should know that in case of theft, some insurers require that the broken lock be SRA classed in order to proceed with a possible reimbursement.
Conclusion
To conclude our review of the best electric bike lock systems, we draw your attention to the key points to remember:
Some locks are more resistant to thieves' tools than others. The best ones are the thick chains and U-chains.
An alarmed lock is always a welcome addition to your main lock.
Remember to protect your saddle. It's always a pain to be without a saddle, believe me.
Before making your choice, take into account the different selection criteria mentioned in our article to find the one that suits you best.